Next Level Seniors: Allison Weber Commits to Collegiate Soccer and Becomes a Bruin
Senior Allison Weber has had a bumpy high school career — with multiple torn ACL injuries and COVID-19 — but nonetheless persevered and has committed to playing D3 soccer at George Fox University, becoming part of a select group of seniors at La Salle who are showcased in The Falconer's Next Level Seniors series by committing to a collegiate sport.
Weber has played soccer since she was five years old, playing on teams such as Canby, Oregon Trail Futbol Club, Eastside Timbers, and currently Oregon Premier Football Club.
Since she has played for the majority of her life, college has always seemed like the next step. "I feel like I've always noticed that I've wanted to play in college just because I can't really see my life without soccer," she said. 
Along with that, Weber had her sights set on a D3 school. "I also knew I wanted to play soccer in college for a D3 level because I also wanted school to be a focus of mine," she said. 
Looking ahead to playing in college, Weber is excited to meet new people as well as have an outlet outside of school. "I like having something to do outside of school that keeps me busy and active," she said.
Although Weber was looking at a few other colleges, her main focus was George Fox because she really enjoyed her visit.
Her journey to get recruited by George Fox consisted of posting videos of herself playing soccer on the NCSA app, where coaches could reach out to her. Furthermore, Weber also emailed videos to the coaches of George Fox. 
During her time at George Fox, Weber plans to study Physical Therapy and Kinesiology. The quality of those programs was a factor in her search for a college and was one of the reasons George Fox stood out to her, along with the campus.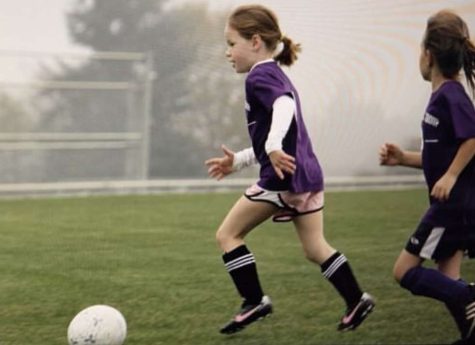 Growing up, Weber was put into many different sports by her parents, including dance, swimming, track, T-ball, and recently tennis. However, soccer was her favorite out of them all, resulting in her sticking with it. Although no one inspired Weber to start playing soccer, having her sister on the journey with her helped her find her passion for the sport.
"Over the years of playing and being able to practice outside with my sister, it just became my favorite sport," she said.
Since soccer is such a high priority for Weber, it can sometimes be hard to manage it with school, but she has learned whenever she has a free period to get work done in that time so that she can really focus on soccer after school.
Throughout her high school career, Weber has loved getting to know numerous people from other grades in school. "I see them in the halls, and it's fun to talk to them," she said. In addition, she has also enjoyed the training high school has brought her and the ability to stay in shape as a result of how intense it was.
Age difference was a highlight of playing in high school for Weber, and it was also one of the major differences between club soccer and high school soccer. As a result of that, "it's more competitive," she said.
Outside of club and high school practices, Weber also attends outside training. She will either attend Talo — a strength and weight training program, work out on her own, or go to physical therapy.
As a result of tearing her ACL twice — right before freshman year and then again before senior year, not allowing her to play either of those years — she had to go through the recovery process multiple times. During these times she had to attend physical therapy often in order to regain her strength in her quads and knees.
Through these injuries, she has had moments where she wants to give up and not play soccer again but has learned to never give up. 
For Weber, it is important to persevere through the injuries "because it's really easy to feel like you just want to give up," she said. "But you have to really be wanting to get back on the field."
Weber's advice for younger athletes is that"if you have a goal, put your mind to it, and you'll accomplish whatever you put your mind to," she said.