The Man Behind the Voice: Mike Ziolko
Mike Ziolko is the announcer for the girls basketball team, announcing game statistics and the team members' names to the spectators in the audience, and he is an integral part of the overall experience when attending a girls basketball game in La Salle's gym.
However, there's a lot more to him than just the role he plays in the basketball season.
Ziolko's connection to La Salle started with both of his kids attending La Salle, and he has called out La Salle sporting events on a wide variety of occasions since 1994, becoming an iconic voice at the school for the past 29 years.
But Ziolko's experience in the sports world has not been limited to announcing at games, as he also coached soccer outside La Salle for about 20 years, which is something he said he really enjoyed. 
While he's only done his announcing work at La Salle, he has not confined himself to only announcing at the girls games in the past, as he has announced for football, boys basketball, both girls and boys soccer, softball, baseball, and one track and field meet. 
Ziolko found his love for announcing by trying it out because he thought the job would be something fun, and in no time at all, he was regularly announcing girls basketball and football. The next year, the man who had previously announced for the boys basketball team passed away, so he picked up the boys games as well.
The interaction he has with the students and players is something that has been a very memorable part of the job for him. "You can have a lot of fun with it," Ziolko said. 
One year while Ziolko was announcing, he had three girls from the girls varsity basketball team ask if he would invite three boys to the dance for them. So, during the JV game that day, he asked over the loudspeaker if the boys would go with them to the winter formal.
Another memory that Ziolko recalls is when a varsity player on the girls basketball team, Melissa McBride, would come up and sit with him while the freshman and JV games were going on. "We just chatted away, talking basketball and stuff," Ziolko said. "It was kind of neat to see that interaction." 
As time went on, Ziolko ended up dropping football because of the cold weather and because it was nicer inside of the warm gym. He also ended up dropping baseball, girls and boys soccer, and softball mainly because he found basketball more interesting and felt called to announce for the games. Eventually, he did end up dropping boys basketball as well due to the amount of sitting required for announcing three boys games and three girls games at the same time.
Throughout all of his experience, girls basketball has been his favorite overall. He enjoys how controlled the game is because the thing he's never really liked is, as he describes it, a "rat ball" or chaotic type of game. He has also found it heartwarming to see how much the girls appreciate his announcing and that they really seem to have fun playing. 
When Ziolko first started announcing girls basketball, it wasn't as popular as it currently is, so he's enjoyed being able to see how the sport has risen over the years at La Salle.
Ziolko has impacted players by extending his announcing to the JV and freshman players, rather than solely focusing on varsity. Though this isn't a common thing to do, it's something that has touched the hearts of players on La Salle's teams and other schools' teams over the years. 
"Other teams, maybe individuals, not very often, but it happens, where they'll say, 'Hey, thanks for calling our game. You know we never had that,'" Ziolko said.
He gives equal attention to freshman and JV games because he's found that they work as hard as the varsity teams, so he feels they should be able to receive some recognition for their hard work as well.
During girls games, Ziolko also enjoys adding in little jokes, nicknames, or comments about birthdays to add more of a connection with the crowd and players. "A couple of weeks ago, I announced [junior and varsity player] Clara Hudson as being six foot 10." Ziolko said. 
Through all of the games that Ziolko has announced for, the most memorable game was a La Salle football game against Gladstone that had gone back and forth the whole game. At the end of the game, La Salle had gotten the ball back, and the field goal kicker had made a field goal with little time left.
"He hit it clean off the upright [of the goal post], and so we won the game at that time," Ziolko said. "That was a good game." 
Another memorable experience was when, two years in a row, the La Salle football team went down to Civic Stadium for their playoff games. They were the home team, so he got to announce in the stadium up in the box. "It's pretty cool sitting up in that stadium announcing in the box and stuff," Ziolko said. "The view of the field and everything, that was just great."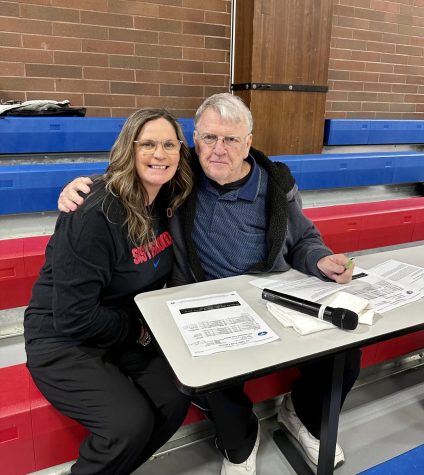 When it comes to the girls basketball team, Taycee Wedin and Aleah Goodman were some of his favorite players to be able to announce because "a lot of those [games] were just fun to watch," he said. Ziolko has also found coach Kelli Wedin's coaching to be very fun to watch, and he likes "the more structured game, like Kelli plays." Ziolko said.  
A memory that Ziolko loved from the girls basketball team is when the team had an undefeated run in conference play between 2013 and 2017. Each year, Ziolko remembers being able to add one more victory to the pregame announcement and the energy that the fans brought, which made him really enjoy those years.
While Ziolko announced for boys basketball, his favorite coach was Jack Cleghorn. At the time, the bleachers in the La Salle gym were wooden, and Ziolko remembers when the players would lose the ball or the referee would make a bad call and Cleghorn would smack his boot against the bleachers, causing a loud sound to echo across the gym. Cleghorn ended up retiring but returned to coach the girls team, and Ziolko remembers the fun it was to be able to see him coach again.
These are just some of the fond memories that Ziolko has had so far in his years of announcing. "My wife always gets on me about it because I'm remembering all these sports memorabilia and stuff, but I can't remember to take out the garbage," he said.
All in all, Ziolko has made an impactful mark on the world of sports for La Salle in the nearly three decades he's been announcing at games.