Student of the Week: Jadzia Marsh
Sophomore Jadzia Marsh has lived many places in her life. "I've lived in six different places up until now, ranging all around the world," she said. Moving around because of her mom's job has allowed her to live in Perth, Singapore, Houston, Norway, Sydney, and now Oregon. After transferring from Lake Oswego Middle School to Lakeridge Middle School, Marsh was able to skip eighth grade and head straight into her freshman year at La Salle. 
Since Marsh moved middle schools in the midst of the COVID-19 pandemic, she didn't know a lot of people. Once things started to open up again, she made friends through her school's volleyball team.
Marsh had the opportunity to jump to freshman year after seventh grade because the schooling in Australia was more advanced than here in the United States. "I was technically more advanced in my schooling than what I was put into when I moved back. So I was a year below what I should technically be in," she said.
Even though Marsh was transitioning into high school earlier than most, the transition was smooth because her brother attended La Salle already, so she felt very welcomed into the community. "Since my brother went here, he already had a really big community of friends. So they welcomed me into the school really easily, and I felt it was really easy to be here [and] be accepted," she said.
Senior Kye Marsh is Jadzia's older brother, and they have a very positive relationship. "From a very young age we realized that we are going to be living with each other for the majority of our lives, so let's be friends," she said.
Marsh's brother was also the reason for her choosing La Salle, since he had such a positive experience at the school. Since being here she has felt the same way. 
"I enjoy the community and the wide variety of classes that we have, and how nice all the students are, and how accepting the teachers are," she said. "How they feel like they really know you, like you're not just another student, like you're a person to them and they really see you and know you."
This semester, Marsh's classes include: Honors Chemistry, Advanced 2D Art, Christology/Paschal Mystery, English, Geometry, World History, and French II. Marsh says her most challenging class is Honors Chemistry. 
Although Honors Chemistry may be her most challenging class, she finds many ways to push through the adversity. "I have a lot of friends in that class and they help me through it, and so does Mr. Owen," she said. "He helps me through if I am ever stuck or confused." 
On the other hand, the highlight of Marsh's La Salle experience and her favorite class is art. "I've always loved art, and it just helped me have a place at the school," she said.
Marsh's love for art began during COVID-19, when in response to a feeling of loneliness, she would post art onto apps such as Instagram and Amino. As a result of these platforms, she found many online friends who have stuck to this day. 
Since then, Marsh has built an art style she describes as fluid. "I have two main styles, I have a semi-realism, and then I have a more cartoony anime-ish style, where it's very colorful and everything is very bright," she said.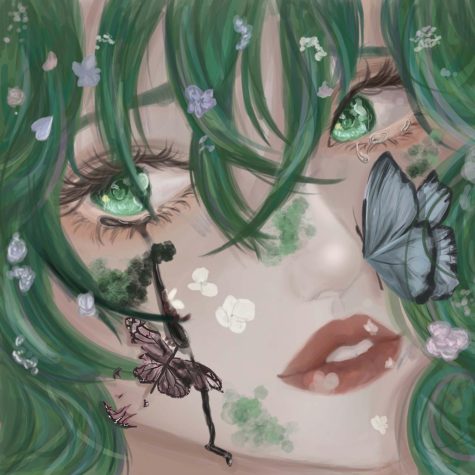 Marsh's social justice digital painting called "Mother Nature" is her favorite piece of art she's ever created. "The idea behind it was how we are polluting nature and how it's seen as normal," she said. Marsh describes this painting as, "the stereotypical [image] of what nature is like: beautiful green, luscious green eyes, and she is crying a tear of black tar, and everything that touches it is dying and it's representing the pollution that we are causing and how we are diminishing what we are given," she said.
Marsh's passion for art has helped her throughout her journey these past few years. "It really helps to express myself, and it's a fun creative way [to do so]," she said.
Finding a love for La Salle's art department led Marsh to be the only sophomore part of the National Art Honors Society (NAHS). She joined because Ms. Cha wanted to make sure that it wasn't perceived as a senior-only place. 
Within the NAHS meetings during flex times or after school, the group creates art for others. "We take requests from either the school or other people, and we make art for them," she said.
Currently they are doing a worldwide project for children from refugee camps who may not have a home. "They send in a picture of themselves, and a couple of things that they like, like their favorite color or animals." she said. "Then students in NAHS draw them and they send the portraits to them so the kids are seen and feel like they are heard, and they are not just lost in the wave of people, they are human beings that have been treated like so."
Within her role as a NAHS leader, she hopes to accomplish spreading awareness that more underclassmen can join this group. "I want more sophomores and even juniors to see that it is an option and they can join NAHS," she said. 
In addition to art, Marsh is also a part of theater.
For the most recent play "Clue," Marsh was head of sound, and was really happy to see such a great turn out at the show. "So many people showed up to 'Clue,' and it was really nice seeing all my hard work pay off and people loving to go see it," she said. 
Overall, she loves to be a part of the theater community because, "we are a very welcoming and accepting community," she said.
During Marsh's free time, you can usually catch her spending quality time with her cat. "I am normally on my bed with my cat watching YouTube, drawing, or reading books," she said. "And sometimes, if I can manage to drag my friends out, I'll go to the mall with them and hang out, and just have fun."
In the future, Marsh hopes to go to college somewhere warm and study environmental sciences, in hopes of someday working in sustainability for companies.
If Marsh could give one piece of advice to her past self it would be, "to not care what others think, that has played a very big impact on my life and how I view myself and others at this point," she said.