Clarity After COVID: La Salle Adjusts Its Behavioral Policies
With the start of the new semester, revisions to the behavior response guidelines in the student handbook are now in effect, including changes to the rules outlining iPad usage, other technology use, attendance, and dress code. This change in policy was announced by the school administration at a presentation to the student body during Flex Time in the theater on Jan. 13. 
Noting that students are "fully back" from the COVID-19 pandemic, and acknowledging the more relaxed rules that ensued, Vice Principal for Student Life Mr. Aaron Hollingshead's goal in announcing the shift was "to boil down certain things into a really easily digestible form so that students are super clear on what's expected of them," he said.
Each of the four categories in the handbook now has four columns correlating to a first offense, second offense, third offense, and repeat violations. In addition to logging attendance in PowerSchool, teachers will log violations regarding technology use and dress code in a new Google Form, where they select the kind of offense that occurred, the student's name, and add any additional context if needed.
While this system of rule enforcement is new this semester, many of the policies outlined in the new student handbook are only marginally different from those in the previous handbook. 
"The vast majority of what I'm bringing forward is actually not changes," Mr. Hollingshead said. "It's trying to succinctly state some existing policies or reduce some that were maybe a bit confusing or longer than I thought they needed to be."
As a consequence of an accumulation of tardies and any unexcused absence, detention will now be enforced, occurring at two times on Blue 1 days: in the morning from 8:30 to 9:15, and in the afternoon from 3:15 to 4:00. Students will have a 45-minute work time with no electronics and can do quiet activities like reading or studying. Alternatively, campus beautification may be assigned, but it can vary depending on the day or time of year. For example, students may be required to help out in the cafeteria or at seasonal athletic events.
With more relaxed rules following the COVID-19 pandemic, some students voiced their surprise at a shift to more strict enforcement coming mid-school year. 
"With how the year has been so far, I wasn't quite expecting them to take such a big jump all of a sudden," freshman Charlotte Robinson said.
Students expressed a range of opinions following the announcement, with several focusing on the introduction of detention. "I think bringing back detention sort of surprised me," senior Olivia Maulding said. "[Seniors] haven't had it since freshman year … bringing that back I think is going to enforce much more strict policy. It'll cause students to comply with rules a lot more."
While these changes may have seemed unexpected to students, several members of the faculty view the rule changes as simply returning to what the expectations at La Salle were like before COVID, and see them as a step in the right direction. 
"My initial reaction was probably that I felt like it was a good thing," math teacher Ms. Kristin Boyle said. "I was happy to hear that there'd be a little bit more clear expectations and then follow through on how we're fully returning back to normal."
Science teacher Mr. Ryan Kain expressed a similar sentiment. "Things have been wildly more relaxed since COVID," he said. "As we came back from the pandemic, so much of our expectations and efforts were on 'We need to get the classroom as normal again as possible,' and so a couple of other things got pushed to the back burner for a while. We're returning to them now."
Prior to the schoolwide announcement, teachers had an opportunity to meet with Mr. Hollingshead, ask questions, and give feedback on the proposed changes.
A major concern brought up in this meeting, and a driver to these changes, was attendance — specifically, the amount of time students were spending in class.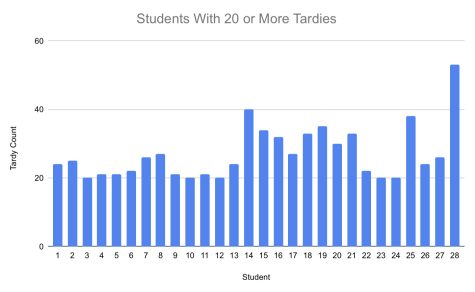 Even though the majority of the student body is likely to be unaffected by the new attendance policies (104 students had zero tardies through mid-January, and 417, including the 104, had between zero and four), faculty members hope that these consequences will allow students to make more informed decisions about their behavior.
"[La Salle] is supposed to be a place where you love coming and enjoy, but it's also a place where we want to be serious and have expectations that enable all students to learn at their best," said Mr. Hollingshead. 
However, when this policy surrounding attendance was announced to students, several concerns were raised. In particular, questions asked during the Q&A portion of the presentation mainly centered around morning tardies, with students asking about the distinction between late arrivals for the first class of the day and tardies that occur for subsequent class periods. 
"Coming from someone who has a longer commute to school, I think that tardies might be a little bit difficult for me specifically," Maulding said. "We run into different factors that cause tardies like construction or car accidents, traffic, and so you never know when that could happen."
In his presentation to students, Mr. Hollingshead made it clear that these new policies may be adjusted or added to throughout the year, and that his goal is to receive as much feedback as possible. 
"If students don't like what they hear, I want to be able to answer it and explain the process and explain the rationale," he said. "Whether or not everyone agrees with it, which we won't, hopefully, there's an understanding of why this was done."
In addition to meeting with the faculty heads of each department, a central part of Mr. Hollingshead's process in creating the new handbook was to consult with the students in Executive Council. In their meeting, the first thing the group did was discuss a draft version of the school's new "equity lens," which, when finalized, will be used to evaluate the potential impacts of all major decisions.
One of the central questions addressed in this lens is: Are the parties impacted by this decision being considered? This question, among others in the equity lens, was then discussed in context with the newly drafted policies being presented. 
As one of the students who met with Mr. Hollingshead to discuss these policies, Junior Class President Dawson Stroud noticed "a lot of people saw some issues about the possibility for future inequality of disciplinary measures, specifically if some target people on the basis of factors that they can't control," he said. 
Such areas of concern regarding equity included whether students have access to clothing items that fit in the dress code and if they must rely on means other than personal transportation to get to school on time. 
Not only was an emphasis on equity present in the meeting with students, but it was also in the minds of faculty members — especially in the follow-through portion of the policies. For instance, counselor Mr. Kevin Doyle is hopeful that some students won't feel targeted more than others. 
"I hope that across the board, everyone is being treated equitably under this new policy," he said. "If it turns out that [they're] not, then hopefully we can adjust it and make it more responsive to where our community needs lie." 
In order to make the new student handbook as fair to all students as possible, Mr. Hollingshead has aimed for these new policies to be straightforward to avoid situations where the administration seems adversarial to the student body. 
Maintaining consistent enforcement of the new handbook's policies is something that faculty is hoping will improve overall school culture this semester and for years to come.