Gregory Gourdet's Kann Lives Up to the Hype
My dad and I got into Kann by random chance.
I'm not exaggerating here — I mentioned Kann to my mom after hearing about it during class, making sure to tell her that it was the hottest and most exclusive restaurant in Portland. About five hours later, she told my dad and I that she got us a reservation for two at the chef's counter at 11:30 … on the same night.
To whichever couple canceled their reservation last minute, thank you.
As my dad and I walked into the restaurant, we were giddy. A last-minute reservation to the hottest restaurant in Portland, one of the best new restaurants in the entire country, with a seat at the coolest spot in the restaurant? It seemed almost too good to be true. Fortunately, this was real life.
Head chef Gregory Gourdet described Kann's food as "wood fired Haitian." While every dish was based off of Haitian favorites, such as the twice-cooked pork or the epis brine chicken, each dish also had an astounding level of creativity to it. Everything on the menu is also gluten and dairy free, which makes the food all the more impressive.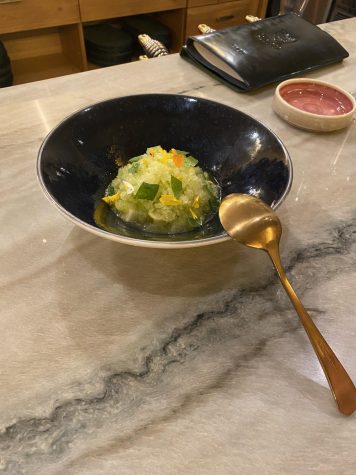 No dish exemplified this more than our first starter, the lightly seared butterfish. The fish was paired with lemongrass, mint, green apple shaved ice, and a habanero cane sugar sauce.
You heard that right.
While both my dad and I were baffled by this combination, we both came away really impressed by the dish. The toned-down flavor of the fish perfectly contrasted the super bold and punchy shaved ice and habanero sauce. It left us wondering how on earth Gourdet even thought to try this combination.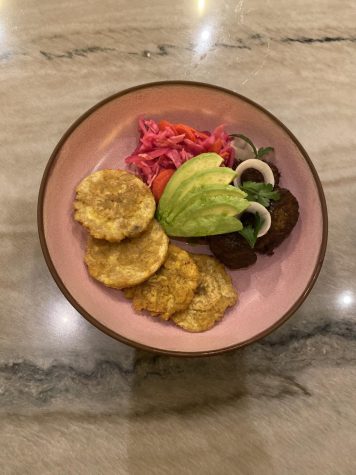 With our mouths still stinging from the habanero sauce, we moved onto our second starter, the twice-cooked pork. A popular dish in Haiti, it is braised, fried, and served alongside pickled onions, fried plantains, and avocado. While this dish was a bit more conventional than the butterfish, it was even more impressive. Impeccably seasoned and incredibly tender, it may have been the best thing we ate all night.
Finally, we moved on to our main courses. Kann serves their dishes family style, so my dad and I had plenty left over. I decided to try duck for the first time, ordering their glazed duck, while my dad opted for the king salmon.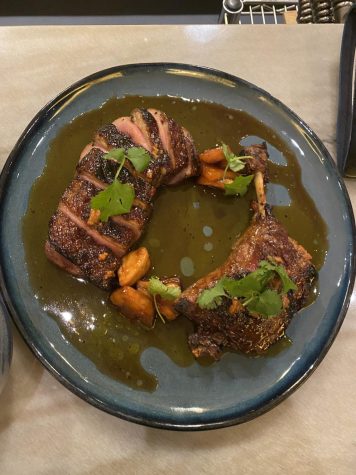 While the duck was really good, I wasn't quite as blown away by it as I was by the other dishes. The dish consisted of a thigh and a leg glazed with cane syrup and plated with persimmons and pineapple. If you couldn't tell by now, this dish was super sweet. While it made for the best leftovers of the bunch, the duck just didn't have quite the same "wow" factor of the other dishes.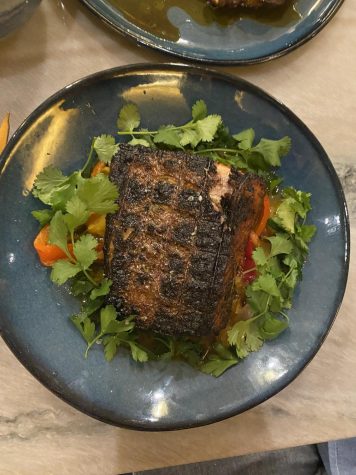 However, the salmon more than made up for it. I will preface this by saying that I really hate salmon most of the time. This was the best dish of the entire night. The salmon was served skin side up, and that skin was unbelievably crispy and packed with flavor. The meat itself almost dissolved in my mouth. It all added up to an extremely impressive dish.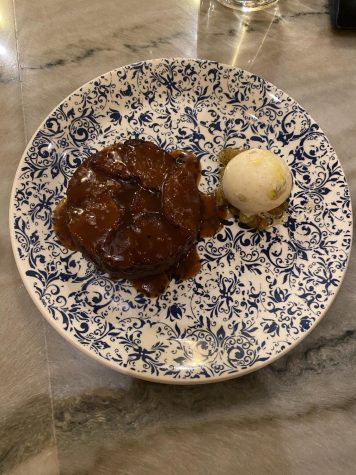 Finally, we closed the night with dessert. I ordered the pineapple upside down cake with rum raisin ice cream. Usually, a dessert is just pure sugar and sweetness, but right from the get-go, I noticed the complexity in the cake's flavor. There were about a million different spices used. It was the perfect cap to a great night.
If you're wondering how to get a reservation here, I'm sorry — I don't have any tips for you. Like I said earlier, my dad and I got a reservation due to pure chance. Reservations for March come out on Resy on February 2 … good luck.
While Kann might be tough to get into, it's not by design. "People want to come in, there's a high demand," Gourdet said. "That doesn't make it exclusive. I'm not not letting anyone in."
Overall, Kann was a mind-blowing experience. The service was lightning fast — we received our food only about five minutes after we finished ordering. Gourdet himself chatted with customers throughout the night, which added to the chill and laid-back atmosphere. And, of course, the food was amazing. 
The hype around Kann is entirely warranted. I would highly recommend it — if you can get in.