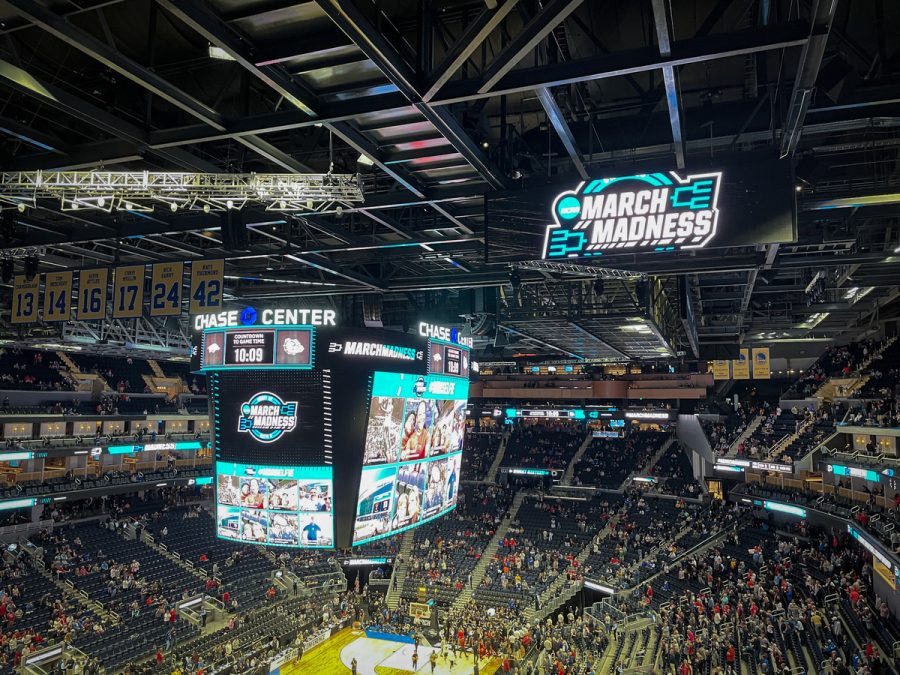 Teams to Watch
November 30, 2022
Arkansas Razorbacks
The Razorbacks will be looking to build off their success from last season with a highly-ranked freshman. Joining an already talented roster, number one-ranked, freshman guard Nick Smith Jr. has high expectations for the season. Head Coach Eric Mussellman hopes to build chemistry quickly with this squad, as the Razorbacks have the chance to be a special team. Along with returning guard Ricky Council IV, this roster — rightfully so — has extremely lofty prospects. Their efforts carried them to the Elite 8 where they fell to the Duke Blue Devils. This team has sky-high potential to make a long run in this year's tournament, with the chance to make an appearance at the Final Four in Houston.
Indiana Hoosiers
As a historically successful program, the Hoosiers have a chance to spend the majority of their season at the top of the Big 10 standings which hasn't happened a lot in recent years. In their previous season, the Hoosiers snuck into the tournament as a 12-seed where they fell to the Saint Mary's Gaels.
This year, the Hoosiers could build off their March Madness bid from last year with the help of Trayce Jackson-Davis. The senior forward will have a lot of eyes on him from around the college basketball community. Averaging 18.3 points and 8.1 rebounds last year, this Hoosier team has their eyes on making a March run. The Hoosiers entered the year ranked number 13 in the AP top-25 rankings and are looking to build up their resume to help them land a high seed in the spring.
North Carolina Tar Heels
The Tar Heels had a very successful season last year. As an 8 seed, Head Coach Hubert Davis led his team to the National Championship and lost by only three points to the aforementioned Jayhawks. They even led by 15 points in that game and most likely would have won with a healthy Armando Bacot. Bacot was favoring an ankle injury that impacted his ability to play at full strength.
The Tar Heels' highlight from last season is their victory over long-time rival Duke Blue Devils in the Final Four, effectively ending coach Mike Krzyzewski's prolific career. In that game, the Tar Heels were led by Caleb Love's efficient shooting and leadership which spurred them to a National Championship appearance. 
The Tar Heels hope to build off of last year's spectacular season. With a lot of their talent and scoring from their March Madness run returning, the Tar Heels have the eyes of many in the College Basketball community to make it back to that title game in April.
TCU Horned Frogs
The Horned Frogs have an important season ahead of them with a talented roster that can make a real impact on college basketball. With Head Coach Jamie Dixon at the helm, the Horned Frogs have the opportunity to make a surprise Final Four run that will shock fans.
Last season, the Horned Frogs made the NCAA Tournament as an eighth seed with a record of twenty wins and twelve losses heading into the big dance. They were knocked out by the top-seeded Arizona Wildcats in a sensational overtime finish.
This year, the Horned Frogs are led by a powerful duo in Mike Miles Jr. and Emanuel Miller who each can score well when given starting minutes. Of last year's roster, Miles Jr. and Miller are in the top three when it comes to points and minutes. This duo will need to prove that they can produce big plays and lead the Horned Frogs through a tough Big-12 conference schedule. If so, they will have the opportunity to get a high seed in March (due in part to a stacked resume) and possibly make a run to Houston in April.
UCLA Bruins
The Bruins have a very impressive team this year with another year in the Mick Cronin campaign that is chock full of potential. Led by Tyger Campbell and Jaime Juaquez Jr, the Bruins have the chance to prosper in their PAC-12 schedule and set themselves up for a nice run in March.
Last season, the Bruins made it to the Sweet Sixteen before falling to the previously mentioned Tar Heels who would go onto the National Championship. The four-seeded Bruins had their eyes on the Final Four, which they had made in the 2020-2021 season. In their Final Four game, they found themselves on the bitter end of a heart-wrenching game-winner from Jalen Suggs of the Gonzaga Bulldogs. The sour taste that these March Madness losses gave the Bruins will for sure be motivating for returning players this season.
As mentioned earlier, the Bruins will need a lot out of their two stars: Jaime Jaquez Jr. and Tyger Campbell. The returning pair played extremely well last season, averaging 13.9 and 11.9 points per game, respectively. Mick Cronin will need a lot out of these two starters in order for the Bruins to make it back to the Final Four like two years ago.