Feeding the Falcons: Meet Our Kitchen Staff at La Salle
Despite being faced with the adversity of the pandemic's effects on the supply chain as well as the struggles of appeasing hungry teenagers, La Salle's lunch staff has remained dedicated to consistently providing the school community with food services that keep both the health and happiness of the students and staff in mind. 
Aided with music in the kitchen, staff members Ms. Becky Tetherow, Ms. Juanita Lydon, Ms. Megan Gable, and food services manager Ms. Kim McCarthy work to provide for the school. 
"I would say we're just a really fun group of ladies," Ms. Lydon said. "We like to have fun back here!" 
While the La Salle community is accustomed to seeing the four of them cooking, cleaning, and cashiering, the journeys and adventures that led each staff member to their role in La Salle's kitchen are all unique.
The healthiness of the menu at La Salle is an important factor for the lunch staff when creating their shopping lists, and Ms. McCarthy, in particular, said that she always considers the quality and nutrition of the food the school has to offer. In previous years, the staff recognized a lot of soda machines around the school and lots of muffins, cookies, and milkshakes being served daily. "It wasn't very healthy," Ms. McCarthy said, so when the staff decided to make changes to the menu, they kept some of the sweet items favored among students but also made new additions to increase the nutritional value of the choices offered. 
Despite struggles with the numerous national supply chain issues, La Salle's kitchen staff have come together to combat them on their own. "We're in the same boat as everybody else," Ms. Tetherow said. Having to adapt to changing circumstances and still provide the school with a wide variety of food options, the four of them have had to put in additional work to maintain consistency in the lunchroom. This adaptation proved useful when the staff discovered that the sought-after Friday pizza delivery didn't show up only minutes before lunch began. 
International supply chain issues, emerging increasingly since the beginning of the pandemic, have upended and challenged many industries, including the food industry. As Ms. McCarthy recalls, before the pandemic the kitchen received two weekly deliveries of food from U.S. Foods, one of their main suppliers. But, after the pandemic began, both deliveries were canceled due to a shortage of delivery truck drivers and warehouse workers at the company, and although the kitchen staff eventually regained their delivery times, this issue caused frequent inconsistencies in all aspects of what they were receiving.
From the quality of the food to the timing of food deliveries, Ms. Gable shared one example of frustration that the inconsistencies in time, appearance of food, and product supply have caused. 
"For instance, the black bowls we had to use yesterday for the orange chicken, that's because we had an order error [because of`] a supply chain issue. So, we couldn't get our normal container and then we couldn't find any at Restaurant Depot, we couldn't find any at Cash N Carry, so this is what we ended up with," Ms. Gable said. "And that's always a challenge because it looks different to everyone, and they're like, 'What's going on? Where's our [usual] size?' It's like, well, we're not trying to do that on purpose to you guys, it's just that we can't get [the normal containers]."
The increased prices of food is also an issue that the kitchen staff has to resolve, keeping both their budget and the quality of the food in mind. "We truly try to keep our costs down on healthy things," Ms. Tetherow says. "We're not a profit driven kitchen, … we're just trying to cover our bills. I want the kids to know that." 
Due to inflation driving the retail price of food up higher and higher, the staff is forced to make difficult decisions about keeping or scratching the products they normally buy, as they noted that on drinks, for example, they only add a charge of around 25 to 50 cents per item compared to what they pay for retail. 
Another struggle the lunch staff face occurs when lunchtime rolls around, and hunger begins to obstruct students' better judgment, leaving the kitchen staff to report hearing things they wish they hadn't. The entire staff recounts hearing negativity about the food they serve, stating that they receive indirect but still hurtful comments on an almost daily basis from students.
 "Remember there's people back here," Ms. Gable said, "and what [students] are saying, they're mean things." 
Ms. McCarthy wishes the feedback could be presented in a positive and productive manner and her staff agree. "There's a ton of really mature and respectful, polite kids coming through, it's just that, negative stuff stands out a lot," Ms. Gable said. On the flip side, Ms. Gable loves when students show gratitude and it makes her day when a "thank-you" slips in with the other not-so-gracious comments. 
Persevering through the challenges, the four staff in the kitchen also maintain an eventful life outside of their time at La Salle. 
Ms. McCarthy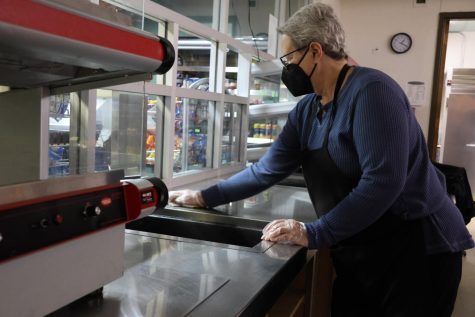 La Salle's food services manager, Ms. McCarthy, has lived in the Portland area since she was a child, attending St. Mary's Academy and marrying her husband, a La Salle alumnus of the class of 1973.
Before beginning her career at La Salle, Ms. McCarthy took her love of art and creativity to a silk screening company where she was an art supervisor. When she had children, she resigned and found herself pursuing an entrepreneurial spirit as she created multiple design company start-ups, one being Sharp Designs. It was when her three daughters came to La Salle that Ms. McCarthy got a job at the school and began her career of 17 years in the food industry. 
Ms. Lydon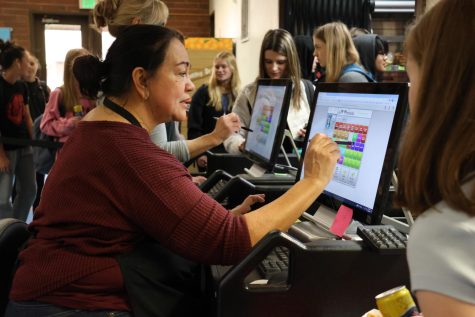 Close friends with Ms. McCarthy since they were high school students themselves, Ms. Lydon joined La Salle's kitchen staff last year.
Ms. Lydon's favorite part of her job is interacting with the students every day, as she loves getting to know them. Ms. Lydon knows approximately 200 names of the students in the community and strives to learn even more. 
Before coming to La Salle in November of 2021, Ms. Lydon worked in the North Clackamas School District for 20 years in a teen parent program. Outside of working in schools, Ms. Lydon enjoys playing the ukulele, which she picked up a few years ago. 
Ms. Gable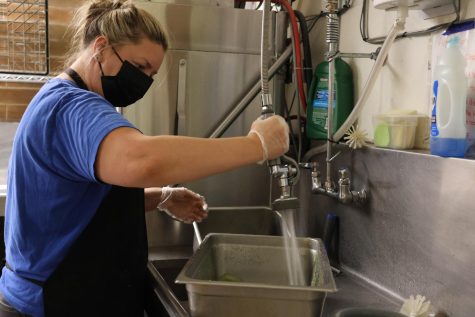 Ms. Gable, the kitchen's head chef, loves animals of almost any type, especially goats. She used to have what she describes as a "mini-farm," complete with goats, pigs, and chickens. However, now that a new chapter of life has begun for Ms. Gable, she now only has her two dogs, Dax and Shyanne, and is working on the construction of her new house.
As La Salle's head chef, Ms. Gable has taken on the job of cooking all the entrees and hot food served as well as the responsibility of ordering the food deliveries necessary for meals to be made. Outside of cooking in the kitchen at La Salle, her two favorite dishes to make at home are lasagna or "anything Mexican." 
Ms. Tetherow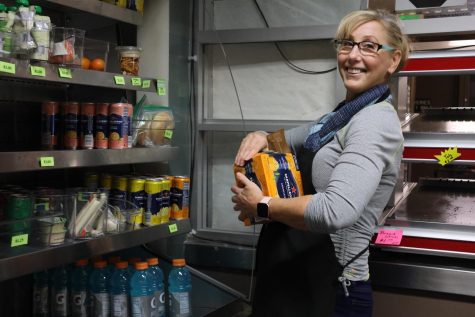 Making an effort to include more vegetable-centered meals on La Salle's lunch menu, Ms. Tetherow is behind many of the new additions seen during mealtimes. The recently-added salads, in particular, are some of coworker Ms. Lydon's favorite items. "There's some amazing new combinations [of salads] … that are really, really great," Ms. Lydon said, noting Ms. Tetherow's harvest salad as one that she, as well as other staff members, especially enjoy. The pita bread and veggie boats, courtesy of Ms. Tetherow, have also taken off as a favorite among students and staff this year, she said. 
Along with coming up with new additions to the menu, Ms. Tetherow enjoys gardening, hiking, and spending time with her family. And, although she doesn't have any at the moment, she also has a love for animals.  
The kitchen staff members collectively compare themselves to members of a family, recounting their many fond memories in the kitchen, having fun and singing to music while preparing for or cleaning up from lunch. And, through many struggles, this collection of staff members remains positive, stating that their goal is to connect with the students and keep the kids fed.