October Is Breast Cancer Awareness Month — How Is La Salle Honoring It?
The month of October is National Breast Cancer Awareness Month. During this month, La Salle's community shows its support in many ways, but the story of Breast Cancer Awareness Month begins in 1978, with Betty Ford. 
During her time as the first lady of the United States, Ford was going through treatment for breast cancer. She decided to break the silence about breast cancer and share her journey publicly. This was the first step that led to what we see now as a nationwide movement of support and awareness for breast cancer patients and survivors.
Breast cancer can be traced back to around 3000 B.C., where Egyptian texts describe tumors that were treated with cauterization. 
In 1838, Johannes Muller proposed the idea that cancer cells develop in normal tissue due to blastema. Since Muller's discovery, there are now not only several ways to treat cancer but there have also been developments in how different subtypes of cancer are being identified. As more knowledge of the disease circulated, support for women who have experienced it increased as well.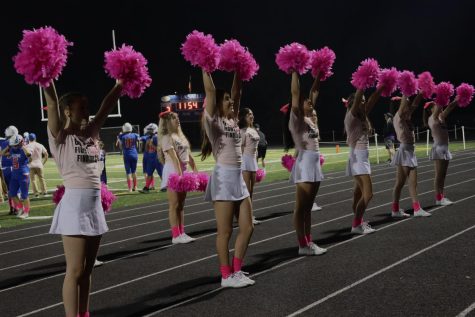 The statistics for breast cancer are startling. There is about a one in eight chance that a woman will develop breast cancer throughout their life and there is a one in 39 chance that they will die from it. These statistics represent a severe women's health issue; the need for a cure for breast cancer is crucial. 
Jack Koppy, a senior on the La Salle football team, "likes the ability to spread awareness [for breast cancer]" while playing football. "It really brings out a lot of spirit," he said. When he was younger, Koppy spent time watching NFL players show their support for the cause and he aspires to do the same. Friday, Oct.14, during their pink-themed football game Koppy, sported pink socks and pink wrist tape as part of his game-day uniform.
The La Salle community shows its support for Breast Cancer Awareness Month by asking students to wear pink to the sports games. Many of La Salles' fall sports teams participated in showing their support. The football team wore pink shirts to school and used pink tape during the games, while the cheer team performed on the sideline with pink pom-poms. The girls soccer team wore pink socks and the volleyball team wore pink warm-up jerseys. The students of La Salle took the initiative to show their solidarity.