Next Level Seniors: Natalie Pfleger Commits to Minnesota for Collegiate Soccer
Senior Natalie Pfleger was four years old when she began playing soccer, and although it has not always been easy, soccer has always been her favorite sport. Even in elementary school, she had dreams of becoming a professional soccer player.
"I want to be a pro soccer player," Pfleger said. "But it's definitely a lot harder to just decide that you're gonna be a pro soccer player than some other jobs." 
Her passion for soccer will bring her to St. Catherine University in Minnesota, where she will become part of the select group of La Salle seniors to go to the next level. 
As a freshman, Pfleger's entry into the La Salle varsity soccer team was both exciting and nerve-wracking, she said. "I felt like I really had to prove myself to, especially the upperclassmen, but all my other teammates and coaches as well," Pfleger said.
However, her worries subsided when her team welcomed her and she eventually became a team captain. But leadership has not always been in the crosshairs for Pfleger. Before her election as a team captain, she saw herself more as a follower.
Because of soccer, this attitude has changed. 
"I tend to speak up more on the huddles or, if someone's down, I'll be like, 'Hey, it's okay. You got this and don't worry about it,'" Pfleger said. "I just feel I think I have more confidence in myself."
Even if she is generally quiet in school, Pfleger says soccer brings out another side in her. This increased confidence in herself has allowed her to take on her role as captain and help others build confidence in themselves as well, which is an important part of being a good player and leader, according to Pfleger. 
As a middle schooler, Pfleger began to go off to national tournaments. 
"And so [my father said] wouldn't it be fun to travel and play against better teams and grow from it. And so I decided that I wanted to do that and be pushed," Pfleger said.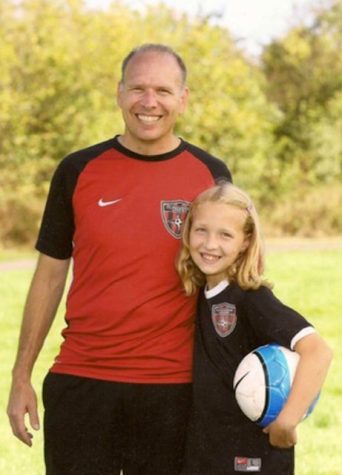 One of Pfleger's favorite memories of soccer was the San Diego for Surf Cup Tournament, where she scored, went to finals, and her team won with five minutes left. Not only that, but it was her first game on a premier-level team that played nationally. 
Transitioning into high school, soccer remained a big part of Pfleger's decision-making process. Pfleger found out about La Salle through one of her former soccer coaches, who happened to also coach the La Salle team.
Her involvement in an ID camp, a place where individuals can play with college coaches present, gave her the opportunity to show her skills and get recognition. This is where she found an interest in attending school in Minnesota, which led her to St. Catherine University. As someone interested in exercise science and physical therapy, St. Catherine University was a great fit.
After sending them a highlight reel of some of Pfleger's plays, she was on her way to becoming a collegiate player.
Pfleger credits much of this success to her father. A role model from the beginning, his place as a soccer coach and a player inspired Pfleger as a child to participate in the sport. Even though Pfleger's parents always told her they wouldn't be upset if she quit, the way soccer strengthened Pfleger's relationship with her parents was one of the reasons she fell in love with soccer. 
However, because she competed in dance competitions, swam, and played volleyball, the time commitment to soccer forced her to choose between extracurriculars.
"I mostly chose soccer because I knew that I was better at it and that I definitely was going to probably get more in life with soccer than with dance," Pfleger said. 
Knowing that if she worked hard enough she could join a collegiate team, Pfleger made the choice to invest her time in soccer. But this wasn't the first time Pfleger has made a big step when it came to advancing her sports career.
Throughout the application process, one piece of advice that Pfleger has is that upcoming collegiate athletes stay true to themselves as a player, yet also not to confine themselves to their comfort zone. Failure is another important part of Pfleger's soccer journey.
Pfleger remembered a time when she missed a goal near the end of a game, leading to her team's defeat. She said she was so distraught that she felt like she never wanted to play soccer again. But for Pfleger, defeat is an inevitable part of success.
"[You should be] open to failure, because I've made so many mistakes while playing soccer," Pfleger said. "Like, you can't feel like you've succeeded without failing because you're not gonna know what it feels like."