Athletic Trainer Stephanie Morgan Shares Her Journey to Becoming a Mentor and Friend to Student Athletes
La Salle's athletic trainer Stephanie Morgan started her journey with sports by playing softball and volleyball at Pleasant Hill High School. She played for four years as a left-handed pitcher there. Morgan also participated in volleyball for her first two years of high school. 
Morgan is an Oregon native, living here for most of her life. As well as participating in sports, she also did 4H, a youth organization that helps advance youth development, where she showed sheep. This competition allowed her to travel around Oregon and to states such as Washington, Idaho, and California. 
"I did it basically my entire life until I graduated high school," Morgan said. 
After high school, Morgan made the decision to attend Western Oregon University in Monmouth as an undergraduate. There, she continued playing softball for four more years. 
"Originally, I wanted to be a teacher," she said. "They have a really good school for teaching."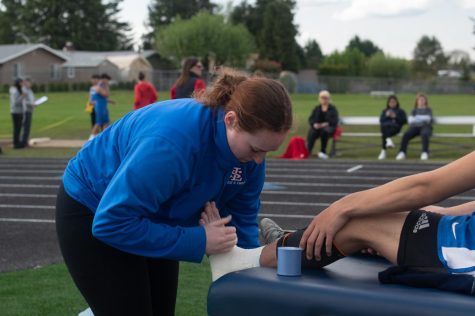 Before she started classes, Morgan decided to switch her major. She tinkered around for a little bit until she landed on exercise science. Exercise science involves the mechanics of the body and how the body works. She tried it out and ended up loving it. 
During Morgan's freshman year, after she had taken her exercise science class, she decided that she wanted to be an athletic trainer. 
"[I] absolutely loved my athletic trainer for Western Oregon and saw how good of a mentor she was for her athletes," Morgan said. 
While at Western Oregon, the athletic training track fell under exercise science. It wasn't until she went to Pacific University in Forest Grove that the track became more focused. At Pacific University, Morgan was able to get her masters in athletic training and be a part of the athletic training program that they had there. 
After Morgan finished college and took her board of certification exam, she decided to stay in Oregon to be close to her family.
"I am very family-oriented," said Morgan. 
Currently, Morgan works a part-time job at Columbia Sportswear and works at La Salle through Providence. She has been working at Providence since August and has since been contracted here at La Salle. 
"I was actually supposed to be at Benson High School, but they needed an athletic trainer here last-minute, so I got put here," Morgan said. 
Morgan typically begins working at La Salle after her shift at Columbia Sportswear. She then starts with preparing for practices or games. On game days she'll get the water jugs ready and get everything set up before school ends. Morgan helps prepare Lasallians for practice through medical treatment, like taping and applying heat.
"I can do basically anything with the rehab and injury process of the body as well as being here as a listening box," Morgan said. 
Morgan's favorite part of the job is the kids and being able to be a part of the sports world. 
As well as the athletic training part of the job, Morgan also enjoys being a mentor to athletes. She enjoys being there for athletes as a friend. 
"My athletes — they make my day most of the time," Morgan said.