Next Level Seniors: Twice Varsity Softball Captain Ryley Vickroy Commits To Pacific University
For senior Ryley Vickroy's entire life, two things have been consistent.
The first is her childhood home, where she has lived all her life with her two siblings and at least six young children at a time from her mother's in-home daycare. "All my memories are there," she said. 
The second is her love for sports. 
"Ever since I was little, I was like, 'I do want to play a sport in college, because I feel like that'd be super cool and something that not everybody gets the chance to do,'" she said. 
Originally, Vickroy imagined that her collegiate sport of choice would be soccer, since she was a part of the La Salle soccer team for two years — but then the pandemic hit, and it forced her to reconsider. 
Not playing soccer or softball during her sophomore year was "a good and a bad thing," Vickroy said. "I don't think I really realized how much softball has helped me with becoming the person I am … It just made me realize how much I loved it."
Realizing this, and also taking into account the number of concussions Vickroy had sustained from her time in soccer, Vickroy chose to focus solely on softball post-pandemic. 
Now, Vickroy has committed to playing softball at Pacific University in Forest Grove, Oregon, becoming part of a select group of seniors at La Salle who have signed to play sports at the collegiate level, and are thus showcased in The Falconer's Next Level Seniors series.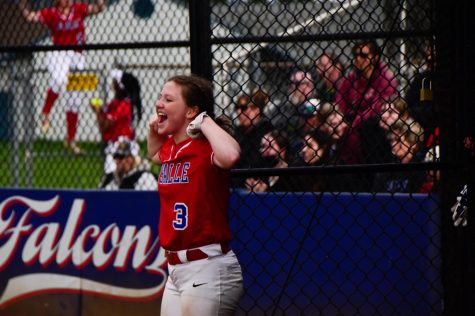 When Vickroy returned to softball in her junior year, she was not only chosen as a captain, but to her surprise, played as the team's catcher. Playing as a catcher was "nothing that I ever thought I would do, or be good at, but I did it because we didn't have a catcher," Vickroy said. Vickroy said that she is considered a utility player, meaning she can play a variety of positions depending on what the team needs. 
A majority of Vickroy's experience as a utility player comes from playing in club teams. "I spent countless hours in practice to learn how to play different positions to the best of my ability," Vickroy said. 
Yet, taking on being a catcher was a new challenge, and Vickroy's father has been the one to encourage her to step out of her comfort zone. "Ever since I was little, he was just encouraging me to be the best I can," Vickroy said. This led her to be better in not just the "fundamentals of softball," she said, but also in "being a leader and communicating and just being more than just a softball player on the field."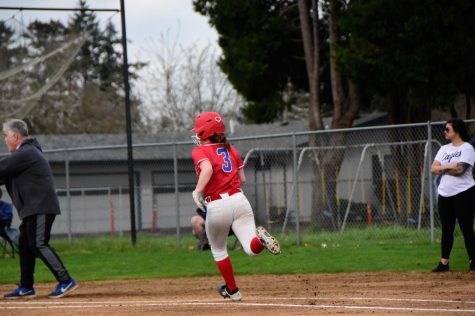 Because of this, if Vickroy could give one piece of advice to future softball team leaders, it would be to "get out of your comfort zone," she said. "I was always the shy one, and I got out of my comfort zone, and it's the best decision I've ever made."
After her junior year, Vickroy switched to playing shortstop. "I love where I am playing now," Vickroy said. "It's definitely my favorite spot that I've played in the last couple [of] years." 
With Vickroy in shortstop, there was a hole that needed to be filled for the catcher position, so junior Halia Richter took it on this year. "I love her so much," Vickroy said. "She's just a hard worker, and she's doing a great job. We've been so proud of her since she's joined the team freshman year."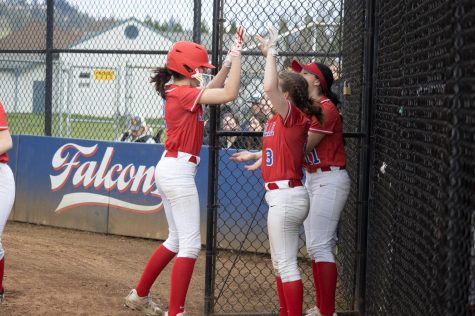 When Richter first met Vickroy, "I remember looking up to her a lot," Richter said. "I just felt very drawn to her and thought she was really cool."

One moment with Vickroy that sticks out to Richter was in a recent game against Wilsonville. "We didn't play the best, and I've just kind of been stressed, kind of all semester," Richter said. "And I kind of broke down a little bit after the game, but she came up to me and told me, you know, 'I'm really proud of you, you're doing good, and I want you to keep your head up' … That really meant a lot to me." 
In Vickroy's mind, "I've always been a people person … I'm always the one that checks on everybody and makes sure that they have someone to be there for them." 
Making these connections has also encouraged new teammates to join La Salle's softball team, such as junior Mallorie Taylor, who was persuaded to join the team by Vickroy. Taylor currently plays at 3rd base and as an outfielder on the team.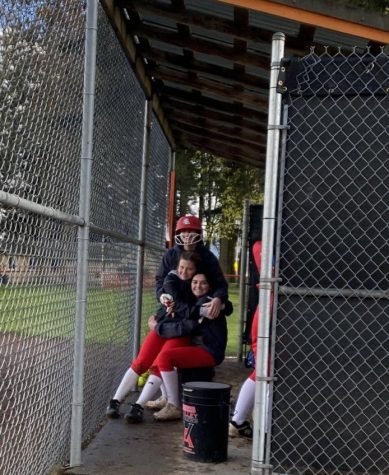 "I think that's what makes her so good as a captain, is that she can figure out those connections," Taylor said. Taylor has only known Vickroy for around seven months, but "I'll miss her very much," she said. "The whole program is really going to miss her next year." 
One particular bonding moment for Vickroy was the softball team's trip to California for a travel tournament her freshman year. Senior Olivia Oglesby, who is one of the three captains on the team along with Vickroy, was also in attendance on this trip. 
It "made us all a lot closer, because we were kind of forced to be together," Oglesby said. "It was a good thing because we all bonded."
Vickroy remembers visiting Disneyland on the trip, and "that was where I grew a lot of relationships as a freshman," she said. "So that made me excited about what was to come."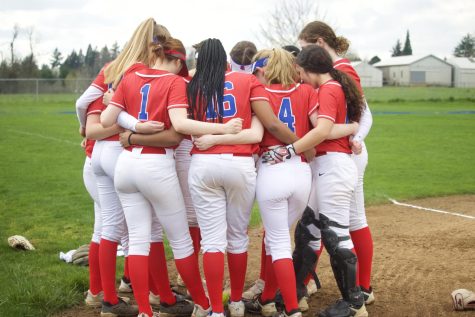 Another experience the team attended together was during Vickroy's freshman year, when the team coached softball for children with disabilities through the Fellowship of Christian Athletes. 
"Ever since that, I've known that I want to work with kids with disabilities," Vickroy said, which is why she plans on going into disability studies and elementary education at Pacific University. "It was just kind of mind-opening … I couldn't get a smile off my face ever since I've done that."

Consistently having young children in her house from her mother's daycare also contributes to this passion. "I've always just grown up with having kids in the house," Vickroy said. "I've always just grown such special relationships with them, and I just want to continue building those relationships."
Pacific University also has an elementary school on campus, where Vickroy hopes to become an intern. "It just makes my heart happy seeing how much they look up to me, and I want to be someone that people look up to," she said. 
In addition, Vickroy has met some of her soon-to-be teammates at Pacific University, and she "just absolutely loved their energy," she said. "They're just so fun, and I feel like it's just going to be a great fit for me." 
"I'm looking forward to it," Vickroy said. "I'm looking forward to finishing this La Salle softball season strong."