Local Coffee Shops in Portland: Are They Worth Trying?
The first coffee shop I sought to review was Papachino's Coffee House, which is located on Woodstock Boulevard and is just a short thirteen-minute drive from La Salle. 
Walking into Papachino's, you are greeted by a fun and friendly, yet calm environment. Not only can you come into Papachino's to get your homework done, but it has a fun upbeat ambiance for children as well. The walls are painted several colors and filled with abstract murals. One of the murals shows the entire wall painted different shades of blue with islands and trees scattered throughout.
While the environment is lively and upbeat, its "earth-like" aesthetic makes it good for homework, studying, or chatting with friends. 
The customer service is outstanding. The baristas are very friendly, welcoming, and not afraid to give their opinion on the best beverages they serve. They match the same energy that the coffee house gives off. 
My drink of choice was a hot latte. It was served in a unique cow print mug with a heart that said "there's a spot in my heart for you" and a detailed heart-shaped handle. Another detail of the coffee is that all of the drinks are served in variously designed mugs, just like the ones you might have in your own home.
The coffee itself had a light bitter taste, the perfect form of a nut-based coffee. I ordered it with 2% milk, however, they offer many other substitute milk products. The barista topped it off with a perfectly designed leaf latte art. If you are looking for a coffee that is full of flavor but not too bitter, Papachino's is a perfect destination. 
Along with the coffee, I ordered a Henry Higgins bagel. Although it is not the original Henry Higgins store, they do sell their bagels. I recommend going early because the bagels tend to go quickly. It is a perfectly toasted bagel with rich flavor and the perfect ratio of cream cheese to bagel.
Overall, the environment mixed with the tasteful coffee and Henry Higgins bagel contributes to Papachino's Coffee is a place that is definitely worth checking out.
Fetch Coffee Roasters: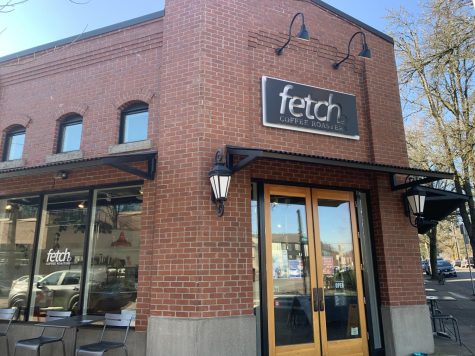 Fetch Coffee Roasters, a newly opened coffee shop in the heart of Westmoreland, left me with nothing but good reviews. The interior of the shop was welcoming and a trendy environment. 
Fetch Coffee Roasters appears as a typical coffee shop, however, their mission is what makes them stand out. It is the owner's love for dogs and coffee that led her to start the business. If you are a dog lover, this is the place for you. 
The coffee shop has a very modern and sleek feel. The environment has a comfortable and inviting atmosphere. It is the perfect coffee shop to sit down at and spend the day doing work. 
Prior to ordering, the baristas asked if I was planning on sitting in or taking my coffee to go. As I planned on sitting in, I was asked to show my vaccination card. This made me feel comfortable knowing that they are taking the right precautions to treat and care for their customers with the ongoing pandemic.
The baristas were welcoming, friendly, and surprisingly calm despite the busy rush. I ordered a hot latte and an iced vanilla latte. One barista walked the lattes over to my table when they were ready, and brought them in mugs which I thought was a cozy touch and made me feel like I could stay there a while.
Both coffees had a unique taste which was interesting to me because it was a new flavor that was added to my palette. After finding out that Fetch roasts their own coffee beans, it became clear that roasting the beans themselves gave it a special flavor. 
The hot latte had a rich flavor with a leaf latte art design. I was underwhelmed with the latte art because it was a little sloppy and fell out of its shape. The iced vanilla latte had a similar taste, as it was the same coffee, however, the vanilla syrup had an obscure taste. It was sweet but followed with the umami flavor. 
The food selection has various options. All of their pastries and bagels are from Marsee Bakery, a local bakery shop in the Portland area.
Fetch Coffee Roasters is the perfect place to spend time, get work done, and is especially the place to go if you are a dog lover. If you are looking for a coffee that is full of flavor but not too bitter, Papachino's is a perfect destination.
Stumptown Coffee: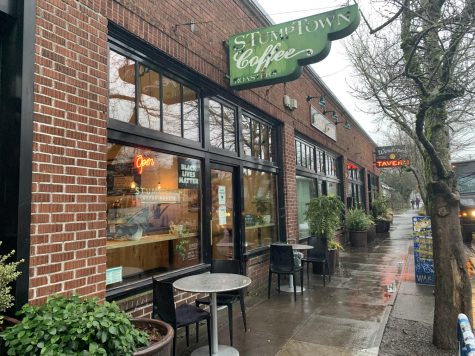 As a prominent Portland classic, Stumptown Coffee did not live up to its high expectations.
Stumptown Coffee has various locations throughout the Portland area, the closest one to La Salle is located on SE Division St. The outside of the building has a chic and rustic feel. It has a vintage green sign which draws in all the locals. 
The interior resembled a healthy and modern environment. Throughout the coffee shop, plants and succulents are widely spread. I thought they were a nice touch to the overall aesthetic of the shop.
When walking in, I felt a sense of awkwardness. The coffee shop was very empty, and there was no music playing, which added to the awkward feeling. 
Due to COVID-19, Stumptown Coffee is not offering seating inside. I understand their reasons for not opening dine-in seating, although it was disappointing because I was not able to sit down and enjoy my cup of coffee while doing homework. 
Despite the atmosphere, the coffee itself was delightful. Stumptown Coffee is known for its own roasting process. The coffee bean that they use has a rich flavor with a hint of sweetness. The sweetness to it makes all the difference because you are able to continue sipping away.
In conclusion, I do not think that Stumptown Coffee lives up to its high expectations, however, they still serve a great cup of coffee. If you are looking for a relaxed and cozy coffee shop this is not the place I would recommend.
Daily Dose: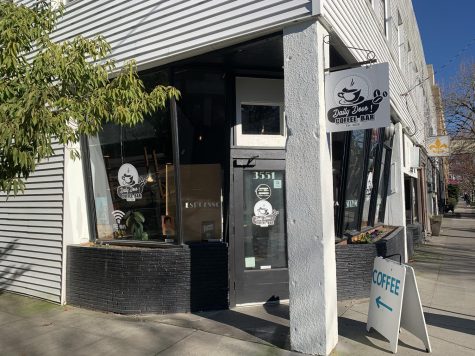 Daily Dose is a coffee house located on SE Division Street. The perfect location to have a day filled with trendy Portland shopping and a hot cup of coffee. My initial thought when walking in was that I would definitely be able to spend the whole day there. It was very cozy and laid back. There was light jazz music playing in the back which added a nice touch to the aesthetic. 
This cup of coffee was the perfect balance of bitter and sweet. There was a fruity tang to it which was appealing. If you are interested in a very bitter cup of coffee, I would not recommend Daily Dose. Their latte came in a white to-go cup and had a leaf-shaped latte design. The shape of the leaf fell out, so it was difficult to see. 
I ordered a sesame bagel with cream cheese. Unfortunately, this did not hold up to the Henry Higgins bagel from Papachino's, although it was still a decent bagel with rich flavor.
---
Overall, Portland has some of the most relaxing and inviting coffee shops that I have been to. Papachino's was my favorite coffee house that I went to because of the unique environment, the delicious coffee, and the outstanding Henry Higgins bagels. Fetch Coffee was a place I see myself continuously going back to. I loved its message behind wanting to start the business and the coffee taste because it is from their own roasted coffee. However, Stumptown was not a place I would go back to — I think that it was overrated and disappointing. Daily Dose was definitely my favorite atmosphere because of how relaxed it was.