How Ms. Mounsey Is Working To Change the Curriculum Around Racism at La Salle
Ms. Kiah Johnson Mounsey, La Salle's Director of Equity and Inclusion, is working to change the curriculum around how racism is taught at La Salle by creating a learning system with an "equity lens" around everything, as she describes it. 
Critical race theory is the idea that race is a social construct and the product of individual bias. It is also believed under critical race theory that racism is embedded in legal systems and policies, which has led to incredible controversy and a larger conversation about how race should be talked about in the American school system. 
While discussions about racism, systemic institutional racism, and identity continue to become more implemented into classroom learning — including in classes at La Salle — these topics are not what critical race theory is. "There's a misconception that automatically they fall into this umbrella term of critical race theory, and that's not the case," Ms. Mounsey said. Critical race theory is a subject matter that is taught at the collegiate and law school levels, so the act of simply including conversations about race in the classroom does not qualify it as critical race theory.
The lack of understanding about what critical race theory really entails is causing it to be "weaponized" according to Ms. Mounsey, especially after the deaths of Breonna Taylor and George Floyd, and the racial reckoning that came from them. 
The Black Lives Matter protests in Portland and the people who took to the streets and became vocal about these issues brought a lot of attention to systematic racism. As a result, "some people started grasping on to this term [critical race theory]," Ms. Mounsey said. 
Teaching and having conversations about race is something Ms. Mounsey has done in her time as a third-grade teacher, and at home with her children. "They're intelligent, they're astute, and they noticed race, and we need to cross the board," she said. Normalizing these conversations in kids when they're young is one strategy that people have used to change the way that race is viewed in society. 
"I think we would be in a very different place if these conversations happened very early on," Ms. Mounsey said. "It has to be developmentally appropriate, but you absolutely can do it."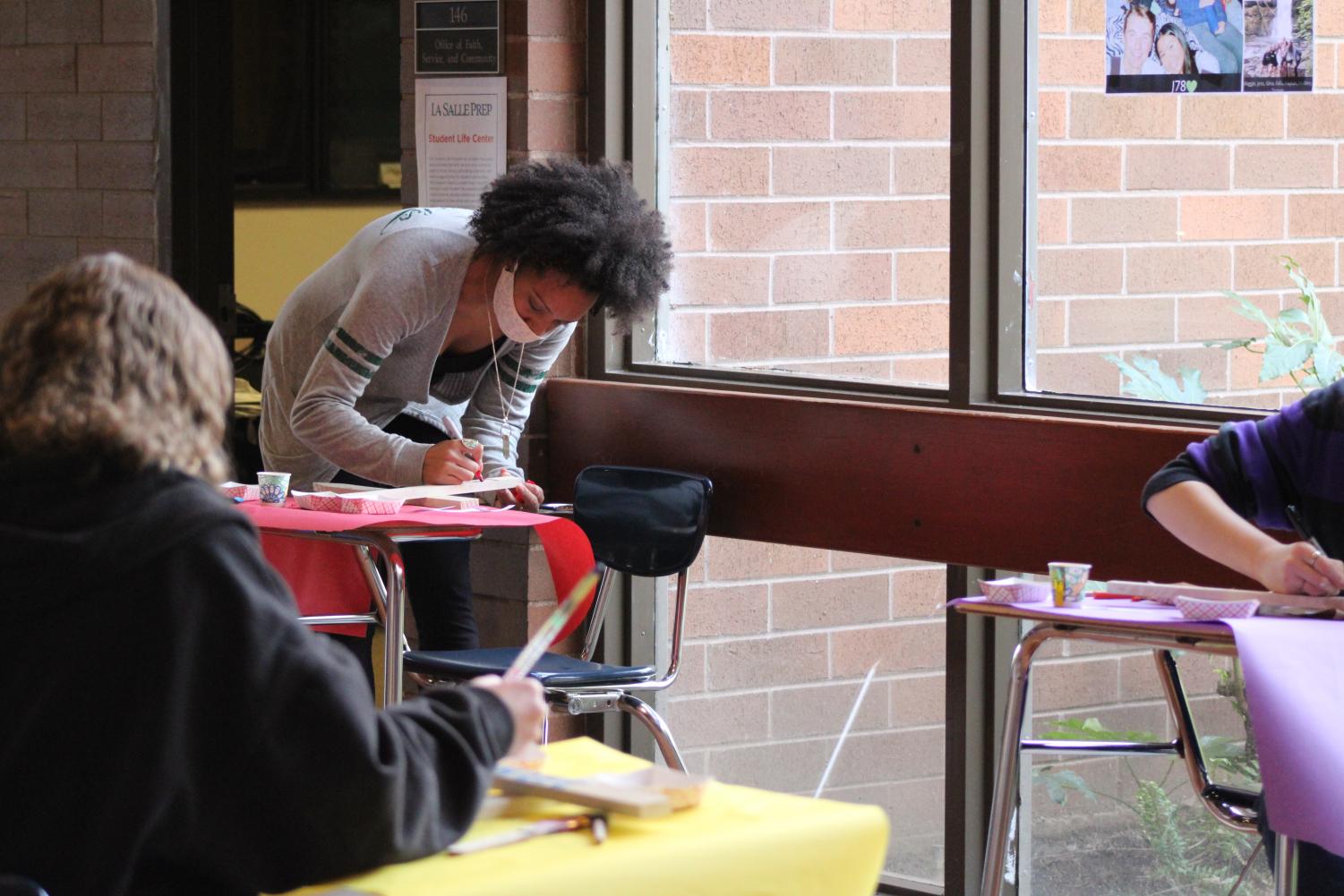 Diversity, equity, and inclusion work can be "really complicated," Ms. Mounsey said. Since beginning her work here at La Salle, she's implemented learning about self-awareness, and how to be "open, honest, and reflective about yourself as a racialized being" in the classroom, she said. One way she has done this is by teaching a lesson on identity and encouraging students to exercise self-expression in a senior religion class. 
Ms. Mounsey has also been working to help students learn and celebrate their own identities, while also learning and celebrating the identities of those around them. She believes that by continuing to learn and understand our own identities, along with other students, we can normalize and celebrate different identities.
"Recognize differences, because they do matter," Ms. Mounsey said. 
Despite growing up as a multiracial woman, Ms. Mounsey said her family didn't talk about race. This is something she wishes they did as it would have been "extremely beneficial in many different ways," she said. Now that she has her own children — and students — she wants to "really encourage them and empower them to have the courage it takes to have these conversations," she said. Ms. Mounsey believes it is important to acknowledge that not having all the answers is okay, as it creates opportunities to learn. 
Taking on this position at La Salle and making progress on education equity is "ongoing work, and requires a lot of time and persistence," Mounsey said. To her, this job not only demands work on an individual student level but on an organizational level as well. In order to truly make a difference, "you have to be uncomfortable," she said. She acknowledges that "this work cannot happen if there's no courage or willingness to be uncomfortable," she said. 
As for La Salle as a whole, "it's definitely on its journey, and making a concentrated effort to advance equity, inclusion, and justice," Ms. Mounsey said. 
Her work so far has consisted of implementing professional development opportunities related to equity and diversity for students and teachers, like creating the Inclusion Committee. This committee is made up of students, teachers, and parents, as well as a newly instated officer of inclusion all dedicated to creating a more inclusive community at La Salle. She also works with staff on how to incorporate social and emotional learning into regular classes. 
In terms of big picture goals, Ms. Mounsey hopes to review the current policies around inclusion, and "apply an equity lens on all of the decisions that are being made," she said. Her number one goal is for every single person at La Salle to feel comfortable being their authentic selves, and have the intersections of their identities be celebrated. She hopes that people won't have to fear being made fun of, or fear they might be judged, but instead, be able to "completely live into their true selves," she said. 
Mounsey believes in the importance of starting these uncomfortable conversations within the classrooms of La Salle. Growth "is not going to happen if people aren't having conversations around the history of our country that is rooted in racism," she said. 
Ms. Mounsey believes that incorporating discussions about racism all over the country is important, and would make a good impact on our society. Continuing to have these conversations about identity is "absolutely imperative and necessary," she said. 
She believes that seeing different perspectives and having each student be able to see versions of themselves reflected in the school curriculum is an essential part of promoting equity in schools. 
She believes that every child deserves to learn in the comfort of their own skin, and "not to have their differences glossed over, but be acknowledged, upheld, and celebrated," she said.