Math Teacher Mr. Redford Becomes a US Citizen
On Oct. 5, 2021, math teacher Mr. Kieron Redford became an official U.S. citizen.
Mr. Redford arrived in the U.S. from the U.K. in 1997 as an exchange student and returned later to attend graduate school. After completing his graduate degree, he was lucky enough to be able to stay in the U.S. Because of his teaching job, he transitioned from a student visa to a temporary worker visa. "It felt like the right thing for me to do, so I was very happy to stay," he said.
Although he has lived in the states for a long time, it wasn't until recently that he decided he wanted to become a citizen. "Earlier in my life, I wouldn't have felt comfortable kind of separating from the U.K., because you know it's my home," he said.
But since then, things have changed. "At this point in my life you know, I know that this is my home," he said. Before Mr. Redford made the choice to become a citizen, he couldn't do things like vote or participate in jury duty- things that many people in this country are able to do. "I wanted to officially be here," he said.
Mr. Redford began the process of becoming a U.S. citizen in Sept. of 2020. "I had to go and answer a lot of questions, and then prove that I could read and write and speak English, and take a test on U.S. government history," he said. After he completed these tasks, there was a lengthy waiting period before he actually received his citizenship. For him, this was one of the biggest challenges of the process, because "there's a lot of waiting and wondering if everything's okay," he said.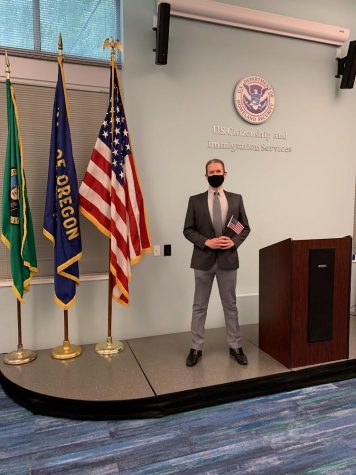 On the day of the ceremony, all Mr. Redford needed to do was verify some information and take an oath, and then his journey of becoming an American citizen would come to a close. Even though he was aware that he had completed everything needed, he said he still felt anxious. "I don't think I really let myself believe it until it actually happened," he said.
By the end of the ceremony when he had finally completed the process of becoming a U.S. citizen, Mr. Redford felt all of that anxiety disappear, knowing that "it was something that I wouldn't have to worry about anymore," he said.
"It's really satisfying to just come to the end with that," he said.