Following Newberg Ban, Students and Staff React to Displays of Pride and BLM Symbols on Campus
A one-hour drive from La Salle, the Newberg School Board recently banned staff from displaying Black Lives Matter signs and Pride flags in their classrooms, alarming and angering some of Newberg's staff and students. Alongside those Newberg residents, some outside the district's immediate community have expressed similar feelings of unrest around the decision, including several members of the La Salle community.
The push to ban these symbols in classrooms first began back in July of 2021 when the same school district first attempted to enact the ban on "political, quasi-political or controversial" posters, clothing, books, flags, and the like, following a months-long battle within Newberg's school board meetings. A Newberg School Board member argued that the Pride flag could be categorized as a political symbol, making it inflammatory to Newberg families who don't "agree with the gender ideology that flag represents," setting off a look into the rights of students and teachers to display symbols like those representing Pride and Black Lives Matter at school.
The ban was officially adopted into Newberg's school policy on Sept. 28, despite local outcry from students, families, and other Newberg residents. Newberg students reported that such symbols acted as a visual signal of support and safety, and some La Salle students agreed.
"I'm disappointed in the fact that Newberg has done this," La Salle senior Aaron Leonard-Graham said. "It sets the tone for other people that this kind of thing is accepted when it's not. This is a quick way to spread hate and violence [toward] different minority groups and different affinity groups. I think people need to realize that what you do [and] what you say, it matters, so by forcing schools to take down these signs, it's sending this message out that, 'Hey, we don't mess with that.'" 
Leonard-Graham stressed the importance of having visual representations of allyship in schools, and he said it is "very crucial to have students understand and know that, 'Hey, I support you, no matter what. Your life matters.' Simple."
Junior Chloe Beck, who is a member of the Pride Alliance at La Salle, expressed support for displays of Pride and Black Lives Matter and emphasized the importance of having them in a school environment. "It's always good to have that representation and community safe space, showing that it's okay," they said.
La Salle senior Ella Gach said she thinks the decision made in Newberg is "just ridiculous," she said.
"People should be able to express how they feel, to a certain extent," Gach said. "If you're harming someone or discriminating against someone, obviously I wouldn't support that. But if you're respecting people and making them feel safe and basically saying, 'It's okay to be yourself,' you know, [being] vulnerable, I feel like then it should be allowed." 
Among La Salle's staff, several have already been displaying symbols of Pride and Black Lives Matter, with the intent of fostering not only a welcoming environment, but also an environment in which issues surrounding equity and inclusion can be discussed with intent and effectiveness in classrooms.
La Salle English teacher Mr. Paul Dreisbach displays the Progress Pride flag as a sign "of welcoming, as a sign of allyship, as a sign of recognition that, culturally, we are talking about some significant discrimination and inequality in our country," he said.
At the beginning of this year, Mr. Dreisbach began hanging the flag by the door of his classroom, differentiated from the original Pride flag by its incorporation of additional stripes to also represent transgender individuals, people of color, and those suffering or who have suffered from HIV/AIDS within the LGBTQ+ community.
Prior to hanging the larger Progress Pride flag, Mr. Dreisbach also hung a small rainbow poster in the back of his classroom that reads, "All Are Welcome."
"The 'All Are Welcome' sign has been there for several years," Mr. Dreisbach said. "I wanted to make a bit of a larger statement with the flag and make sure sure that it was a little clear that this is an open space, that this is a place that is, hopefully, welcoming, and that this is a place where we are going to discuss ideas and we're going to confront some things that might be uncomfortable." 
In hanging symbols of Pride in his classroom, Mr. Dreisbach emphasized that the purpose behind the displays is to reach more than just those who identify with the flags.
He hopes that his displays not only offer an understanding of acceptance and recognition of LGBTQ+ students but that they also encourage those students who may be allies to keep up their support of the community and to cause students, who may not necessarily be allies, to "take a second to [think through] their perspective, think through their ideas, and perhaps come to be a little more accepting of people who are different from them in some ways, but very similar to them in most other ways," Mr. Dreisbach said.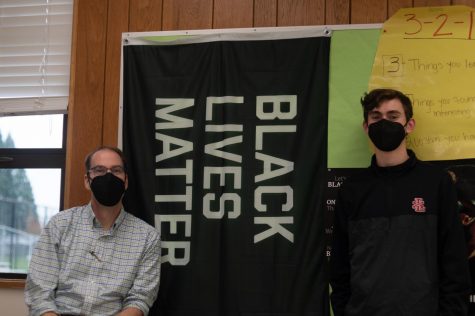 With a Black Lives Matter flag and several Pride flags hanging in his room, social studies teacher Mr. Peter Snow said, "I've received positive feedback from students, for sure. Part of that I think is the sense it's not four blank walls. People appreciate having something to look at a very basic level, no matter who you are."
"I haven't had any negative reactions from students," Mr. Snow said. "You may get the look around, and people will [give] a little raised eyebrow, a little nod, that kind of thing."
Gach said that these symbols in La Salle classrooms create and communicate the existence of safe spaces within the building. "We feel more comfortable because now that you know your teachers have the same or, you know, borderline the same views as you, they're not looking at you differently or anything," she said. "It just makes you feel like you're treated like everybody else in the class."
"I know sometimes teachers aren't supposed to share their opinions on certain things, but I think it's super important that we're able to see it you know, on the wall, or on the door, anything just, you know, [to] let you know you're coming into a safe space, that they hear you and they respect you for who you are," Gach said.
Leonard-Graham said when he sees symbols of Pride at La Salle, "I can be my authentic self here, and I don't have to worry about the repercussions of that," he said. "I don't have to worry about being bullied or being made fun of. I can just be myself."
Some staff members acknowledged that the matter of displaying signs or symbols in support of the LGBTQ+ community at La Salle can be viewed as complicated because of the viewpoint that the Catholic Church is not supportive of the community.
La Salle religious studies teacher Mr. Tom McLaughlin expressed his hope that his displays of supportive signage "might [tell] people who have a perception that Catholicism is anti-LGBTQ, that within the Church, there are many people who are accepted, that they can belong," he said. "Love and acceptance and unity, these are common principles in Catholicism, Christianity as a whole, and many of the other traditions around the world. And so the displaying of these images is right in alignment with that."
The politicization of symbols, such as Pride flags and Black Lives Matter banners, is a prominent topic of discussion in the Newberg school district, and students and staff at La Salle also weighed in on the controversy surrounding the symbols.
"It hurts me," Gach said. "It makes me so sad that human rights can be looked at [as] left-wing or right-wing. It has nothing to do with [politics], if you're a Democrat or Republican. That has nothing to do with it. It's being able to stand up for something and say, 'This is what I believe is right, or this is what I know is right, and I don't think people should be treated this way.' It's basic human rights. Basic human rights do not come with a blue or red stamp on it."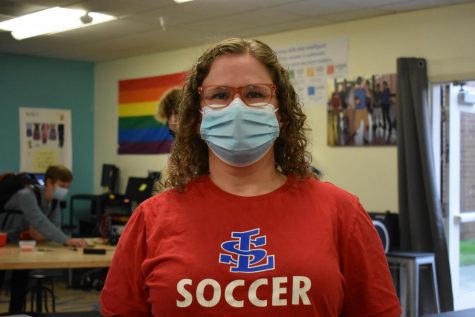 La Salle's Design Thinking teacher Ms. Carie Coleman, who hangs a rainbow Pride flag in the La Salle Innovation and Design Center, expressed that making a political statement is "not the point" behind displaying such symbols.
"A flag is a symbol, but also our actions," Ms. Coleman said. "It is what we say in our classrooms, it is the examples that we bring forth in our classrooms, and to bring a wide variety of perspectives. A flag is just going to be one piece of a bigger picture of what we talk about in an inclusive community, which is one of our banners," referring to the five Lasallian core values, displayed on banners in La Salle's main hallway.
La Salle's principal Ms. Alanna O'Brien mentioned that there are statements in La Salle's faculty handbook in regard to the expression of political affiliation at school, but "I don't see these two issues as being political issues, I see them as being inclusion issues," she said.
Mr. Dreisbach also expressed his thoughts around symbols being associated with a certain political view. "The thing that strikes me about [the decision in Newberg] is the assumption that those flags are inherently political, as opposed to those flags [being] inherently welcoming," Mr. Dreisbach said. "This is not a jab at people who believe differently. This is not me attacking a particular political position. This is me making a statement of welcoming. And I think the problem with the Newberg decision is [that] they are taking intentionality out of it."
Within the past year, La Salle has been working to further implement social justice discussions and topics into its community and curriculum. Ms. O'Brien made clear her stance on displays of Pride and Black Lives Matter by staff as being in alignment with the school's social justice work.
"One of the things that we strive for in this building is to be inclusive and to create communities and classrooms where all people are welcome, all people are accepted, and that the teachers who are displaying Black Lives Matter signs or Pride flags are doing so out of a desire to make sure that all students feel safe in their classrooms, and I support that," Ms. O'Brien said.
Two initiatives La Salle has taken in creating an inclusive community, in particular, are welcoming a director of equity and inclusion, Mrs. Kiah Johnson Mounsey, and the creation of the Center for Inclusion. "Having an environment that is inclusive to LGBTQIA+ folks and then those who identify as Black or African American… having that inclusive environment benefits everyone," Mrs. Mounsey said.
Mrs. Mounsey said an official equity statement is also in the works, and La Salle's newly-founded Inclusion Committee, made up of staff, administration, alumni, and students, is contributing to the statement.
Reflecting on equity and representation at school, "I think, at the end of the day, we all work here, and we're here because of you, as students," Mrs. Mounsey said. "And so it's our job, as adults, in the building to make sure that each one of you [feels] like you have a space where you can be your authentic self. So, if a teacher, or anybody really, decides to display a sign, I think that is really an outward statement of saying, 'I stand in solidarity, and I support.'"