Nine New Staff Members Join the La Salle Community
This fall, La Salle has welcomed a diverse crew of nine new staff members, including four counselors, a front office assistant, two teachers, a new director of community and student leadership, and an advancement associate. The Falconer spoke to each new staff member to share a little bit about their backgrounds and hopes for their future at La Salle.
Ms. Berry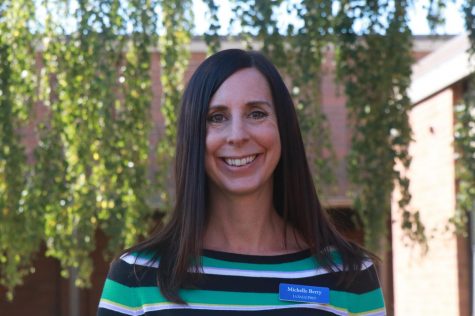 Now working as a counselor for students with last names D through K at La Salle, Ms. Michelle Berry has been a counselor for 20 years, living in Washington for most of this time. 
While in Washington, Ms. Berry first worked as a family and marriage therapist, and then counseled students at a technical high school that also served as a dual enrollment program for students wanting to receive college credit. When she moved to Portland several years ago in hopes of raising her twin sons closer to their cousins, Ms. Berry got a job as a therapist at Reed College's health and counseling center. 
While she was facilitating therapy sessions for Reed College students, Ms. Berry recounted that she "kept thinking, 'What do I really want to do?'" she said. "And my heart is with high school." 
Upon seeing the position for a counselor at La Salle, Ms. Berry applied for the job, and "heard that same day." When she came into campus for an interview, Ms. Berry "felt so comfortable and relaxed" talking to the staff and administration who were part of the interview. "It felt like a home," she said. "I was excited when they offered me the position."
Like many other staff members, Ms. Berry is looking forward to seeing students in person this year, but she also hopes to "really know who students are," seeing them on a deeper level, she said. "I hope that students are real with me, and that they don't put on a face or a front that everything's okay, because sometimes, everything's not okay. And it's okay to not be okay."
Because the high school Ms. Berry previously worked at did not offer sports or activities, Ms. Berry is also hoping to attend some of the extracurricular activities at La Salle, getting to see a few sports games and watching the theater department's production of Alice and Wonderland. "I really want to get to know students," she said.
Ms. Boyle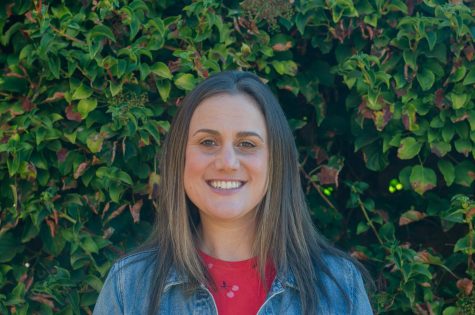 Currently in her 15th year of teaching, Ms. Kristin Boyle is joining La Salle as a math teacher. 
"One of the things I like about math is that for a lot of people, it's really difficult," Ms. Boyle said. It's just not something that most people are like, 'This is such an easy class.' But I think that requires students to work really hard, and so I think the reward when you achieve success is really big."
Ms. Boyle attended the University of Puget Sound as an English major and a math minor, which "people always think is weird," she said. "I always liked the writing, like the structure, the grammar, the outlines, which I think is kind of math-y… I'm such a structure person."
After teaching fifth grade for a few years, Ms. Boyle got a job teaching middle school at St. Ignatius school, where she worked for the past several years. 
"I'm definitely looking forward to working with high school students and older students, because I have worked with early teenagers for so long," she said. "Working with students who are a little bit older and are a little more independent, and also more forming who they are as adults, that's exciting for me."
Ms. Fay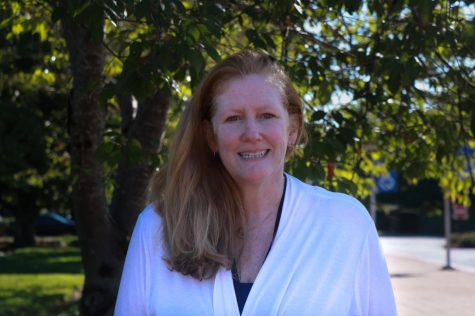 Before joining La Salle as a front office assistant, Ms. Doreen Fay had been looking into the school as an educational opportunity for her child, and became "very impressed with La Salle and everything it had to offer," she said.
Ms. Fay hopes to bring experience from her background in nonprofit administration and previous roles she has served working at front desks to her position at La Salle.
"I like being able to talk to all the students who come through, and hearing what they're doing," she said. A hope Ms. Fay has for this year is that students will be able to continue to attend school in person this year, "especially seniors," she said. "I want them all to have a wonderful year."
In the school year ahead, Ms. Fay is "looking forward to learning more about the organization," she said. " I feel like I just have a little glimpse [of La Salle]." The students Ms. Fay has met so far "are so fantastic," she said, so she hopes she can continue to learn more about the school and "what makes it so great."
Ms. Hanley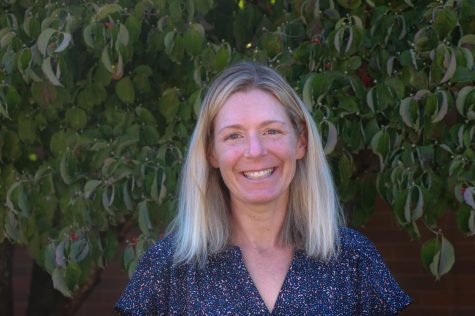 Coming to La Salle as a college counselor, Ms. Madeleine Hanley is looking forward to getting to know the senior class at La Salle, and "helping them find their college fit," she said. 
Prior to working at La Salle, Ms. Hanley completed a college counselor certification program at UCLA, followed by an internship at St. Mary's High School. 
Ms. Hanley has lived abroad for a couple of years in both Ireland and the Czech Republic and attended school in Boston, but she said she has been in the Northwest for most of her life, growing up in Seattle as a kid and moving back to Portland around 10 years ago. 
In her free time, she loves to run. Ms. Hanley has three kids that attend All Saints School, as well as a "really cute Australian Labradoodle," she said.
In the coming school year, Ms. Hanley aims to be a resource for seniors, providing support throughout the college application process. 
"I'd love seniors to know that I am here for them, and I know it can be stressful," she said. "If they have any questions, they need help with their common app essay, their resume, whatever it is, that I'm here."
Mr. Janz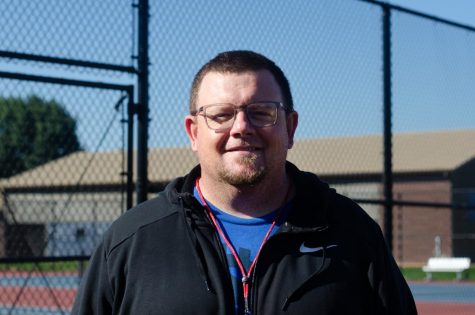 Mr. Dustin Janz comes to La Salle as a PE teacher, strength and conditioning coordinator, and head football coach. 
Although Mr. Janz is now enthusiastic about coaching football, he explained that, "When I first started playing football, I didn't like it, and it was hard," he said. 
"I wanted to quit at some point, because it was too difficult for me," he said. "But my teachers and coaches, and my parents said, 'You don't get to quit something you started. Finish it and then you can reevaluate.' And that next year, I did that. And I'm thankful I did because I was able to progress play-wise to where I was starting on varsity as a sophomore, and really starting to fall in love with the game after that." 
Eventually, Mr. Janz signed a scholarship to play college football and pay for his education at Oregon State University. In his position as a coach now, Mr. Janz wants to "try to give some of that back to other kids that are coming up and are struggling through difficulties," he said. "It's hard when you're thirteen, fourteen, fifteen years old to make decisions that could seriously impact the rest of your life, without even knowing it."
Outside of his passion as a football coach and PE teacher, Mr. Janz loves to go fly fishing, as "it's really relaxing and enjoyable," he said. 
This year, Mr. Janz hopes to "develop relationships and grow within the people that I get to work with everyday," he said. 
Particularly when it comes to the football team, "I'm just looking forward to seeing our growth," Mr. Janz said. "It's exciting, because the kids are really responsive and positive and their effort's there, so I feel like the future is extremely bright."
Ms. Jones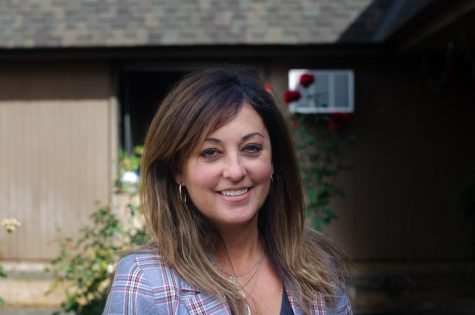 As La Salle's new advancement associate, Ms. Sally Jones will work alongside alumni and the events team to coordinate fundraisers and volunteer events like the Believe Benefit Dinner, Yulefest, and the annual student fundraiser.
Before Ms. Jones' son graduated from La Salle in 2016, she worked briefly in the student store and helped out with the events department. After her son moved on from high school, Ms. Jones worked as a director of events at Portland State University for five years. However, after deciding that she was in need of a better work and family life balance, Ms. Jones made the decision to return to La Salle. 
"I just have a passion for education and campuses. I love both high school and college campuses and the energy that the students have," she said. "It's really exciting to be a part of it."
Ms. Jones has two dogs, and said she enjoys "seeing [dogs], sharing them, sharing pictures, hearing stories, rescuing — just all things dogs."
Mr. Lane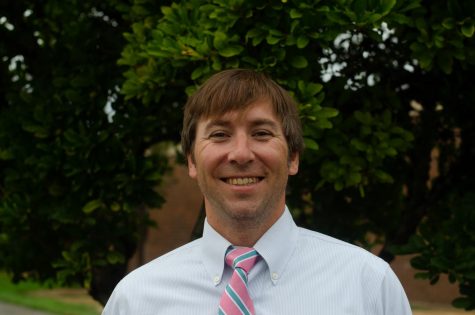 German teacher Mr. David Lane would describe his path to La Salle as "fate driven," he said.
After moving to Portland from Nashville, Tennessee two years ago, Mr. Lane started working at Portland Waldorf School as a German teacher. However, when the school decided to switch to teaching Mandarin instead of German a year and a half later, Mr. Lane was put out of a job. 
Just a week before classes were set to begin at La Salle, Mr. Lane saw the job opportunity posting for a German teacher and applied. 
Now teaching at La Salle, Mr. Lane reflected on how much of his situation was driven by chance. Despite this, he feels like he fits in well at La Salle, especially given his background attending private school as a kid. 
"I know that public schools and private schools need good teachers, and because my experience has always been in private schools, I feel as if that's where I belong," he said.
When Mr. Lane is not teaching German, you can find him snowboarding, kayaking, fishing, or traveling. He has also travelled to 42 countries and 42 states, and has experience as a professional disc golfer. "I like to do pretty much everything," he said.
In the coming year, Mr. Lane is excited to become a part of the school community. "Everyone's been so welcoming since I got here," he said. "It just seems like a very happy school and a happy environment. I just can't want to be a part of it and then also contribute to that."
Mr. Link
Mr. Michael Link will serve as a counselor for students with last names L through P this year, while also coaching football and potentially track. 
After attending Jesuit High School, Mr. Link graduated from Linfield College, where he played football and earned a degree in communications and sports marketing. From there, he attended George Fox graduate school for counseling.
"I actually had people telling me my whole life that I should be a counselor, but it took me a few years after college to really kind of get myself behind that," he said. 
Outside of school, Mr. Link is "very outdoorsy," he said. "I love hiking, biking, kayaking… I'm very active, and spend a lot of time with my family and my friends." 
One personal goal Mr. Link has for this school year is to "help reduce anxiety and stress around coming back to school, and the transition away from the online learning back to the in-person learning," he said. 
He also plans on "really immersing myself in the La Salle community," he said. From helping out with La Salle's football team to meeting some of the students on his caseload,  "I'm really looking forward to spending some time with the students," Mr. Link said.
Ms. Noesi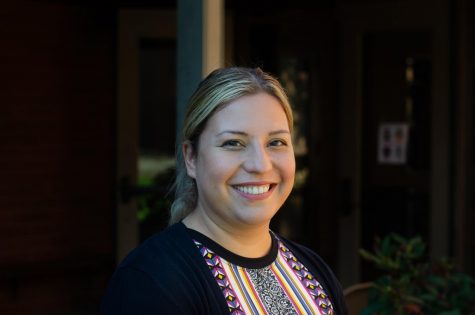 Ms. Adriana Noesi is joining La Salle as the Director of Community and Student Leadership. 
Although Ms. Noesi worked most recently in event planning, she is a "teacher by trade," and taught Spanish at De La Salle High School several years ago, where she met Ms. Sarah Maher, the current Director of Service at La Salle who has also worked at De La Salle High School. 
After hearing about the Director of Community and Student Leadership position from Ms. Maher, Ms. Noesi applied for the job, thinking it would be a "cool hybrid" of her work in events and education. 
Ms. Noesi has always wanted to work in a school environment because "I loved my high school experience," she said. "I also just really believe in education. I grew up as an immigrant kid who wasn't very well off, and I think—I don't think, I know that education was what got me out of cycles of poverty."
Because of this, "I'm just really excited to return to education," she said. "I've been working in the corporate world for a while, and my old job was really glamorous in some ways, but also, this work matters, so I'm just excited to participate in that."
Ms. Noesi encouraged students to approach her to try to get to know her better. "I'm a pretty happy person," she said. "I'm really loud. I like music a lot, [and] I'm a proud Latina woman, so I love to talk about that."