In Its First Year, Passion and Fashion Club Offers Students an Outlet To Express Themselves
Freshman Evelyn Barrera started the Passion and Fashion Club this year in the hopes that it will help its members "express how they feel through fashion," she said.
As a new student, it can be hard to meet new people, especially because of distance learning at the beginning of this year. Librarian Ms. Ann Poteet, the club's staff moderator, said that the club created a "great community-building experience for many of our freshmen."
Barrera said she wants the members of the club to believe in themselves. "They can do more than they think they can," she said. 
Ms. Poteet and Barrera both help students create new pieces of work and learn new skills, and Ms. Poteet said that she has learned to be patient when learning a new skill. 
"For example, someone wants to make a dress, gloves, or a bucket hat and they just learned how to work a sewing machine," she said. "Go for it. We learn from hands-on experience, and making mistakes is okay. It doesn't have to be perfect. It's just fabric."
Barrera's own personal goal for the club is "to meet new people and help people know what career they would like to do in the future, but with some pinch of fun," she said. 
The club meets every week for about 30 minutes to an hour. For the first part of the year, club members met via Zoom, but once the school shifted to on-campus learning, they began meeting in person. 
While meeting on Zoom had become something the members looked forward to, Ms. Poteet said the first in-person meeting felt "a little like a reunion," she said. 
"Some of our members had been on campus only once or twice," she said. "We got to hang out in the makerspace with the door open, sun warming us, and music playing, getting to know the sewing machines."
For meetings, Barrera sometimes poses a challenge that incorporates certain materials to be used on the clothes being sewn and produced. 
While the club meetings typically last an hour, Barrera doesn't set a time limit for the meetings. "I go with the flow, it doesn't really matter," she said. 
Each club meeting takes a similar structure. At the beginning of the meeting, Barrera allows for socializing and talking about fashion in the media, and then the club talks about different ideas and patterns they want to make. 
The skill that Barrera is teaching the club right now is how to sew. "Right now we [are learning] how to use a sewing machine," she said. "We are learning how to make patterns, and how to design and sketch."
Barrera also wants to teach all the members "how to make patterns and make their own outfits," she said. "I also want them to learn different designs and the different varieties of fashion."
The club was Barrera's creation and she thought of it while laying in bed. "One day I was laying in bed and then I just thought, 'Hey, what if there was a fashion designing club,'" she said. 
Part of creating the club was getting a staff moderator. Ms. Poteet has had experience in clothing making, which made her a good person to help moderate the club. 
"Sewing is one of my hobbies," Ms. Poteet said. "I'm a quilter, and in the past was the moderator of a club called Little Dresses for Africa, and also taught a summer sewing camp for La Salle. Plus, I was asked by a ninth grade student who was full of enthusiasm and had strong ideas of what the club could be."
"I love our students, and love to help them build skills to make whatever they dream up," Ms. Poteet said. 
About the Writer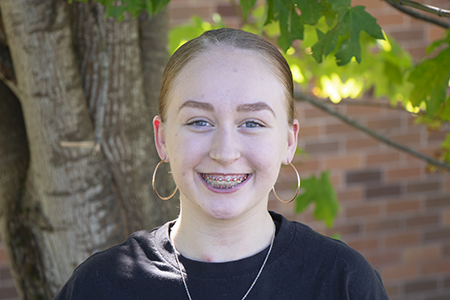 Kendall Whiteside, Assistant Editor
Kendall is a junior at La Salle. She plays soccer on the girls varsity team and for the Eastside soccer club. She is also a manager for the football team....