Student of the Week: Nickolas Kempster
There's a few places you might find sophomore Nickolas Kempster: competing on the golf course, skiing down the slopes, or navigating the sky. 
Kempster flies with a flight school called Aero Maintenance out of Vancouver, and has been working towards getting his pilot's license. 
He started flying around two and a half years ago, though his interest in being a pilot was sparked when he was a kid. His dad used to work as a baggage handler for Delta Airlines, and brought Kempster to work one day, where he loved the planes.
"Ever since then, that's been what I wanted to do," he said.  
Kempster said that in order to fly for an airline, one has to fly for two thousand hours, but in his current position working towards a private pilot's license, "it's only 40 hours of flight time" to get licensed, he said. 
He flies about once a week, and some of his common destinations are Olympia or the beach. One of the many reasons he loves to fly, he said, is because he loves to travel.
"My family and I would travel every summer to many places and I miss that due to the pandemic," he said. Two of his favorite places that he's traveled to are St. Maarten's and Barcelona. 
Kempster said that some of his favorite memories are from when he flies. "One time I flew down to Salem for dinner for fun, and on the way back there was a great looking sunset," he said. While up in the air, he said he takes photos "all the time."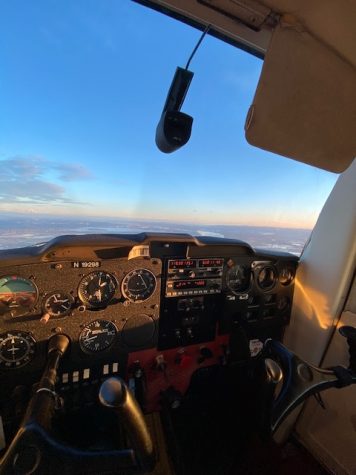 With the goal of becoming a pilot in mind, he said that he draws inspiration from "Sully" Sullenberger, the pilot who safely landed a plane on the Hudson River in 2009.  
Outside of flying, he also has experience working on cars and mechanics. "I always kind of have enjoyed messing around with stuff, and I've always been curious in how stuff works," he said. "I eventually just started doing my own maintenance on my dad's parents' cars and then my car too, because… I saw how much it was costing, and then I said 'Oh, we can do this ourselves at home.'"
Kempster said he has built some things for his own interests, such as a skateboard box, but he enjoys fixing things. "It feels good when you know you finally fix something that hasn't been working for a bit," he said. 
At La Salle, Kempster plays golf, and he said he also loves to ski with friends and family. He started playing golf about a year and a half ago, and has been skiing for around five years.
In the near future, he plans on going to Embry-Riddle Aeronautical University in either Arizona or Daytona Beach. There, he wants to work as a flight instructor, as he will be earning flight hours and working toward his career aspirations. After college, Kempster said he wants to work as a pilot and fly for an airline.