Next Level Seniors: Ryan Rosumny Prepares To Tackle Collegiate Football at Pomona College
As a kid, senior Ryan Rosumny said he remembers heading to Eugene to watch the Oregon Ducks at football games with his family's season tickets. Despite already being a soccer and basketball athlete, seeing the game in action sparked a love for football in him, and once he got to fourth grade, his parents gave him the 'go ahead' to jump into the sport that he has since been devoted to.
Now, years later, Rosumny has committed to play Division III football at Pomona College in Claremont, California, and is part of a select few seniors who have signed to play their sport at the collegiate level, students that The Falconer showcases in its Next Level Seniors series. 
Growing up, Rosumny played for an organization called Pop Warner, then played for his school, Shahala Middle School, in eighth grade, and later with the organization Football University (FBU) following his eighth grade season. 
"That was actually when some of the best memories were made in my life," he said in reference to playing with Pop Warner up until eighth grade. "I grew up with all these kids and played on the same team as them every year."
At the start of his junior year, Rosumny transferred to La Salle from Union High School in Camas, Washington. Coming from a larger school into La Salle's smaller student body, he said that he felt more important in his role on the team, rather than feeling like "a part of some factory."
He noted that the coaching staff for La Salle's football team also drew him to the school, and that "they're just awesome coaches that really cared about us," he said.
Now, as he prepares for his future at Pomona, he said that having the experience as a transfer student will hopefully help combat any nerves around being immersed in a new college environment. 
While looking to be recruited, Rosumny said that he wanted to use his athletic talent to attend an academically reputable college, but it wasn't easy to get in contact with some schools because of the competitive nature of the process. 
"It's hard to be noticed by [bigger schools] if you don't have someone advocating for you," he said. "The bigger schools I was able to get in contact with was like, the Ivy League schools and some better academic schools, just because I feel like their recruiting pool can be smaller." 
Overall, Rosumny said the process was "really frustrating." Seeing other athletes get offers while not receiving responses from college coaches made the process feel as though "it's all about who you know, and not what you actually do," he said. He had started sending out emails at the start of his junior season, and his offer from Pomona came during the summer before his senior year. 
Because this year's football season was delayed until March, another challenge during the recruitment process was being able to offer coaches footage from his senior season. "All the bigger schools that I was talking to, every single one of them would say the same thing — that they'd want to see my first few games of my senior year before deciding whether or not they want to offer," Rosumny said. "My season got pushed back all the way to spring, so… it was frustrating because I was trying to send them my senior film and that was never coming." 
"It felt like it would never end," he said of awaiting the football season to be confirmed amid COVID-19 obstacles. "When the season did come, it was over in a blink… I'm really happy we got to play though, it gave us some good closure to our high school experience."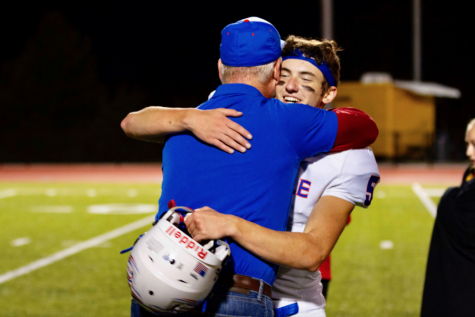 His recruitment process may have been frustrating, but Rosumny said that once an offer was on the table, he was "perfectly happy."
"In the end, I'm really happy with the opportunity I did get," he said.
Though the coronavirus pandemic made visiting colleges more difficult, Rosumny was able to visit Pomona's campus, and many factors aligned — location, proximity to family, and the school itself — to make his decision easier. "I couldn't think of a better education to get while playing football," he said. "It just kind of all worked out."
Rosumny said he is planning on studying economics, and possibly math. "I've always been really interested in the way money works," he said. "Economics, I feel like, would be interesting and something that I'd be good at because… I've always had kind of a math-oriented mind too, rather than reading or writing."
His involvement with Pomona's football team has already started, he said, with Zoom meetings and lengthy playbooks to study, giving a hint at what his next football season has in store. Overall, he said that he is most excited for the increased competition at the collegiate level, and the standards that are set involving training schedules and nutrition.
"It'll really help me to stay on track, and it'll be harder to get distracted I feel like, whereas now I'm just in my room a lot of the time, and it's easy to be lazy," he said. "So I'm looking forward to being active all day, every day."
Rosumny said that competition is a motivator for him. "When I see my competitors doing good, it makes me want to do even better, so it makes me work harder," he said.
Coaches and teammates are also his sources of motivation, whether it be through verbal encouragement and guidance, or the desire to do well for their sake. "I want to play good for my teammates," Rosumny said. "That's just how football works. You want to work hard for your teammates so that you can help each other, [and] win together."
Working together as teammates strengthens relationships both on and off the field, connecting people "like brothers," he said. "It's just the nature of the sport. It makes people come together because you have to work together or else you're not going to be good… Everyone becomes so close because of that, and off the field too."
For Rosumny, in order to stay driven in school, looking to what is to come helps him stay focused. "I always think about the future, I always try to set myself up as good as I can," he said. "I wanted to get good grades just so I could help myself later on. I didn't want to look back on my grades and be like, 'Dang, I wish I'd tried harder.'"
However, Rosumny said he feels slightly concerned about balancing football with the academic rigor at Pomona. His future coaches, he said, have talked with him about how they work to reduce the challenge of balancing responsibilities. "They do a lot to help you out," he said. "It'll definitely be a big challenge, and I feel like I'm ready for it."
Rosumny said he also feels ready for his upcoming football season, though there are strides to be taken in order to be fully prepared for the new challenges of playing at the collegiate level. With learning the playbook and becoming physically stronger, he said that he is bracing himself to "take big hits from big strong dudes" on the college field.
"There's always room for improvement," he said. "I can always be more ready than I am right now, [and] I still have a lot of strength I could gain." 
For Rosumny, the opportunity to play at the collegiate level is something that he has been dreaming of since he began playing in fourth grade. The fact that football is a team sport, and one where players rely on one another to succeed, is what attracts him.
 "You can have the best player in the state and still be the worst team," he said. "You all need to work together, or else that one good player won't even be able to do anything. Everyone has to do their role, which I love about it."