Next Level Seniors: James Menor Takes His Football Talents to the U.S. Merchant Marine Academy
As a young child, senior James Menor would sit in the stands of his older brother's football games, looking up to his brother as a role model and leader. Not yet in third grade, Menor remembers watching his brother, suited up in pads and a helmet along with his youth recreational football jersey, eagerly awaiting the day when he himself would graduate from flag to tackle football.
"I watched my brother, and I'm like, 'I want to do what he's doing,'" Menor recalled. "So that's really what pushed me."
Years later, Menor has now committed to play Division III collegiate football for the United States Merchant Marine Academy in Nassau County, New York. He is part of a select few seniors at La Salle who have signed to play sports at the collegiate level, students The Falconer showcases in its Next Level Seniors series.
Throughout his years playing football, Menor was motivated not only by his older brother, John "JJ" Menor, but also by his parents, deeming his family members his biggest supporters and influences.
"As a family, we've just always been together, we've gone through so much with each other, we know each other different than anyone else can know us," Menor said. 
As Menor grew older, playing for a variety of recreational and club football teams throughout elementary and middle school, he continued to look to his older brother as a role model. When Menor reached his freshman year of high school, he joined his brother — who was a senior at the time — on the La Salle football team. 
When they played on the same team, Menor got the chance to witness his brother's hard work firsthand, noticing the behind-the-scenes dedication that his brother had been devoting to football ever since his early days of playing.  
"That's the only time that we really got to be with each other [on a team]," Menor said. "I never really knew about his work ethic like that — watching him in practice, I was like… this guy's dope, that's my brother.' So looking up to him, I just wanted to match his skill of course, and try to do whatever I can to carry on our name."
Though John had aspirations to play collegiate football, he was prevented from doing so by an injury during his senior year, when he partially tore his posterior cruciate ligament (PCL) and medial collateral ligament (MCL). Menor said that his brother's injury motivated him to seize the opportunity to continue playing football.
"Due to that [injury], he wasn't able to continue," Menor said. "So I just wanted to do it — not just for him, but also my family… My parents have dedicated so much for me and my brother."
Though he hasn't faced any career-threatening injuries like the one his brother received, Menor's journey to commit to play college football has not been without challenges.
The COVID-19 pandemic has altered the recruitment process for many student athletes and collegiate programs nationwide, and Menor said he felt the effects of this shift, with his personal process "going pretty slow" at the beginning of the pandemic, which hit during the second semester of Menor's junior year — often a crucial time in a student athlete's trajectory towards commitment.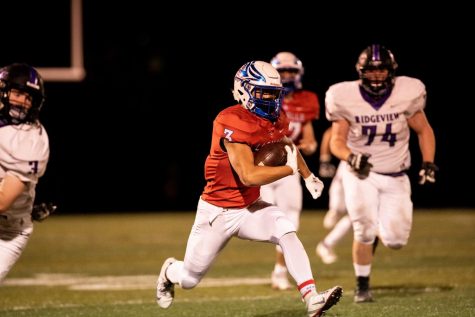 Initially, Menor had been in contact with the United States Air Force Academy. With his brother now participating in the Reserve Officer Training Corps (ROTC) program at the University of Portland, and many of his extended family members serving in the military in the Philippines, Menor was drawn to the idea of attending military school, and hoped to receive an offer to play on the Division I football team at the Air Force Academy.
"Ever since I was a kid, I've always dreamt of going D1 football," Menor said. "Everyone has that dream, you know?"
However, Menor did not end up receiving an offer to play with the Air Force Academy, which led him to doubt himself and his capabilities.
"When that opportunity was taken away from me, I was pretty bummed out with myself," Menor said. "I tried to figure out reasons why I didn't get into the Air Force Academy… What I struggled with during the whole journey [was] times where I doubted myself. I was like, 'I don't know if I can really do this. Do I really want to continue playing collegiate level football? Do I really want to continue playing sports?'"
However, after the initial disappointment around the collapse of his hopes with the Air Force Academy, Menor was connected with the coach at the United States Merchant Marine Academy by La Salle football head coach Mr. Aaron Hazel. As he reflected on his goals, discussed with his parents, and learned more about the school, Menor came to realize that the Merchant Marine Academy was the best fit for him.
"I feel like it took a little bit of soul searching to really gather my thoughts and say 'Hey, let's do it,'" Menor said.
Though he had once aspired to play Division I football, Menor said he now feels that playing in a lower division could provide more balance with other aspects of his life, such as academics, career pursuits, and friends and family. More important than division or level of sport, Menor said, is the opportunity to play at all.
"Division III football, Division II, it doesn't matter what it is — I'll play," Menor said. "It's pretty dope to be playing college football. It's different also from people that are just focusing on education. I just feel like you just get to have more fun, build another community, another bond with more people."
For Menor, the larger picture of football has always been about the community that is built through the sport. His football experience thus far is highlighted by the friendships and close bonds that he has enjoyed with his teammates, and the unique camaraderie that is fostered through the dynamic of high school athletics.
"It's really nice to get to know your teammates — not just your teammates, they're also your classmates," Menor said. "And so you're building that bond with each other that doesn't just last through high school, but also lasts for life sometimes."
Menor said that the closeness developed between teammates in football is part of what sets the sport apart from others, in addition to its physicality and focus.
"Football is literally one of the greatest sports — Coach Hazel always says that," Menor said. "It's just a different sport from any other one, because you get to build a camaraderie — that's what I really like about football — you're with your people for a certain amount of time, you're in close contact with each other, and you're all working towards one goal."
When he gets onto the field, Menor said, he has "tunnel vision."
"When I'm on the field, it seems like time slows down," he said. "All I can think about is what I'm trying to do. If there's a play called to me, I'm trying to aim for that first down… I'm just trying to make the best effort that I can… I'm just locked in."
The focused mindframe that he enters when he plays football can be almost therapeutic, Menor described.
"It's just a way for me to relieve some stress and not have to focus on anything else but just playing football," he said. "I don't gotta worry about what homework I gotta do, I don't gotta worry about what's for dinner, blah, blah, blah."
When he committed to play at the Merchant Marine Academy, it felt like a "big sigh of relief," Menor said. "I was pretty unsure of where I wanted to go to school and stuff, but after looking at the pros and cons and stuff, it really aligned with what I like and what I look for in a school. And career-wise, I really didn't know what I wanted to do. I [would] put being a dentist as a filler answer, and biology and chemistry, but I didn't have the passion to do that stuff. I didn't feel like I had a calling."
At the Merchant Marine Academy, Menor will be majoring in Marine Logistics and Security, which he said is similar to studying Marine Transportation, but with "a focus on nautical sciences, logistics, and security management." In this major, Menor will learn about management of the transportation of goods on cargo ships, with the subject matter being a combination of nautical sciences and business studies.
One opportunity that Menor is particularly excited about is the chance to go on sea duty at some point during his college career, where he would work and study at sea.
"You're already on board a ship, and you're traveling around the world, just working," he said. "So it's a great opportunity to visit places that I've never gone to before, at such a young age."
Menor feels excited about his studies and the opportunities he hopes they will provide.
"It's really a daunting task," Menor said. "I haven't worked with it yet, but I feel like once I get to it and I go to the school and stuff, I'll get the hang of it and I'll really enjoy myself. But hearing all the stuff [about the program], it definitely hyped me up to go to the school."
"How unique it was, that's what really caught my attention too," he said. "It's definitely different from all the typical majors… I feel like I want to be different. I didn't want to be normal, do those certain jobs that everyone talks about."
Moving forward, Menor wants to continue polishing his skills for his first collegiate football season, then pursue a career in nautical sciences and marine transportation. Ultimately, he hopes to be able to give back to his family, especially his parents, "who have sacrificed so much for me," he said.
Looking ahead to the next chapter of his life, where he will move to New York — the farthest he has ever traveled, at least in his memory — Menor feels both nervous and excited for what lies ahead.
"I'm actually so nervous," he said. "I can't go home and lay in my bed, mess with my brother and stuff. I guess it's just going to be a whole different perspective of life and what the future holds."