Next Level Seniors: Abby Sheets Follows Her Father's Footsteps and Commits To Run Track at Sacramento State
Ever since senior Abby Sheets was in middle school, she has dreamed of becoming a track athlete that others could look up to. 
"I want to be someone who other athletes can look up to and give them support and motivation," Sheets said. "Now that I'm here… I'm in the position that I was looking up to when I was younger, and I think that definitely gives me motivation to keep pushing."
Sheets is part of a select few seniors at La Salle who have signed to play sports at the collegiate level, students The Falconer showcases in the Next Level Seniors series. Sheets is committed to Sacramento State for Division I track and field, competing in the high jump event. 
With Sheets' father running track at La Salle and in college at Boise State, and her older sisters, Emma and Julia Sheets, competing in high school, "my family's always been a pretty big track family," Sheets said. She added that she and her family would always attend All-Comer Track Meets as a family when she was younger.
As soon as she was old enough to join a team, Sheets took the opportunity to compete in track as a third grader at Saint Ignatius School in Portland, Oregon. Sheets started high jumping in fourth grade, which was "always a fun event" to her, especially when she was able to "improve a lot and become good at it," she said. 
A big role model for Sheets is her father, who coached her in middle school, and then coached track and field at La Salle. He also currently holds two school records for javelin and long jump.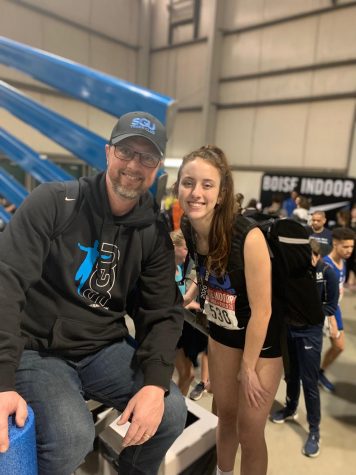 "I just really look up to my dad," Sheets said. "He is a lot like me [and] he calls me his mini me." Sheets said that the two are similar in a lot of ways, such as their "attitude towards track" and their "work ethic."
When reflecting back on her first year of high school and thinking that she would end up as a senior collegiate DI athlete, "I never really thought of it realistically, then once I started getting into junior and senior year I was like, 'wow, this is something I can actually do,'" Sheets said. 
Sheets said she realized that being able to run track in college was going to be a lot of work, but she knew that she would regret it if she didn't try. 
So, Sheets and her father filled out several recruitment forms for Pac-12 schools, and in October of 2020, Sheets got recruited by Sacramento State, the school's high jump coach reaching out to her via email to set up a Zoom call to get to know her better. 
Sacramento State was the first to contact Sheets out of a handful of schools, such as Long Beach State and the College of Idaho. Oregon State University also offered Sheets a spot on their track team, but without an official athletic scholarship.
With OSU's offer for a spot on the team and Sacramento State's scholarship recruitment, Sheets originally felt conflicted. But in the end, with Sacramento State offering a scholarship, she was intrigued and excited to take the next step. 
Sheets was initially interested in Sacramento State due to the warm weather, and began reaching out to other incoming athletes. Sheets then committed to high jumping for Sacramento State in December of 2020, but hopes to also try the heptathlon, which consists of competing in seven events: long jump, high jump, shot put, javelin, 800-meter dash, 200-meter dash, and 100-meter hurdles.  
Sheets' favorite memory during her time on the track team for La Salle was during her freshman year when she was competing at Hayward Field at the University of Oregon for the 2018 OSAA state track and field meet. 
"Going to the state meet at Hayward Field down at U of O was really cool because that's one of the tracks that you see on TV and the Olympic trials," Sheets said. "Just getting to be there with the team and just seeing how supportive everyone is and just the team chemistry was really great and it was just really cool to be out there with everyone."
The events that Sheets regularly competes in are high jump, 100-meter hurdles, long jump, and the 4×100 meter-dash relay. For high jump, Sheets' personal record is 5 feet and 6 inches. 
Along with running track at La Salle, Sheets also runs for Resolute Track Club, training before school at 7 a.m. on Monday and Fridays each week.
"It's kind of nice getting up early and just getting to school feeling already awake," she said. "On days that I don't do anything before school, I just feel tired, and I'm definitely not a morning person, so it kind of takes me a while to get up and running, but I think it definitely gives me a good start to the day."
Especially during the pandemic, Sheets said she feels and is thankful that Resolute Track Club has done a great job of making opportunities for her to compete. 
Looking forward to college, Sheets is hoping to study Biochemistry and head into a pre-medical path. "I just kind of thought that was something that I would enjoy," she said, especially after watching her parents work in the medical field – her father is a psychical therapist and her mother is a nurse. 
If Sheets could give advice to her younger self, she would say that "you have to accept failure and you have to just keep pushing through, because you can learn a lot from it and just the hard work, it'll pay off if you keep pushing through," Sheets said.