As In-Person AP Exams Are Reintroduced, Students and Staff Share Thoughts and Concerns
After the pandemic put a halt to in-person AP exams last spring, both in-person and digital options are being offered this year, taking place later in the year in late May and early June.
Administrators and students acknowledge that a mostly-digital school year has taken its toll on students, and could affect how adept students will be at AP testing. 
For most students, this will not only be the first time they will participate in AP testing but also AP testing in a classroom environment.
For senior Ellen Dierckes, this will be her first time taking a full-length AP exam in the classroom. "In terms of content, we just moved through it so quickly," Dierckes said. "Maybe there's no way for me to be adequately prepared, because I feel like we didn't go into as much depth as would be helpful for me." 
The remote learning model used for the better part of the school year has made it hard for some students to feel completely prepared for exams, but Dierckes said that this could also be due to the general rigor of AP courses.
With La Salle having to venture through uncharted territory in the last year, staff members have accommodated to the needs of the pandemic, including some adjustments to the curriculum. Due to these adjustments, AP exams can seem daunting for some, including junior Reuben De Souza, although he said he feels decently prepared.
"I think there's some classes that are better than others, but overall I think I'm getting a good grasp of the content," De Souza said. "And I think I'm being set up for success on the AP test."
As La Salle returned from an almost-one-year hiatus from in-person learning, students have had to readapt to being back in the classroom.
The change to in-person learning at the beginning of the semester in addition to the shift from cohorts to a four-day week have been overwhelming for some students, such as senior Danny Nguyen. 
"My learning is being disrupted because of all these changes," Nguyen said. "And I also can only sympathize and empathize with the people who are [in] distance-learning the entire time because they don't have a choice, or are unable to come to school in person," Nguyen said. "So I can only wonder how they're learning and how [AP exams] are happening as well."
Nguyen said he wants to commend his teachers for their efforts during the pandemic, saying that his teachers have done everything in their power to ensure thorough instruction while keeping their classes on track.
The current bell schedule — with a Wednesday flex day and 9 a.m. start times — in comparison to the pre-pandemic schedule is seen as a benefit in the eyes of Vice Principal of Academics Ms. Kathleen Coughran, who is confident in the abilities of both staff and students.
"[The teachers] work really hard to get students to the place they need to be to be successful on those exams, despite our loss of our schedule, despite the intricacies or difficulties of distance learning," Ms. Coughran said. "I think our students are prepared. I think the additional time helped, I know teachers are meeting with students outside of class time during flex times and on Wednesdays, to help students feel more prepared for those exams." 
Some students have concerns about academic equity, as online exams will be conducted in addition to in-person exams.
Senior Matthew Aizawa said he is concerned about the scoring of in-person and online exams. "I'm a little worried [about] how the test will be graded, as I do feel that the online test will be less [challenging]," Aizawa said. "That may skew the results of the AP exam, but it'll be interesting to see what it looks like when we get the results."
Aizawa is not alone in this regard, as other students, including senior Xavier Santiago, are also concerned about the contingency of students going against academic integrity. 
"With the people at home, you can't really guarantee that they're not going to use other materials outside of their computer," Santiago said. "You probably would have an advantage taking it at home if you really wanted to do that. But I think [La Salle and the College Board have] done what they can."
As students are acclimating back to being in the classroom and in-person AP exams are being reintroduced, Ms. Coughran said she is aware of students' concerns around academic equity and integrity. "The hard part in a digital format is [that] there's so many resources at our fingertips," Ms. Coughran said.
About the Writer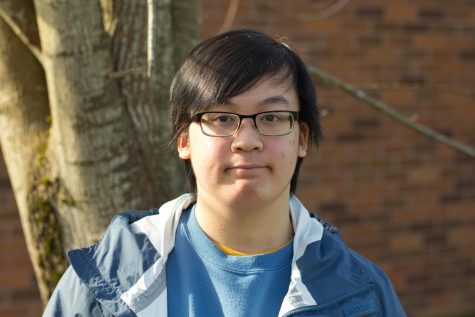 John Pham, Staff Reporter
John is a sophomore. He enjoys chess, photography, and listening to music.