The Voices Behind a Day of Silence
On Friday, April 23, sophomore Chloe Beck navigated the hallways of La Salle, attended all three classes on their schedule, and gathered with friends for lunch as usual. But on this Friday, Beck did this all without speaking a single word.
When prompted to talk by teachers or classmates, Beck would hold up a small paper card in response. 
"Please understand my reasons for not speaking today," the card read. "My deliberate silence echoes the silence caused by harassment, prejudice, and discrimination. I believe that ending the silence is the first step toward fighting these injustices. Think about the voices you are not hearing today."
April 23 is the National Day of Silence, a youth movement protesting the silencing and discrimination faced by LGBTQ+ people and their allies. Along with others across the country, numerous La Salle students took a vow of silence for the entirety of the school day in hopes of bringing attention to ways their community could become more inclusive.  
As a member of the LGBTQ+ community who has experienced discrimination firsthand, Beck felt compelled to participate in the movement as soon as they heard about it. "You're silenced all the time for that kind of thing, and it just means you're really emphasizing the silence that you're put under all the time, but in a more literal way," they said. 
For other students like sophomore Kye Marsh, staying silent was a way of showing support as an ally. "I myself am not a member of the LGBTQ+ community," Marsh said. "But I feel like that's what made it all the more important that I stand with that, holding my silence and participating. It's one thing to say that you're an ally… and it's another thing to participate with them."
Going through the motions of an entire day without speaking a single word was challenging for students.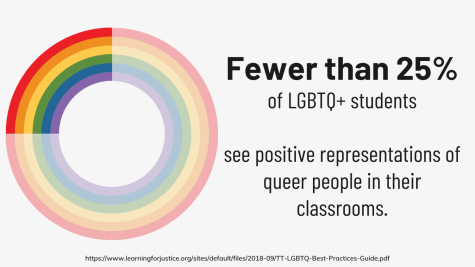 Throughout his classes, Marsh resisted the urge to raise his hand or turn to talk to a friend. "It was a bit hard to get things done in them because of that silence," he said. "I believe that's meant to be representative."
Maintaining silence was also difficult for junior Hannah Reddick, because she "felt really isolated," she said. "I felt like I couldn't quite communicate with people the way that I wanted to, and I think that's sort of the point."
As some students reflected on the challenges of staying silent, they connected these feelings of isolation and frustration to the emotions of LGBTQ+ people who don't feel comfortable sharing parts of their identity in fear of discrimination or prejudice. 
Staying silent reminded Reddick of her freshman year, before she had come out to friends and family, let alone herself, she said. "I just felt so alone as a freshman," Reddick said. "It reminded me that people around the world still feel alone, and it's really difficult for some people to feel accepted in their community."
Further reflecting on her vow to keep silent, Reddick "learned that feeling silenced is part of a lot of people's lives right now, especially LGBT students at our school," she said. "There's times today where I still feel silenced, because of the way that teachers behave in class, or the beliefs of people around the school that go against my very existence."
In light of the challenges that some students contemplated during the Day of Silence, they stressed the importance of bringing attention to instances of discrimination and harrassment in their community.
One factor that encouraged Beck to participate in the Day of Silence is that discrimination "just happens so frequently," they said. "I want to help other people know that it does happen, and it is hurtful."
For example, Beck has noticed that "people are often ignorant or uneducated about pronouns," they said. "People have said very hurtful things during class but I just don't want to correct them and I feel like if I do, they will make fun of me more or say something mean, so I don't speak up."
Beck said that they "feel like people should be better educated on LGBTQ matters and other history so that less of these comments happen."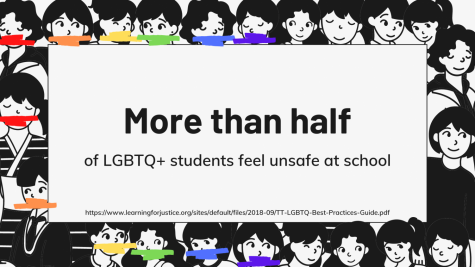 Marsh also said that he wants to "bring attention, and start that change and create those environments that are safe for everybody," he said. "Because when I have family who's gone through it, and family who may one day go through that pain, I don't want that to happen."
An experience that encouraged Marsh to participate in the Day of Silence was the story of how his cousin came out to his family. 
A few years ago, Marsh's cousin told his extended relatives that he was gay just before moving, but "he told them at the airport, where he could just leave," Marsh said. "He wasn't willing to tell them all that in a position where he had to stay. He had to have an option to go, which I feel like was really unfortunate."
Hearing about his cousin's experience coming out was "disheartening" to Marsh, but encouraged him to bring attention to discrimination in his own community in ways like participating in the Day of Silence.  
Other students also participated in hopes of creating larger awareness and change within the La Salle community. 
As a way to work towards a more inclusive and equitable school environment, Reddick encouraged students and staff to "try to respect and understand all people, and try to [recognize] that what someone is experiencing is different than what you've ever experienced," she said. "I think that goes for everything, beyond sexuality or gender. I think that goes for race, origin, [and] economic status."
Reddick said that she feels like the Day of Silence is an especially valuable experience for allies, because "people who aren't LGBT participating in the Day of Silence sort of understand what their peers and their loved ones might be feeling and going through."
In addition to urging allies to participate in the Day of Silence, Reddick encouraged all people to find ways to advocate for equality and inclusivity. "It's just really important, especially when you're a queer person in a place of privilege, like I am, to remind yourself that work still needs to be done," Reddick said.
In reflection of their day spent staying completely silent, Beck remembered thinking, "I'm glad that I did that," they said. "Even if it didn't make a huge difference, we brought a little bit of attention to the problem."
Correction: April 29, 2021
A previous version of this article misstated that Marsh's uncle had come out to his family. It was Marsh's cousin, not his uncle.