Next Level Seniors: Hailey Wadsworth Accepts Linfield University's Pitch, Commits To Play Softball
In her first softball game as pitcher, senior Hailey Wadsworth said she remembers feeling defeated, as balls were rolling on the ground before reaching the hitter in her pitches.  
Following that game came some lessons and practice, and by the next game, Wadsworth started throwing strikes.
She was eight years old then. "That was the start of my pitching career," she said. 
She's come a long way as an athlete since.
Wadsworth has committed to play Division III softball at Linfield University, and is a part of a select few seniors at La Salle who have signed to play sports at the collegiate level, seniors that The Falconer showcases in the Next Level Seniors series. 
Currently, Wadsworth is in her fourth year on the varsity softball team at La Salle, and is one of three captains on the team. She also plays club softball for The Bat Company, which she has been a part of for the past six years. 
She started playing T-ball when she was five years old, and as she grew to play softball, she said she remembers softball as being an outlet to relieve stress while surrounded by friends.
"I could always count on softball to be that thing that allowed me to be free from the world," Wadsworth said. "Even though it's more stressful than it was when I was eight, it still has that special place in my heart." 
Throughout the years, she said that her "love for the game" has kept her playing, which for her, involves the connections and teamwork that develop. "It's not a solo sport, so it's not only up to one person," she said. "It's a group effort, which I like because I like the support of others."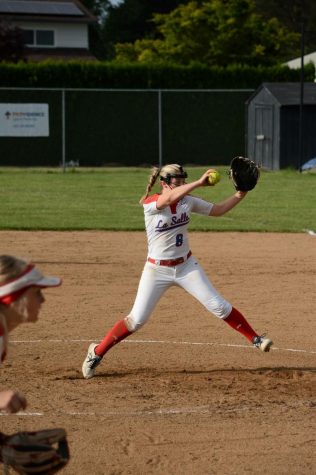 Wadsworth said that playing for La Salle in comparison to playing with The Bat Company is like a "reliever," where she is able to play with her friends and step away from the pressure of college coaches and the various expectations of club softball. 
"The [La Salle] coach makes it more fun too, with activities and fun things for us to do, [like] team bonding trips and team dinners," she said. "I feel like we connect more than we do on club, because [in] club you're just there to play, and on high school there's the actual in-person connection." 
With The Bat Company, Wadsworth practices three to four times a week, with additional pitching and hitting lessons, and travels occasionally for tournaments. For these tournaments, she would reach out to college coaches with her own recruitment video, and coaches would attend her games — a process that she started as early as eighth grade. 
"It was kind of stressful because there's so many schools at some of the tournaments," she said. "I had 20 plus schools at a tournament one time."
Despite contacting coaches all throughout high school, Wadsworth entered senior year without yet being committed. She got in contact with Linfield University in November, and from there, "it was a very quick process," she said.
"I was super nervous because I was a senior going in and I was not committed yet, so that was one thing that was stressing me out," Wadsworth said. "I emailed Linfield… and then [the coach] writes back the next day… so then he asked me to come on a visit. And so I went on a visit the next week, and then three weeks later I committed."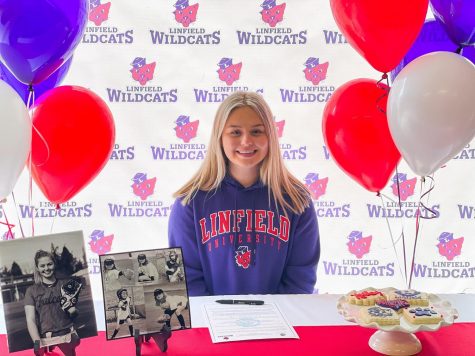 Since committing, Wadsworth said that she has been able to become acquainted with her future teammates over social media, but because of the pandemic, has yet to meet with them in person. 
Before her recruiting process with Linfield began, she had visited the school over the summer, and "it was the best campus I've ever seen," she said. "It was so beautiful, and I also liked the private school community, the smaller student body, and the close relationships with the professors."
Wadsworth plans on majoring in biology in order to later attend dental school. 
Wadsworth said she feels prepared for the challenges that may come with playing at the collegiate level, but "there's always more work to be done," she said. "I need more practicing, especially before I go. Workouts are a big thing that need to happen. So just getting all those things, and also the mental side of it needs to get stronger too." 
"The program is very highly ranked in the nation and they expect a lot of their players, so I know that I'm going to have to be held to a standard," she said. "I'm just going to have to prepare well for that and just be ready for it when it comes."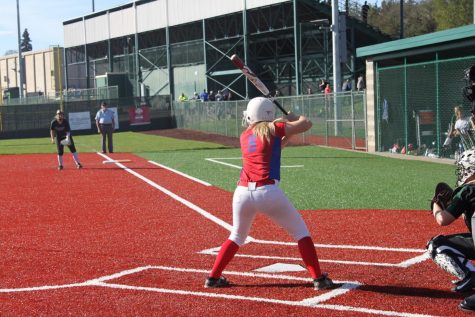 In preparation for the next step in her career, Wadsworth said that coaches will send workouts over the summer, so that players can jump right in once at the school. 
For Wadsworth, being able to play at the collegiate level has been a dream of hers since she started playing softball, and she is most looking forward to having the new experience of playing college softball. "Everybody talks about, 'Oh, college softball is really tough but really fun,' so I'm just excited to see what college softball is like," she said. 
Throughout her career, Wadsworth said that her parents have been a source of motivation for her. "They have given everything they can for me to be able to have this opportunity, and so I don't want to let them down in any way," she said. "I just had them always in my mind when I'm playing, just to make sure that I'm playing the best that I can." 
But, Wadsworth's softball journey has not been without challenges. The summer after her freshman year, she injured a tendon in her pitching wrist, and was recovering for 3-4 months while doing physical therapy exercises. 
Her injury caused obvious physical setbacks, but Wadsworth said that it was also a mental challenge to get back to playing. 
"There [were] times where I was struggling so bad and it was so hard for me to throw that I just didn't want to," she said. "I knew that I could throw it, it just wasn't happening. So I was just having these depressing moments where I was like, 'Why isn't this working, what's wrong with me,' all those things." 
One of the challenges in softball is "staying confident and mentally positive," she said. "I mean, there's a lot of things that can happen during a softball game, there can be errors everywhere… but as soon as you turn that mental game off, it's over."
"You just got to stay positive and keep the confidence in yourself up," she said. 
From playing softball, Wadsworth said she has grown in her teamwork and leadership skills, and has been able to build her self-confidence since that first game as pitcher at eight years old. "I have become a better leader over the past few years, just helping others. And if they need any help in any way," she said, "I'm there for them."