Earth Club Encourages Students To Take Better Care of the Planet
Sophomores Sid Lefranc and Isabella Simonutti, both moderators of the Earth Club, are passionate about helping to clean and take care of the planet. 
"I've always cared a lot about the environment and just cleaning up the world around us," Lefranc said. "I had been getting more into the activism part of it, and I thought that La Salle should have an Earth Club."
While Lefranc and Simonutti have a similar sense of care for the environment, their interest was sparked at different times. "Ever since I watched a documentary in fifth grade about the severity of global warming, I have been extremely passionate about climate and environmental justice," Simonutti said. "Sid and I thought that starting a climate justice club would be the perfect way to turn our activism into action."
Both moderators have the same goal for the club, which is to inform a larger group of individuals on how they can take care of the planet and get involved with activism that moves toward a healthier Earth.
Simonutti also wants to teach more people about the issues that arise when we don't take care of the environment. "My hope is to bring more light to the rising issue of global warming, as it tends to take a back seat with the array of problems we are facing today," she said. 
Lefranc said that when they informed the former club moderator they would like to take over the club, they always kept Simonutti in mind as a co-moderator. "Since freshman year, she has always been my best friend, and I know she also shares a passion for the environment," Lefranc said. "So I called her the second I texted the [former] club moderator, and then I said, 'Hey, do you want to run the Earth Club with me?' And she said yes."
While the Earth Club has been in existence for multiple years, this is Lefranc and Simonutti's first year serving as moderators. By their side are more than 100 members who meet once a week, usually on Friday afternoons.
Simonutti said that she and Lefranc work well together because they each have different strengths they play to. "I have taught lessons on The Green Deal, what we as individuals can do, and so on," she said. "Sid prefers to teach hands-on lessons — they have taught the club how to propagate plants, recycle old t-shirts, and start your own garden. We are also hoping to start a community garden at La Salle."
The biggest challenge that the club has grappled with this year is having consistent attendance at their meetings. "I think the biggest challenge is trying to get everyone involved when we're all swamped with homework and people are tired of attending [Zoom] meetings," Lefranc said. 
When it comes down to planning meetings, Lefranc and Simonutti said that it can take anywhere from 20 minutes to a couple of hours. "We do make a plan — we work really hard on each lesson in hopes that everything will run smoothly," Simonutti said. "We typically plan the next meeting the second after the current meeting finishes."
Although this school year has been far from normal, Lefranc has hopes for the future of the club. "I definitely think in a normal year the club will become a lot more active," they said. "We will be able to go out and do more cleanups and activities together as a group." 
Lefranc also hopes that it resonates with each member of the Earth Club that everyone can make a difference. "Oftentimes, when we're thinking about climate change, it's such a big and scary topic, but things you do matter," they said. "They really do. Every step you take towards a healthier environment."
For those interested in the environment or hoping to do more to care for it, Lefranc recommends reaching out to the club moderators. "Ask questions," they said. "Anyone who really cares about the environment, we'll be happy to answer your questions and to help you out."
About the Writer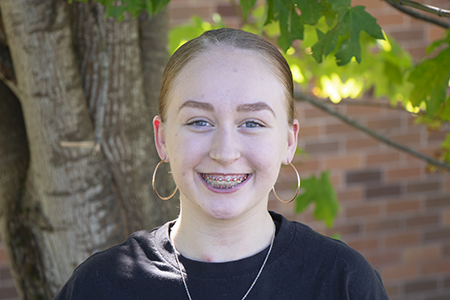 Kendall Whiteside, Assistant Editor
Kendall is a junior at La Salle. She plays soccer on the girls varsity team and for the Eastside soccer club. She is also a manager for the football team....