Athlete of the Week: Bella Erickson
With her extended family that lives nearby, freshman Bella Erickson has always lived in Oregon, and she plans on staying here for college after graduating from La Salle. 
Since Erickson was much younger, her family has always piled into the car each Sunday to visit her grandparents in Vancouver. And this still would be the case now if it weren't for the COVID-19 pandemic, but despite the circumstances, Erickson still makes the effort to see her grandparents – just less often and usually from a distance in the backyard.
In the wake of her grandmother's recent cancer diagnosis, soccer has served as an escape for Erickson.
Erickson has been playing soccer since she was about five years old, and her brother Calvin, who is 11 years old, also plays. In high school, their father played soccer as well.
"I really enjoyed it, and I just continued it throughout the rest of my life," Erickson said.
Erickson played club soccer for Clackamas United until the end of sixth grade, and later decided to play for fun with her friends. "It was just easy to be able to hang out and play with them," she said. But now at La Salle, she's ready to take the sport to the competitive level again.
Erickson's mother has worked at St. Clare, a Catholic K-8 school, for about 15 years, so she introduced Erickson to the idea of attending a Catholic high school in seventh grade. 
Originally, Erickson wanted to go to Clackamas High School because many of her friends were going there, but after she visited La Salle as a shadow, she changed her mind. "I really ended up liking it a lot," she said. 
As she entered La Salle, Erickson signed up for soccer. "I'd really gotten into it and enjoyed going and meeting new people, especially when school first started," she said. "It was a nice little glimpse of knowing some people, and [I] ending up being able to play with everyone, which was really fun." 
Erickson has relied on soccer to make new friends at La Salle. "I've always been a super big talker with people I know," she said. "And this year especially, I've felt like I've kind of branched out a little more and just been able to talk to more people." 
She said that everyone on the team this year was "really welcoming," and that the JV team almost went undefeated this year.
Erickson is also satisfied with her choice to attend La Salle because of the hybrid schedule. "I'm really happy that I did now because, my friends, they haven't even been back in school," she said. "I actually like it because I have something to do with my day, instead of just not doing anything at all and just sitting at home." 
Erickson plans on participating in La Salle's shift to four days of in-person learning each week, because "it just is kind of harder when you're online," she said. "Especially because it's my first year of high school and everything, and I've made a lot of new friends at La Salle, it's nice to be able to see them and talk to them face-to-face." 
At Erickson's middle school, planners were required, and she has carried this habit into high school to balance the variety of activities that she is involved in. "For me, a planner has really been helpful throughout balancing things," she said. "I would just get as much done as possible, and try and even out the work I was doing on each day depending on the class." 
In the past, Erickson said that she was always a straight-A student, but at the moment she is not, "which I'm not very happy about," she said. "But I know that I'm personally trying my hardest, and I'm still trying to enjoy what I'm doing during this time." 
Despite the challenges, Erickson said her classes are going well, and that her favorite class is English with teacher Mr. Christopher Krantz. 
"I've always really enjoyed writing, and just being able to put everything out there on paper and just see how everything flows together when it's finally put together," she said. "Even though it is a lot of work and my teacher does kind of pressure and grade harder, it's a nice challenge for things."
Erickson said that writing in English class is also helping her prepare for college. "I feel like it helps, writing everything down, and I like to have everything organized in a certain way, which I feel like will help me, especially later on in life." 
Erickson is not sure which college she would like to attend yet, but she plans on staying in Oregon, because "I've always just liked being at home here," she said. "Maybe it's just because I haven't lived anywhere else, but I like it here." So far, she has considered the University of Oregon and Oregon State University. 
Erickson doesn't plan to continue with soccer after high school because it isn't associated with her career path, but she does plan on playing recreationally. 
Erickson is hoping to become a psychiatrist in the future, because "I've always been a really anxious person, and anxiety has always been a really big part of my life ever since I was super young," she said. "For me personally, I really like being able to talk to someone about how I'm feeling or what's stressing me out." 
Looking ahead, Erickson simply wants to be there for others.
"Writing things down or even expressing yourself through other art forms, it's always been super helpful," she said, "and I would like to help someone else who's struggling with that sort of thing."
About the Writer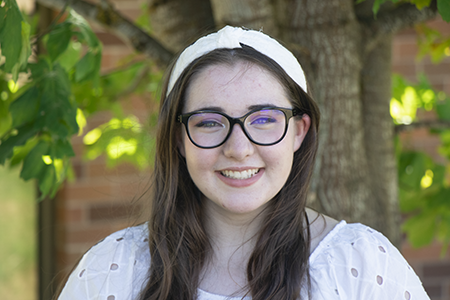 Brooklyn Chillemi, Editor
Brooklyn is a junior at La Salle. She is also invested in the arts. In her free time, she loves to bake, especially for her friends in theater and choir.