"The Classroom Is At the Heart of What We Do": Ms. Alanna O'Brien Discusses Vision for La Salle as She Steps Into Principal Position
On Friday, March 19, before students shut off Zoom, departed from the classroom, and shifted their minds into spring break mode, La Salle announced that Ms. Alanna O'Brien, who has served as interim principal since last summer, was selected to become the 11th principal of the school.
La Salle had conducted a nationwide search to fill the position after the conclusion of the 2019-20 school year, when President Mr. Andrew Kuffner shifted from serving as both principal and president to focus on his role as the latter.
Mr. Kuffner said in the announcement letter to the school community that he feels that Ms. O'Brien is "more than prepared for this role," having served at La Salle since 1996 — first as an English teacher, being honored as the school's Lasallian Educator of the Year in 2000, then shifting to the administrative team in 2012 as the Vice Principal of Curriculum and Professional Development. 
Throughout her time at La Salle, Ms. O'Brien has completed several programs to enhance her own pedagogical knowledge, and she has also founded, led, and improved various programs related to academic, extracurricular, and community life at La Salle.
"I'm excited," Ms. O'Brien said. "It's a big job, and I spent some time over spring break kind of recognizing the weight of that… just how significant the job is, especially during this time. But I have a lot of confidence in the people I work with here, and I just love this community, so I just felt like it was the right thing to do at this time in my life."
Ms. O'Brien said that one of her priorities stepping into her new role is to help the community get through the rest of the pandemic, then to reconvene and readjust together on the other side of it. Within this goal lies the overarching focus on student wellbeing, Ms. O'Brien said.
"Getting us to feel like a community again," she said. "That's been a bit of a challenge during this pandemic. And I would love for La Salle to feel like a second home for students, and so making sure that there are opportunities for students to connect with each other in real ways — hopefully less digital ways — as we move forward next year."
In addition to building and restoring the sense of community where it has been breached by COVID-19, Ms. O'Brien hopes to maintain the quality of education and academic rigor that she and other faculty and staff at La Salle work to provide.
"I would want to be known for the quality of our academic programs here — not only that they get students ready for college, but they allow students to be excited about learning," Ms. O'Brien said. "My desire for education is that it allows students to find their strengths and their talents, and that it allows students to get to the next level in learning."
Preparing students for the next level in learning, Ms. O'Brien said, means helping students be ready for college, as well as opening them up to a "variety of opportunities" upon graduating high school. On a deeper level, she said that the mission of preparing students for life after La Salle "means that students find out what they're passionate about and what they're good at."
"In order for that to happen, education needs to be pretty student-centered and allowing students some voice and choice in their education," Ms. O'Brien said. "In our professional development with faculty, we talk a lot about deep learning, and how [we can] move students to not just acquiring content knowledge, but also doing the critical thinking that is needed, especially in today's world, to be able to really have a depth of understanding about a variety of concepts."
Despite the challenges presented by the pandemic, Ms. O'Brien as interim principal has aimed to maintain this goal for students to have "voice and choice" in their learning, and wants to continue supporting students in developing critical thinking skills, preparing them for college while also being aware of the impact that COVID-19 has had on many students and their mental wellbeing.
"[There are] a few words I've kept in mind — one is flexibility," Ms. O'Brien said. "Different people need different things, and so we need to lead with care first, rather than rules and policy first… We know that academically, the pandemic hit some students [differently] than others, so just trying to really get to the root of what students need."
After serving as a classroom teacher for around 15 years at La Salle, Ms. O'Brien gradually shifted into an administrative role, working as the English Department Chair, then getting involved in professional development initiatives, and eventually moving into the vice principal position she occupied until the end of the 2019-20 academic year. 
"I've always loved the big picture," she said. "I love teaching and learning, but I also love big ideas… Thinking about how the school could improve in a variety of ways, it just kind of spoke to me."
Ms. O'Brien's administrative approach is largely informed by her teaching experience, which reminds her that "relationships are at the heart of what we do at La Salle."
"My time as a classroom teacher was really valuable to me," she said. "I loved being a classroom teacher… I want to be a principal that focuses on learning and focuses on what happens in the classroom, to make sure that is the root of what we do. And so while we need to also take care of all the extracurriculars, I feel like the classroom is the heart of what we do, and I want to make sure I still stay involved and invested in those conversations."
About the Writer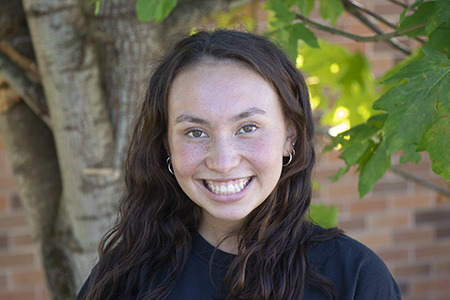 Maddie Khaw, Editor in Chief
Maddie is a senior at La Salle. She plays on the varsity soccer team and loves to read and write. She also likes to travel, hang out with friends and family,...