Student of the Week: Carson Cardwell
During quarantine, senior Carson Cardwell's hobbies have changed from going to coffee shops and exploring hiking trails to taking road trips and chopping and selling wood. 
"During COVID, with all of the changes, definitely a lot more road trips, and backpacking with my brother," he said. "I have really gotten into the industry of chopping and selling, which has been a nice way to kind of create an income for myself."
Along with these hobbies, Cardwell is involved with the student ambassador program that La Salle runs, in which upperclassmen ambassadors help showcase the school to prospective students. 
Although the program looks a little different this year, Cardwell has stayed involved with the program. 
"I helped this year with the different orientations for the different grades, doing the link days for link crew," he said. "I did the freshman retreat, which was super awesome, and then just being able to lead the connect days and bring kids back to school, and seeing everyone after a long time of being away."
The hardest thing for Cardwell is the lack of face-to-face interaction. "For me, I'm very extroverted and if I can't be face to face having those kinds of interactions with people, it's really hard for me to connect with others," he said.
Cardwell's favorite thing about La Salle is the size of the school. "I think to me it's just right because I feel that I know just about every person within the school," he said. "I think that is something that I really love is just a community basis of connection."
Another challenge that Cardwell has faced with distanced learning is the lack of presence he feels with teachers and materials. "I'm a very kinesthetic learner and so not being able to have that time like going into math class and writing on the whiteboard or going in for help on science courses, especially for AP Biology this year, not being able to do a lot of the in-person stuff it's definitely hard," he said. 
Despite the difficulties involved with distanced learning, Cardwell's favorite class this year is AP Biology. "As hard as it's been not having that in-person part of it, science has always been something that's very influential and powerful to me, and I think moving forward in life, it's something that I definitely want to pursue in college," he said. 
Next year, Cardwell will be continuing his educational career at Oregon State University where he plans to major in BioHealth. He also plans to focus his studies on pre-dentistry with hopes to someday become a dentist.
Cardwell accredits his brothers and his mom as his biggest supporters. "With all of those people, just them supporting me and who I am [reminds] me that it's always important to stay true to your character," he said.
About the Writer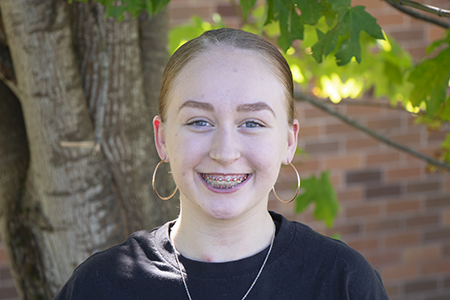 Kendall Whiteside, Assistant Editor
Kendall is a junior at La Salle. She plays soccer on the girls varsity team and for the Eastside soccer club. She is also a manager for the football team....