Next Level Seniors: Bradley Kiltow Crosses the Finish Line and Commits to Linfield University
When first putting on Nike spikes in middle school, senior Bradley Kiltow despised track and didn't want anything to do with it. 
When running track at a young age, "my mom always told me that I was running the wrong events because I was running the sprinting events and was always the last kid to cross the line," Kiltow said. "That's why I didn't love track… I couldn't compete with everyone else."
Placing last in events as a kid later inspired Kiltow to give track and cross country another try. His mom encouraged him to try running again because she knew it would eventually become a strength for him. 
Kiltow is part of a select few seniors at La Salle who have signed to play sports at the collegiate level, students The Falconer showcases in the Next Level Seniors series. Kiltow is committed to Linfield University for both track and cross country, and has devoted countless hours outside of practice in order to become a committed college athlete. 
Kiltow was originally skeptical about trying track again due to the repetitive motion of "running around a track a bunch," he said, "but I found out there's a lot more events offered for long distance runners in track in high school."
From middle school to now, Kiltow has transitioned from sprinting to long distance events, and runs the 1500-meter and 3000-meter races in track and the 5K in cross country.
Kiltow's personal records are 4:37.67 for the 1500, 9:56.53 for the 3000, and 16:51.50 for the 5K run. 
Kiltow initially wanted to join the cross country team at La Salle as a way to make some friends, but at the time he hadn't known "how much I'd love this sport and the memories I've had with it," he said. 
Running track his freshman year made him want to continue running throughout high school. Coaches Mikel Rathmann and Hannah Hildreth "have done so much for me," Kiltow said. "They have supported me when I'm having those bad days… they have really made me the leader I am."
Talking about his success, Coach Rathmann said that "Bradley is the epitome of how hard work pays off."
"Coming into his freshman year, you probably wouldn't call him a naturally gifted runner," he said. "However, as I was watching him finish one of our workouts this week, I was in awe just remembering where he was and where he is now." 
Rathmann and Hildreth have pushed Kiltow to be more observant of other runners and their forms to learn from them and improve. As a senior, Kiltow said that he is appreciative of all that he has learned from his coaches as they have mentored him to reach his personal goals, grow in leadership, and develop new skills. 
"He has always been a natural leader, and so he has shown the way for many of our young runners on the team on how to improve and become a better runner and leader," Coach Rathmann said. 
As his high school experience comes to a close, Kiltow encourages student athletes to cultivate a personal connection with coaches because they are "the people that shape you," he said. 
"I would have never, ever, ever thought in my wildest dreams… I would be able to run at a collegiate level next year," he said. 
Linfield stood out to Kiltow among his other choices — George Fox University, Western Oregon University, and Oregon Institute of Technology — due to the team building, friendship, and leadership he observed within their track and cross country program. He also is drawn to the location of the school.
"I think the campus, first off, is absolutely gorgeous," Kiltow said. "It's in McMinnville, which I really liked because it's kind of a smaller town but also in a pretty central area where I can go home very easily. I can go out to Corvallis, I can go to the mountain…  it's in a nice location [and] their campus is very well set up."
Linfield coaches reached out to Kiltow during his sophomore and junior year, and he continued to maintain frequent contact with the coaches. Through the recruitment process, Kiltow has met some of the coaches and his future teammates at Linfield over Zoom and Google Meet. 
"I really, really liked the coaching staff," Kiltow said. "They were very nice people that welcomed me, no problem, and it felt a lot like home."
Kiltow said he is "so excited to run" cross country and track at Linfield and is looking forward to seeing how he "stacks up against everyone." Kiltow is also looking forward to growing as a leader, making friends, and becoming a Wildcat.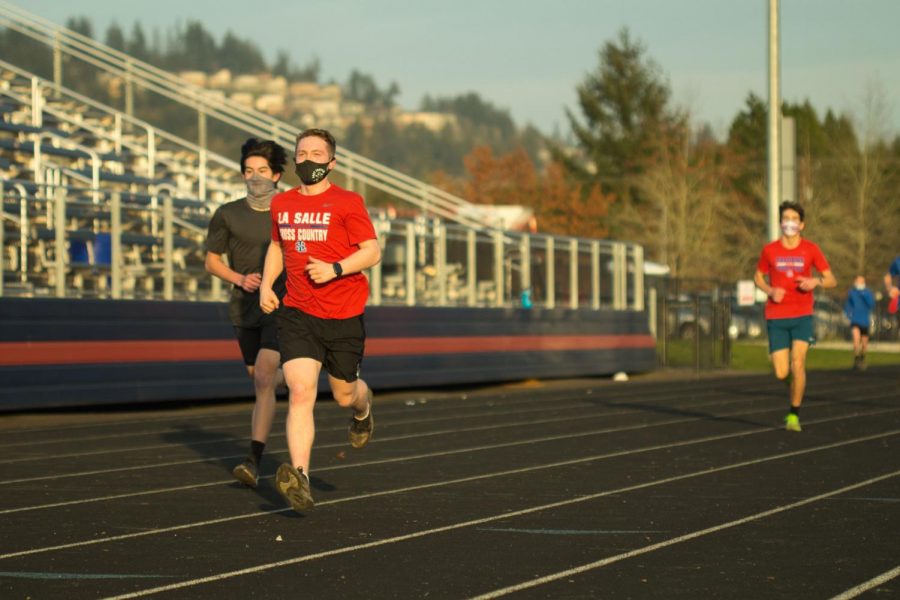 While Kiltow enjoys running, "it's not my entire future," he said. Kiltow also has hopes of enrolling in the medical program that Linfield offers. 
But, Kiltow's journey in athletics to become a committed college athlete hasn't always been easy. He said he has spent countless hours outside of high school practices not only to push himself physically, but also mentally. 
Throughout his life, Kiltow has struggled with ADD and ADHD, but running has helped him cope by allowing him to focus before doing homework and starting his day.
"If I have had a very stressful day of school or if I am extremely tired or down, getting a really good run in and working out… has really helped me calm down and control myself," he said. 
Overall, Kiltow describes himself as "a very open person" when it comes to being vulnerable and talking about his challenges with ADD and ADHD because he wants to help others who are struggling too. He wants "everyone to be happy and to know what they need to know, because if they are struggling with it, they are not alone," he said.
At times, Kiltow said he has even felt like giving up due to losing motivation or after having a bad workout. For him, a bad workout entails that he's not pushing his teammates hard enough and not holding himself accountable to "keep myself at the highest standard I can." 
"If you give up mentally, everything is over and you are at a loss," he said. 
Kiltow's drive and work ethic stems from his own self motivation and the energy from his teammates on the sidelines to stick with the pace of the race.
Kiltow enjoys running alongside juniors Murphy Schuster and Ethan Baker and senior Kai Muraki due to their similar pacing and connections he has with them. 
"It's extremely important to push your teammates and to push yourself," he said. Outside of practice, Kiltow puts in three to four hours a day to do core workouts, run on the elliptical machine, and lift weights. 
When it comes to preparing for a track or cross country meet, Kiltow always prays for the safety of his team and himself before his race. "The third thing [I pray for] is that I race fast and I get it done, because when I get onto the line, for me, it's business," Kiltow said. 
Over time, running has become an obsession for Kiltow. "I can't get enough of getting out there with my friends, getting to run around…  just to have fun with them." 
After practice, Kiltow can be seen running extra miles to get more practice in. As a middle schooler he used to run for exercise, but now it's all about the "runner's high," he said.
Kiltow got to experience that runner's high once again during his meet at Rex Putnam on March 3 when he crossed the finish line and placed first for the 5K run with a time of 17:12.86. 
Throughout his athletic career, Kiltow has strengthened his mentality and learned that the nervousness he sometimes experiences is all in his head and is something he can control. 
"Being scared is something that you just can't do because it's one step down from that mental ability that you need for when you're on that last mile of that race, and you have to push that last 500 meters up the hill to the finish line," Kiltow said. "Give it all you got."