Athlete of the Week: Quintyn Salvador
Growing up with his dad as a football coach, junior Quintyn Salvador has always been surrounded by the sport. Since the fifth grade, he has played football and continued to develop as a player and teammate.
Salvador's dad has been his biggest inspiration to continue playing. "He loves the game of football and has been coaching and watching me play for all my life," he said. "It's awesome to play knowing that he's watching, and it's also fun to talk about the football game after it's done."
Football season has been anything but normal this year, but the La Salle team has tried their best to make it as enjoyable and safe as possible. Amid the shorter season and precautions like wearing masks during practices and games, Salvador said he continues to try to find the positive. 
One of the biggest things that playing football during the pandemic has taught him is "we have to respond to what happens, and we [must] have a good response and attitude for COVID's effect on the season," he said. Salvador has also learned how to work hard for the things he wants to achieve.
Although this year's season is different in many ways, the football team's goals are similar to in past years, and still include working hard to maintain a good record. "We practice for our opponent, then go into Friday nights getting the job done and getting the W," Salvador said.
Football is not the only sport Salvador has taken part in. He played soccer, baseball, and track and field before high school. During his high school career, Salvador has stuck with basketball and football due to the connections and memories he has made while playing both sports.
So far, Salvador's favorite memories from La Salle football include the bond he has developed with his coaches and teammates as well as team camp. "I always look forward to team camp because it's like being in college — playing football while [getting] to live with your best friends in a dorm," he said, "it's a great experience."
With senior year approaching quickly, Salvador wants to remind younger students to "cherish and remember these moments," he said. "It seems like yesterday I was a freshman… stepping into La Salle knowing nobody."
What has stuck with Salvador the most from football is the "r-factor" or "response to events," he said. "Crazy events happen in our life, and we have to be able to respond to the crazy events with a positive outcome."
At La Salle, Salvador has "developed so much both athletically and internally, and I'm grateful to have had this positive experience in high school," he said. 
Next year, Salvador is looking forward to playing his last season as a Falcon. "For my senior season, I'm looking forward to having fun with my friends while balling out on the field," he said.
About the Writer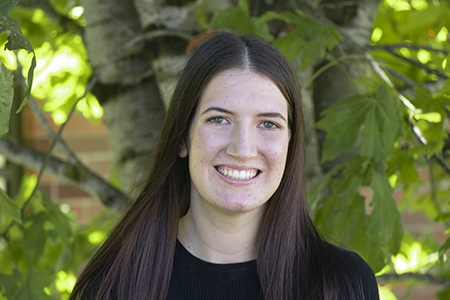 Mallory Middendorff, Editor
Mallory is a senior at La Salle. She enjoys participating in Spirit Club and Volunteer Club. In her free time, Mallory enjoys hanging out with friends,...