Athlete of the Week: Kienan Wilkinson
Junior Kienan Wilkinson has been watching his father play soccer for the Portland Timbers at Providence Park since before it was called Providence Park.
"I grew up watching him play every single week," Wilkinson said. "That definitely sparked my interest." 
Wilkinson's father, Gavin Wilkinson, played for the Timbers from 2001 to 2006, and is now the general manager and president of soccer for the Portland Timbers and the Portland Thorns FC.
Following in his father's footsteps, Wilkinson has been playing soccer for 13 years, and is currently a forward on the Portland Timbers Academy club soccer team. 
"Early on, I was kind of just like any other kid," he said. "I played basketball, track and field, I played soccer — just the whole lot. But as time passed, I just kind of focused on soccer."
Wilkinson explained that his concentration on soccer is partly because his current club team doesn't allow players to participate in any high school sports. When he started playing for the Timbers Academy around a year and a half ago, he had to stop playing soccer and track for La Salle.
However, Wilkinson emphasized that one of his biggest goals is to become a professional soccer player, and he is "interested in getting into that area of life as quickly as possible."
"I want to accelerate my soccer [career]," he said. "If that means going overseas, that'd be amazing. If it means staying here, that'd be amazing. But I'm looking for opportunities and seeing how I can create opportunities for myself."
Outside of school, Wilkinson enjoys reading and going on walks with friends, but he said that his life right now is mostly "just a lot of soccer." 
Through the pandemic, his club team has continued to hold daily workouts, at first virtually, and later in the pandemic, in person again. By October, the team was able to resume in-person and full-contact workouts with precautions like mask wearing, and recently, they have even been able to play against a few local men's college teams.
However, even during the several months when the team wasn't able to gather in-person, "my team and coaches have done a really good job of checking in on us and making sure we're doing well," Wilkinson said.
From his time playing soccer competitively, Wilkinson recounted one important lesson he has learned that has stuck with him beyond the soccer field.
"Obviously you learn things on the field, but off the field, it's taught me to persevere, and even if you're struggling, just [to] see it through," he said. "There will always be something positive on the other side."
Although soccer is a major part of Wilkinson's life, he also places significant value on academics. 
"I want to pursue being a professional soccer player, but if something happens along the way or if that doesn't work out, I want to go into the medical field and major in kinesiology or eventually work towards being a physical therapist," he said. "I think that would be pretty cool."
This year, Wilkinson said that he likes all of his teachers, but has especially appreciated his English class with Mr. Miles Kane. 
"When there's a difficult assignment — for example, we're working on the junior research paper — he always makes sure to let everybody know that he's around to help [outside] of class," Wilkinson said. "I don't know about any other students, but when given a large project, I kind of struggle and procrastinate and just end up with a massive project that I have to do in a couple of nights, and it always works out pretty well, but I feel a lot more organized [in Mr. Kane's class]."
Along with most other juniors at La Salle, Wilkinson is currently devoting a lot of his time to his junior research paper, which he has concentrated on gun control. Wilkinson is also interested in "everything that's been happening with our country related to race," he said. 
"I try my best to stay up to date and inform myself as much as I can on things, but with everything going on in the world right now, those are probably the two [topics] I focus on the most," Wilkinson said.
Similar to many other high school students during the pandemic, Wilkinson has struggled with the lack of connection to friends and others that he was used to seeing regularly. 
"There was a big four or five month period where contact was extremely limited between anyone in my family and anyone else," he said. "Things got pretty monotonous for a while — the daily workouts, the no Zooms, or very [few] Zooms."
Because of this, Wilkinson stressed the importance of "being kind and empathetic" towards those around you.
"Everyone has their own issues right now, and when it comes to mental health, family problems, we really don't know what the people around us are going through," he said. "And at least in my experience right now, just other people's kindness throughout my whole life but more specifically throughout this pandemic, people's kindness has been pretty amazing. It goes a long way."
About the Writer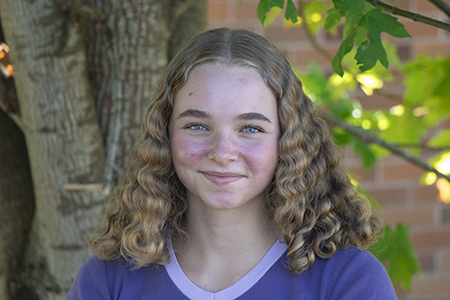 Mary Loeb, Editor
Mary is a junior at La Salle and participates in swim team and the Service Club. She enjoys volunteering and likes to bake.