Student of the Week: Theo Desta
Senior Theo Desta's favorite childhood memories consist of spending time with her family, Ethiopian food, and Amharic chatter. 
"My family is really family-oriented, [and] not just within our immediate family," Desta said. "We would always have our cousins, aunts, and uncles over every weekend, and we still do that." 
Despite the coronavirus pandemic, this has not changed.
"Since we relate with so many things, since we're all immigrants to this country, especially my older cousins and my parents and my aunts and uncles, it's just nice to get together once in a while and, you know, hang out," Desta said. "It's just a time to relax and communicate with each other." 
Desta moved to Oregon from Ethiopia when she was two years old. Despite not remembering the move itself, "I've always been immersed in the culture," she said. "My parents are really set on teaching us the culture and the language and everything." 
After Desta came to Oregon, she transferred six times throughout elementary school, the last time being to St. John the Baptist in Milwaukie by the time she was a middle schooler. 
"My parents kept moving around because when they first immigrated here, they just wanted to make sure they were in the right place," Desta said. "My parents just wanted to find the perfect school for me." 
After her time at St. John the Baptist, Desta noticed that many of her friends were planning on attending La Salle for high school. 
When Desta attended La Salle's open house, "it just seemed like a place where everyone is close, and [it] had that family feeling to it," she said." She also liked how La Salle was focused on education. 
Because so many of her peers chose to attend La Salle, "it wasn't that hard for me to get situated, since it just felt like everyone knew each other," she said.
Desta is now involved in La Salle's choir and the set crew for La Salle's theater program, and in her free time, she enjoys reading. 
Desta joined the choir because her family is very "music-oriented" – especially her father, who plays the piano. She also participated in choir during elementary school. 
As for set crew, while she decided not to help with the set for La Salle's production of "The Giver" because of COVID-19 concerns, she did help build sets for past La Salle productions, such as "Beauty and the Beast" and "You Can't Take It With You." 
With reading, Desta gets book recommendations from friends, as well as online.
She is currently enjoying books such as "The Song of Achilles" by Madeline Miller, which she just started, as well as the series "The Raven Cycle" by Maggie Stiefvater, which Desta said "is really good." She also recommends that people read "The Hate U Give" by Angie Thomas.  
As for her class time at La Salle, this year with digital learning, "my classes haven't been necessarily hard or difficult, it's just kind of a lot of work," Desta said. 
Desta is in the blue cohort and plans on attending the hybrid schedule to "try it out for a little bit." 
Desta thinks that her statistics class will be the best in-person class, because "it'll be a lot more fun and interactive when we're in class," she said. "Mr. Redford will also try to incorporate more activities we can do in class, rather than online."
After her online classes, Desta takes care of her four younger siblings – Namen, Kelu, Miky, and Egzi – who finish online school around the same time. 
Desta said that her biggest accomplishment is being a caretaker for those around her.
"I'm always open for people to come to me, and I'm always open to helping others, especially since I've been doing that since my siblings were born," Desta said. "I feel like it's a habit for me to just want to help people." 
And to help people, Desta offers some advice to her fellow students, which is to work on time management. 
"I know it sounds obvious, and everyone says that, but it's honestly the best thing I could think of," Desta said.
She also encourages everyone to "try to find something that keeps you busy, other than just going on your phone and stuff, because that's kind of all we're doing is just staring at a screen," she said. "So if you find at least one thing other than that to keep you busy, it'll make the days better." 
As the end of her senior year nears, Desta looks forward to graduating and moving on to college. "I'm really excited," Desta said, "[but] I'm sad that I didn't really get to tour any colleges and stuff." 
Desta plans on studying psychology and mental health during her time at college. "I just think it's important to learn about our mental health and prioritize that, and I really want to help others with it," she said.
As she reflects on her time at La Salle, "freshman year, I was really worried about a lot of things, like what people thought of me, and how I can try to make myself seem likable, in a sense, and I worried too much about my grades and everything, which got in the way of my success," she said.
"But now, I'm able to prioritize what I need, and my schoolwork, my friends, and all that," she said. "And I try not to let what other people think of me, or what other people assume and stereotypes, get in the way of myself, if that makes sense." 
Now, Desta encourages others to learn from her past. "Don't worry too much about what other people think about you, and just be yourself," she said. "Try not to let other people's validation, or what they say about you, get in the way of your own success and just keep doing what you like, because that will eventually benefit you in the future."
About the Writer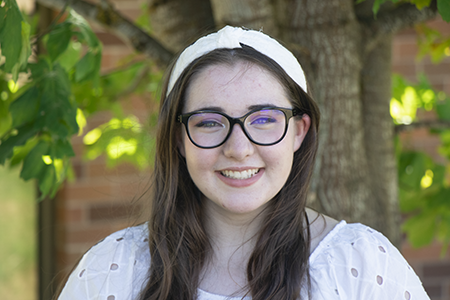 Brooklyn Chillemi, Editor
Brooklyn is a junior at La Salle. She is also invested in the arts. In her free time, she loves to bake, especially for her friends in theater and choir.