Student of the Week: Natalie Calvillo-Ruelas
Junior Natalie Calvillo-Ruelas begins each day of digital learning in her bedroom, like many students. However, Calvillo-Ruelas' room is "always reorganized in some sort of new way every day," she said. 
"I really want to be an interior designer," Calvillo-Ruelas said. "I think it started when I was younger because I'd always rearrange my room."
At La Salle, Calvillo-Ruelas lives out her love for color theory and design through Advanced 3D Art with Ms. Cha Asokan, where she is able to experiment with different glazes and clay sculptures.
Calvillo-Ruelas is taking several other advanced or AP classes this year as well, but her art class is her favorite. She appreciates how Ms. Cha is "always uplifting all of her students and she's always there for us," Calvillo-Ruelas said. "You could eat in her class, and then the next day you could cry in her class … She's there for you no matter what."
Calvillo-Ruelas is also involved in the Unidos En Poder Club at La Salle, which she said is like "family." 
Outside of La Salle, Calvillo-Ruelas participates in a youth group made up of several churches. This year, Calvillo-Ruelas is one of the group leaders, so she meets often with the other leaders to plan activities for the whole group.
Prior to the pandemic, Calvillo-Ruelas' youth group would write letters to senators, coordinate Christmas drives, participate in Med Strike, and go on summer trips. Now, Calvillo-Ruelas said the activities are more at-home based. 
However, as the group has done in previous years, they have still agreed upon one general topic to research and discuss during their meetings this year.
In a previous year, the youth group chose to learn about Native American tribes, and took a summer trip to Texas and New Mexico to gain an understanding of the lives of tribes there. From this trip, Calvillo-Ruelas said she discovered a lot about the tribes in those areas, and "how to not treat people like a charity case, but work with them, and build together instead of build for them."
This year, the group's topic is centered around politics and how to navigate them. Calvillo-Ruelas is looking forward to exploring the issue of "survivor rights" and how survivor cases are taken to court, within the group's general topic.
"I think that any person who has been through any type of trauma, whether it's emotional or physical, that they deserve to be heard and [the right] to a fair trial," Calvillo-Ruelas said. "It's something that really speaks to me because a lot of people, especially men, don't get the recognition of like 'Oh, they've been hurt and they survived.'"
Calvillo-Ruelas also said she feels the issue of survivors' rights connects to her Hispanic culture, since "not a lot of [Hispanic] men speak out about it, because it's too masculine or whatever…it also goes into my culture." Calvillo-Ruelas has expressed some of her thoughts around this issue through clay sculptures or projects she created in her art class. 
As well as being passionate about survivors' rights, Calvillo-Ruelas said her family, friends, and pets are all important to her. "I really like to take care of people and [make] sure that they're happy and that they're doing something that makes them happy," she said. "That's what keeps me going." Calvillo-Ruelas has three dogs — Tito, Chapis, and Akamaru — and one cat named Nanette.
Calvillo-Ruelas also has three older siblings, and said her older sister, who lives in Utah, recently got married. "We've always been really close so it's like, I want to be with her, but I know that she needs to start her life," Calvillo said. "I'm so happy for them, they're all doing their own thing, but again, I want them around me."
Calvillo-Ruelas' family is one part of her life that motivates her to succeed in school, but she is also driven by her identity as a first-generation student, meaning she will be the first in her family to attend college.
"College has always been something exciting for me, and you need good grades to get into college, so that kind of keeps me going," she said. "And then just the thought of showing my parents that I can do it on my own is another thing that keeps me going."
Calvillo-Ruelas voiced that being a first-generation student has posed challenges. "It's just really difficult to do anything because my parents didn't know how to do it growing up, like they didn't do it themselves," she said. However, Calvillo-Ruelas said she feels supported by her counselor and her friends who are also first-generation students. 
Moving forward, Calvillo-Ruelas said, "I really want to go to school outside of the country where I can learn about new fashion, and how to decorate." 
As a more general goal, Calvillo-Ruelas emphasized that she hopes "people around me in the future and now can trust me, and know that I'm there if they need anything," she said. 
About the Writer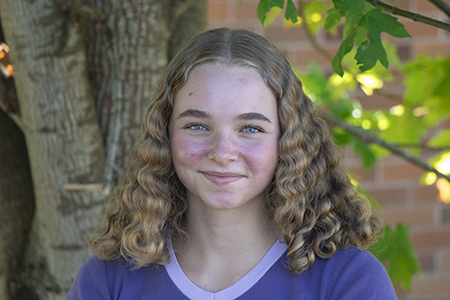 Mary Loeb, Editor
Mary is a junior at La Salle and participates in swim team and the Service Club. She enjoys volunteering and likes to bake.