Athlete of the Week: Quentin Strange
First taking the field when he was three, sophomore Quentin Strange is now entering his thirteenth year playing soccer and his second season competing with the La Salle boys varsity soccer team. 
Similar to many other athletes, Strange's desire to play stems from all the time he spent watching and cheering on his older brother, Luke Strange '20. Although Strange played his first game in kindergarten, he started taking training classes to master the fundamentals even earlier.
Strange said his favorite aspect of soccer is working with his teammates to accomplish a common goal. "When you have a good group of guys together and you're working hard, you can achieve something great," he said. 
Reflecting on his time playing soccer, Strange said that the team dynamic is one of the most vital components to playing a strong game. 
"Having good teammates around you definitely makes it easier," Strange said. "I've been on teams that aren't super good, and you can definitely see how having good teammates motivates you to work harder."
For Strange, playing on a high school team allows him "to learn from the older players on varsity," he said. Outside of La Salle, Strange also takes inspiration from professional soccer players. His favorite player, Neymar da Silva Santos Junior, is a forward for Paris Saint-Germain. Strange said that Neymar has made the biggest impact on his footwork on the soccer field. 
Additionally, Strange emphasized the impact his teammates have on his performance and morale during games. "We have the ability to do something great, but we can't when we're [not] all putting 100 percent effort in," he said. 
Although having a team stockpiled with star players might seem ideal, Strange prefers to play with teams that highlight team building over individual success. As a result, Strange focuses on being a leader among his teammates and works to bring out the best in each of them. 
 "When my team is positive it allows me to not be as stressed when playing and really focus on the game," he said. "I try to encourage my teammates by saying positive things when they make mistakes and by giving my all 100 percent of the time."
Despite the COVID-19 pandemic, Strange continues to train with his older brother. However, Strange is discouraged that fans may not be able to attend games once the season starts. "[Fans] are always the extra push you need and it's hard without them," he said. 
As the beginning of the season approaches in March, Strange hopes to become a starter for the varsity team and is striving for a second state title playing with La Salle.
About the Writer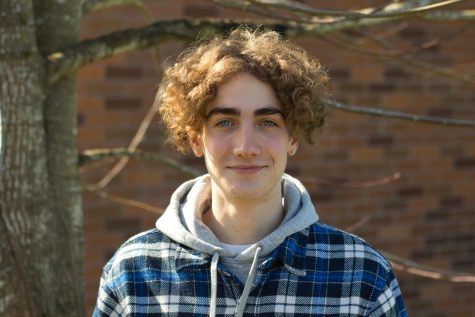 Alec Willard-Herr, Staff Photographer
Alec is a senior at La Salle. In addition to playing baseball, he runs varsity cross country and track. In his free time, he likes listening to vinyls,...