Athlete of the Week: Nic Boyd
Having played basketball since he was six years old, senior Nic Boyd is hoping that this year the La Salle basketball team will advance to the semifinals, or even finals, despite having an unusual season due to the pandemic.
 "Our team is looking pretty good, and I'm hoping that we can go pretty far in the tournament if there is one," he said.
Boyd's favorite thing about basketball is the memories and life lessons he has taken away from playing. The biggest lesson that basketball has taught him is that "you've got to give 100%… because if you don't then a spot could get taken, whether that's on a basketball team, or for a job," he said. 
When the coronavirus shut down workout facilities and practices for sports teams, Boyd started working out at home. "I have a good amount of workout equipment, so I was able to do that, as well as go out for runs," he said. "I have a basketball hoop so I was able to do that as well."
A few moments stand out to Boyd from the three seasons he has played on La Salle's varsity team. Last year, the boy's basketball team played Wilsonville, and although they didn't beat them, they were pretty close. "We came [the] closest to beating them… than we ever had before, and I played really well," he said. 
Another impactful memory Boyd recounts is from his freshman year. "My freshman year, when we played Putnum at home, and, I mean, I was a freshman on varsity and it was very different, but I think that was probably my best game all year," he said. "It just stuck out to me because I was really happy with how I played."
Although Boyd hasn't made any final decisions around his plans for next year, he is certain that he wants basketball to be a part of his life moving forward. "I'm either going to play in college or depending on what options are as far as college offers… for basketball, I might take an extra year at a junior college or basketball prep school to open up more paths or doors for college basketball," he said.
Boyd attributes his parents as his biggest supporters. "I mean my dad is probably more involved with it, but my mom is right there, always supporting me," he said.
Last year, Boyd set two goals for himself for the season. "I was aiming to lead the team in scoring, which I did," he said. "I was aiming to get first team [all conference], but I got second team."
As a senior, this will be Boyd's last season playing with his high school team. "One thing I'll miss would probably be playing with a lot of guys that I've gone to school with through middle school," he said. 
The thing Boyd is most looking forward to this season is "getting the last chance to play with my friends," he said.
Boyd's biggest piece of advice to underclassmen is to try to balance hard work with enjoyment. "Make sure that you have the dedication [and] you work hard at it, but always make sure that it's fun, and fun for yourself," he said. 
About the Writer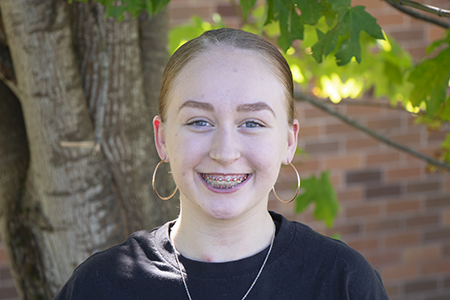 Kendall Whiteside, Assistant Editor
Kendall is a junior at La Salle. She plays soccer on the girls varsity team and for the Eastside soccer club. She is also a manager for the football team....