As Second Semester Kicks Off, Sophomores Visit Campus for Orientation
On Wednesday, Feb. 3, sophomores participating in the new hybrid learning model gathered in the gym for a mandatory orientation to cover guidelines for in-person instruction. Updates included arrows that mark which directions to walk in the hallways, specific places to eat lunch, and rules about abiding by the safety protocols.
The orientation started with a quick welcome assembly and a game in which students verbally guided a partner, whose eyes were closed, to pick up cones scattered on the floor. Vice Principal of Student Life Mr. Brian Devine then talked about the new rules that have been put in place for on-campus learning.
Later on, students split into groups to tour the school as well, and to conclude the orientation, there was another short assembly in the gym where a video made by the student council was played, explaining ideas like the dress code and how to wear a mask properly. 
About the Writer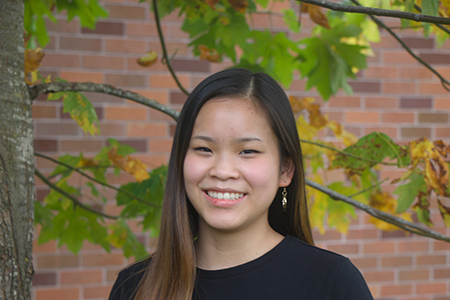 Fia Cooper, Staff Photographer
Fia is a sophomore at La Salle. In addition to being a student ambassador, she is on the dance and swim teams. On the weekends, she enjoys taking photos,...