"A Step Towards Getting Back to Teaching": La Salle Staff Receive First Doses of Coronavirus Vaccine
As La Salle prepares to shift into hybrid learning beginning next week, the opportunity to receive the coronavirus vaccine has offered many teachers and staff members a sense of comfort.
According to Director of Human Resources Ms. Mary Neil, 84 out of roughly 95 total teachers and staff members have been able to receive first doses of the vaccine as of Feb. 11.
Science teacher Mr. Ryan Kain is one of these educators. "The biggest thing this has done for me is put some closure and peace of mind in my own personal health when it comes to coming back to school," he said. 
To receive their first shots, staff members ventured to the Oregon Convention Center, Brave Care, and other medical clinics in the area, where most of them were injected with the Moderna vaccine. Ms. Neil reported that "the vast majority of staff were vaccinated the week of Jan. 25," and will return to their vaccination sites for second doses the week of Feb. 21.
"I think we are fortunate that we were able to get vaccines early, and that has been a big help to our being able to roll out the hybrid learning and get us back in the classroom," Ms. Neil said. "The vaccine doesn't mean you won't get COVID, but it means that your chance of having a severe reaction to it is much, much less… I think that brings comfort to people, regardless of age, and regardless of their own personal situation."
Health and P.E. teacher Ms. Debbie Schuster echoed Ms. Neil's thoughts. "I just feel like it provided me with the opportunity to be more safely present with my students and with my family," Ms. Schuster said.
While La Salle has not mandated the coronavirus vaccine for all staff members, many teachers feel that getting the vaccine is "a great step towards getting back to a normal life," math teacher Mr. Larry Swanson said. 
For Mr. Kain, "the vaccine's kind of like our gateway to any sort of sense of normalcy, not still short term, but long term," he said. 
However, even though many educators acknowledged the vaccine as an important development, for some staff members, the decision to get the shot involved careful consideration. 
"I've had reactions in the past to shots, so I had some anxiety, I'm not going to lie," Spanish teacher Ms. Karen Kessler said. "What made my ultimate decision was respect for my family, and my students, and my colleagues, and having enough medical information and reading — I spent a lot of hours reading to make that logical and best decision for myself."
Similarly, Director of Community and P.E. teacher Ms. Liz Banta described how her thoughts around the vaccine have shifted over the past few months. 
"The more we learned about it, and all the research, it's just, you have to go with science and the proof that it's safe and hopefully effective," Ms. Banta said. "I just felt like it was a privilege to be able to do it. Modern medicine and science is so amazing and to have that opportunity, I felt like I was very thankful for that."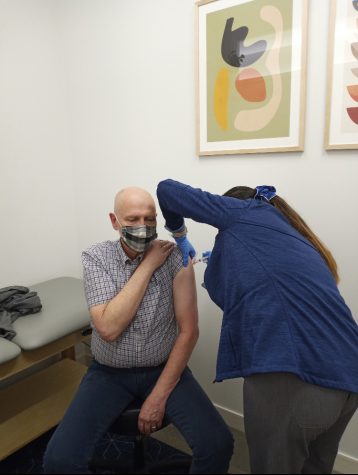 For many educators, the shift to hybrid learning was a key factor in their decision to receive the vaccine.
"I'm going to be exposed to 700 high school students — and who knows what they're doing — and my grandparents [are] watching my children," Ms. Banta said. "So I feel like just the safety precaution was important, and I'm also still not fully 100% supportive of going back before teachers are vaccinated."
Mr. Kain said he also felt reassured after learning that he would be able to receive the vaccine before starting to teach in person. 
"We were told that availabilities of vaccines are so variable, [and] we can't necessarily wait until we're all vaccinated, so that's in the back of all of our heads," he said. However, he described a feeling of relief after receiving the email link to sign up to be vaccinated.

"I'm not going to lie, it feels a lot better knowing that I've got a shot in my arm by the time I have students in my room," Mr. Kain said. "Specifically, I'll be at two shots and almost to the week after, where we expect to see that 94% efficacy of the vaccine. So on my own personal level, it's basically getting ready for the school part."
Although the vaccine held a lot of significance for some staff members, physical effects after receiving the first dose of the vaccine were generally not extreme.
"You go into it feeling like this is going to be the most monumental shot you've ever had in your life and then it was over, and I got a unicorn Band-Aid and that was it," social studies teacher Mr. Alex Lanaghan said.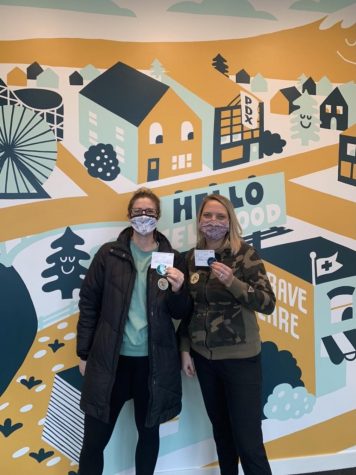 Side effects experienced by the educators The Falconer spoke to ranged from a sore arm, to cold-like symptoms, to fatigue. However, some staff members are more apprehensive for their second shot, which can come with more intense side effects.
Moving forward, many staff members said that their day-to-day health precautions will remain the same, even after becoming fully vaccinated. 
"I don't plan to change my choices and lifestyle until… we reach herd immunity, because I really want to be mindful that I could be asymptomatic and pass COVID-19 on even after being vaccinated, so I just really want to continue to do my part," Ms. Schuster said.
Mr. Lanaghan reiterated Ms. Schuster's point of view. "We're going to keep social distancing, and we're going to keep wearing our masks," he said.
Summarizing what the vaccine means for him, Mr. Kain said, "I'm a part of the puzzle, but it's got a lot of ways to go, and not much is going to change in my day to day besides just that peace of mind."
Nevertheless, recognizing the transformative potential of the vaccine to halt the coronavirus pandemic, several educators expressed gratitude for the chance to receive it. 
"I'm grateful to be around kids," Ms. Kessler said. "It's not just a screen anymore. I'm grateful to be back in the classroom and I'm grateful that science has the ability, in such a short time, to help us resume lifestyles and give us that extra comfort of faith over fear."
Ms. Schuster said she appreciated the initiative Governor Kate Brown took to move teachers and school employees closer to the front of the line for vaccinations.
"I feel incredibly grateful that Oregon — that Governor Brown — has prioritized teachers, and I definitely feel a responsibility, given that she has shifted the allocation of vaccines, and want to do my part to be present for the students that are able to make it in," Ms. Schuster said. "And I just honor all of those essential workers that haven't been prioritized yet with vaccines, that have been going to work without one, keeping our communities alive."
As La Salle continues the transition to in-person learning, Mr. Swanson shared his thoughts on the duties he believes each individual has to help others stay safe by getting the vaccine once they become eligible for it. "You should show love for your fellow humans by taking important precautions to protect the community," he said.