The Show Must Go On: How the La Salle Production of "The Giver" Took Place During the Pandemic
At 7 p.m. on Tuesday, Dec. 22, La Salle students, families, staff, and community members gathered in the La Salle parking lot to watch the La Salle theater program's production of "The Giver." 
During a typical year, theatergoers would convene in the auditorium to watch a live performance of La Salle's fall play. This year, the show was pre-recorded by the cast and crew, and projected on a big screen for viewers to watch, which, while having its upsides, also proved difficult in ways not present in previous years.
Junior Aaron Leonard-Graham, who played the role of Asher, noted how much harder it was to film the show beforehand, rather than presenting it live.
"Actors get their energy from the audience," Leonard-Graham said. "It was really different having these cameras in your face."
Sophomore Marieka Kaufman, who has been participating in theater since middle school, agreed with Leonard-Graham; pre-recording the production was a very different experience than performing it live. She said that she felt like the process from casting to opening night went a lot quicker than on a typical year. 
"There were some scenes where we would only practice them one, maybe two times, and then we were filming it," Kaufman said. 
"The Giver" was freshman Amanda Folsom's first show at La Salle, and she played the role of Larissa. She said that, due to the pandemic, the production process felt a lot more choppy than shows that she had been a part of in previous years.
 Due to COVID-19 regulations, limited numbers of cast members were allowed to come onto campus only twice a week, causing the scenes to have to be filmed out of order.
"Everyone kind of split up by scene, so the characters in this scene would come in on the stage and rehearse," Folsom said. "I expect the scheduling was really difficult."
Leonard-Graham voiced similar thoughts. "I'd say scheduling was definitely against us in this case, but, hey, we got it done." 
While Leonard-Graham was able to make all the rehearsals, they mentioned that their family had to make a lot of adjustments to their schedule for Leonard-Graham to be able to participate in the show. Since they live in the Northeast district of Portland, the commute to La Salle is long, and their parents work. 
"I think that was definitely the hardest part, getting from my house in enough time," Leonard-Graham said. "We juggled a lot… We made some sacrifices just for me to be out there."
With COVID-19 regulations, actors and members of the crew had to keep a six-foot distance between themselves throughout the whole production process. While aspects of this regulation were easier for some, they proved difficult for others.
Kaufman felt that makeup was the most difficult part of the show for her, since she does not do a lot with makeup outside of theater. However, she enjoyed putting together her own costume this year.
"It was like, okay, this is what we're supposed to have, find something that works with it," she said.
Leonard-Graham enjoyed doing their own makeup, noting that they would like to be able to continue to do so during future productions. "I hope that might stay in the future because it's a lifesaver," they said. 
For Folsom, bonding as a cast was one part of the show process that she found really difficult. While she did make new friends, Folsom wished she could've gotten to know everyone a little better than just chatting during breaks. 
"It's [normally] so awesome because you get to know each other really well," Folsom said, speaking on her experiences with theater before starting at La Salle. 
Kaufman said that this was also a struggle for her, although there were a few moments throughout rehearsal where the cast grew closer.
"A couple people would start singing a song, and then maybe at one point Mr. Shelton [would] start playing the music," she said. Leonard-Graham agreed, saying that "as time progressed from the beginning of the show to the end, [the cast members] were all just like a close family… we weren't forced, it was just natural."
Because the show was not live, the cast got to watch themselves perform, which Kaufman, Leonard-Graham, and Folsom all found a bit weird.
Leonard-Graham said that they noticed themself analyzing their performance. "I critique myself, like, come on Aaron, you know better," they said. 
 While Folsom found herself making similar notes about her own performance, she said that she enjoyed some aspects of the show being pre-recorded.
"When you're doing a live theater performance… you only get one chance and if you totally mess up, then too bad," Folsom said about the ability to reshoot a scene if someone makes a mistake during the filming process. "[Filming] was basically the same thing as rehearsal, except there [were] cameras."
Theater teacher Mr. Michael Shelton directed the play. He would occasionally send out sneak peeks of the show to the cast members, which Folsom said helped the cast keep their spirits high as filming progressed, an energy that she said is typically fueled by the live audience.
"When you're doing it all cut and pasted, it's sort of dry. You don't get as much emotional boost, so that can make the acting a little stale, I think," she said, noting that the pre-opening night snippets of the show Mr. Shelton allowed the cast to see gave them that much-needed "emotional boost" to keep the actors engaged and in character.
Leonard-Graham said that they felt Mr. Shelton radiated the positivity and energy that the cast needed throughout the whole production and filming process. In keeping everyone informed about changes in scheduling and updating the cast on how the filming and editing process was going, Leonard-Graham said that they felt a huge weight was taken off of the casts' shoulders.
"Shelton has a way of making everything easy. I don't know how, but he does," Leonard-Graham said. "Even though he had on a mask, I can tell he was smiling."
Overall, the cast members that The Falconer interviewed said that the show went really well. Folsom said that the best part for her was meeting new people, an opportunity she has not yet had at La Salle due to school being online.
"I was glad to do it because I got to meet some really cool people," she said.
"It was really fun to be able to do some form of a theatrical performance, even if it was not the usual thing," Kaufman said about the production and filming process with COVID-19 restrictions. "It ended up coming together really well."
Leonard-Graham said that they thought that the show was a success. "We made the best of it. We definitely did try to have fun, even though it was different," they said.  "It gave us… [the] opportunity to see what it's like working as a film actor."
"I think that this was a hit," Leonard-Graham said.
About the Writer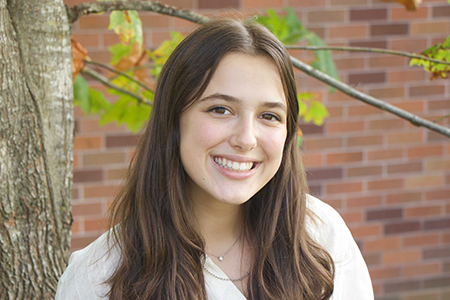 Maggie Crimmins, Staff Reporter
Maggie is a sophomore at La Salle. She loves to hang out with her friends, go thrift shopping, and listen to music. She also plays piano and enjoys going...