San Miguel Scholars Program Nurtures "More Rich and Vibrant Community" at La Salle
In the late 1600s, St. John Baptist de La Salle, an affluent priest living in Reims, France, abandoned his personal wealth and title to devote his life to educating others. At the time, education was a privilege that could only be afforded by the most elite families in France, but De La Salle aimed to change this.
The patron saint of teaching went on to inspire the founding of Lasallian schools throughout France, and later, all around the world. His schools provided a transformative education to poor students, allowing them to transcend their current socioeconomic status. 
Today, De La Salle's values live on in many aspects of life at La Salle, particularly in the San Miguel Scholars program.
"At its heart, San Miguel Scholars is really what Lasallian education is all about," said Mr. Brian Devine, vice principal of student life and co-director of the program.
Created in the early 2000s, the San Miguel Scholars program was a response to what Mr. Devine described as a "call to action" from the broader Lasallian community. Under the notion that a Lasallian education was becoming out of reach for students coming from lower socioeconomic backgrounds, educators wanted to assure that La Salle schools were accessible to all students, regardless of their financial means.
The program has since grown to become a group of around 40 students within La Salle, split evenly among all four grades. The scholars receive full-ride scholarships for tuition, as well as financial assistance with other expenses while they are at La Salle, but the San Miguel Scholars program goes beyond financial aid. 
"I really see it as kind of a smaller community to really connect with each other and help each other along the way over the course of four years," said Ms. Maritza Mendez, counselor and co-director of the program. 
Scholars of the program are selected during the admissions process, and are often first-generation students, meaning they will be the first in their families to attend college. Other scholars are identified as students who would benefit from the additional support and community that Ms. Mendez provides throughout the transition to high school and during the college application process. 
"When you think about a lot of our students, especially students whose parents went to college, or older siblings went to college, or they're just in a family of college-attending family members … it's a lot easier to not just imagine going to college… but it's also a lot easier to navigate the college application process," Mr. Devine said. "We really try to understand that, [and] we truly try to identify students who would benefit from the extra support around that that we can provide."
For Ms. Mendez, supporting first-generation students is "one of the most important things" to her, she said.
"I was a first-generation college student," Ms. Mendez said. "If I didn't have people that invested in me, or to kind of show me the way, I don't know that I would have gotten there on my own — not because I wasn't capable, but just because I didn't know. It's almost like traveling without your phone to guide your direction. And so I think it's really important work, because everyone deserves an opportunity to get into college if that's what they want to do."
During her years overseeing the program, Ms. Mendez has worked to support scholars through efforts like community-building activities and "College Cafe" meetings to learn about various universities, as well as with individual help with the college application process. 
While Ms. Mendez's role in the program involves working closely with the scholars and providing an extra level of support and community, Mr. Devine works more on the administrative side, describing himself as "serving as a liaison between the program and the administrative team." 
To provide the scholars with financial assistance with tuition and other expenses, La Salle partners with Precision Castparts, one of the largest corporations in Oregon which has committed to supplying scholarships for around half of the students in the program, Mr. Devine said. The other half of the San Miguel scholarships are sourced through La Salle's financial aid program, which raises money primarily through the annual Better Together Fundraiser. 
"San Miguel Scholars program is kind of an umbrella title for two different ways of accessing La Salle financial aid," Mr. Devine said. "We call all of our scholars the San Miguel scholars, but it really encompasses two different groups of students: our San Miguel scholars that are supported financially by La Salle's financial aid, and then also our Precision Castparts scholars."
This year, there are 36 San Miguel scholars at La Salle, with 18 receiving financial support from Precision Castparts, and another 18 supported by La Salle's financial aid.
Mr. Devine and Ms. Mendez both emphasized the transformative experience that the opportunity to receive a Lasallian education can be for students. 
Mr. Devine recalled seeing students "coming in, maybe uncertain, shy, unsure if La Salle was the right place for them," he said. "Maybe lacking confidence in their academic abilities, wondering if this is going to be too challenging."
"And then, to see where students are when they graduate four years later from La Salle, most often heading to college, most often having the opportunity to access education, next-level education that wouldn't have been something that they could have dreamed of when they were younger," Mr. Devine said. "It's not just a high school education, it's a transformative education that changes someone's trajectory."
La Salle alumni and former San Miguel Scholar Aylin Begines '20 shared how receiving a Lasallian education with the support of the San Miguel program has impacted her. 
Prior to starting high school, Begines had planned to attend the public school in her area, up until her confirmation teacher recommended La Salle. After taking a tour, Begines fell in love with the welcoming environment she felt upon entering the school.
While the finances of attending La Salle were at first a large concern for Begines and her family, she said that being a San Miguel scholar allowed her to "not worry about the cost as much and look at the community side of it."
Upon starting at La Salle, Begines said "through the San Miguel [program], I was able to make a couple friends, but also get involved with some of the Hispanic clubs that they have," she said.
Begines explained that because she had the opportunity to make these initial connections through the program, she was able to shift her attention towards her academics and exploring some of the other opportunities that La Salle offers, like leadership opportunities and immersion trips.
"Already having that background, feeling like someone accepted me, as well as that were there supporting me with my books and everything, it allowed me to focus more on my academics, focus more on experiences and opportunities that La Salle offers," she said. "I'm really grateful for that."
Begines emphasized the extent to which her time at La Salle helped her grow as an individual, mentioning that, during her senior year, she served as the Officer of Faith for her class.
"La Salle helped me to understand how much of a leader I can be in specific ways, and how there's different ways to be a leader, whether that be event planning, whether that be planning Masses," she said. "It was great for me to be able to find my place."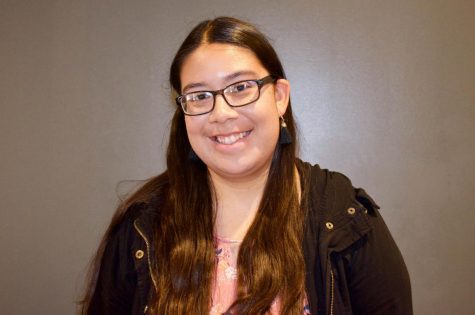 Begines, who said she is appreciative of the assistance Ms. Mendez provided during the college application process, is now studying aerospace engineering at Oregon State University. 
"She was really helpful to be able to answer my questions but also kind of experience that college application moment with me," Begines said, remembering how Ms. Mendez was by her side as she pressed submit on her applications. "It was great how she was able to give her feedback and her personal experience, which made it a little bit easier to understand and kind of break down the college application process."
Even beyond her own experience, Begines has observed the opportunities the San Miguel Scholars program has been able to provide to other students as well.
"Once I got that support, I was able to then introduce that same program to like 30 friends of mine and be like, 'OK, have you ever thought about this high school?' and talk about the experiences," she said. "And then when the parents ask, 'OK, but how am I going to pay for it?' being able to introduce the program is something great because it gives that opportunity for parents to provide their children with this great high school experience without having to really worry about that matter."
In addition to having a considerable influence on the scholars in the program, Ms. Mendez and Mr. Devine pointed out that the program strengthens the larger La Salle community as well. 
"The school benefits from having such a rich and diverse group of students that are on our campus," Ms. Mendez said.
Mr. Devine voiced similar thoughts, explaining how the program enhances the education of all students.
"Oftentimes we grow up in a kind of homogenous, one-dimensional environment where we're just surrounded by people who are like us and have similar experiences as us," Mr. Devine said. "And that can especially be true if you go to a Catholic grade school, because you're just kind of surrounded by people that oftentimes have a similar way of thinking, have a similar background, [or are] coming from the same neighborhood."
Through enabling students from all different backgrounds to attend La Salle, Mr. Devine said the San Miguel program "broadens our experience of people, and … makes us a richer community."
While the San Miguel Scholars program has consistently provided scholarships for around 40 students each year, Mr. Devine and Ms. Mendez both said that their goal for the program in future years is to continue to expand and support more students. 
"I know that this is a tough year for that, but to see [the program] grow in size will probably bring me the biggest amount of happiness," Ms. Mendez said.
During his lifetime more than 300 years ago, St. John Baptist de La Salle saw an inherent dignity in children in France, and believed that the power of education could open doors of hope and opportunity for these students.
Today, the work of the San Miguel program reinforces De La Salle's beliefs and continues to emphasize the merit of all students to receive a transformative education.
"If we think about the idea of honoring the individual, and looking at people and bringing people on because of what they bring rather than because of their circumstances, I think that's probably the core of this," Ms. Mendez said. "We're looking at these kids as individuals who have so much to give to our community, rather than limiting who can come here simply because of their ability to make it otherwise." 
About the Writer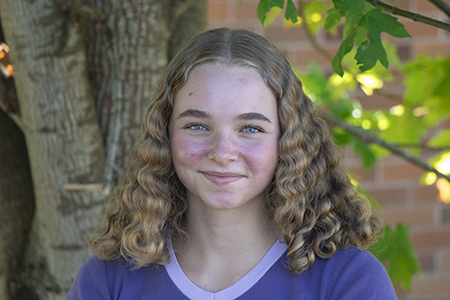 Mary Loeb, Editor
Mary is a junior at La Salle and participates in swim team and the Service Club. She enjoys volunteering and likes to bake.