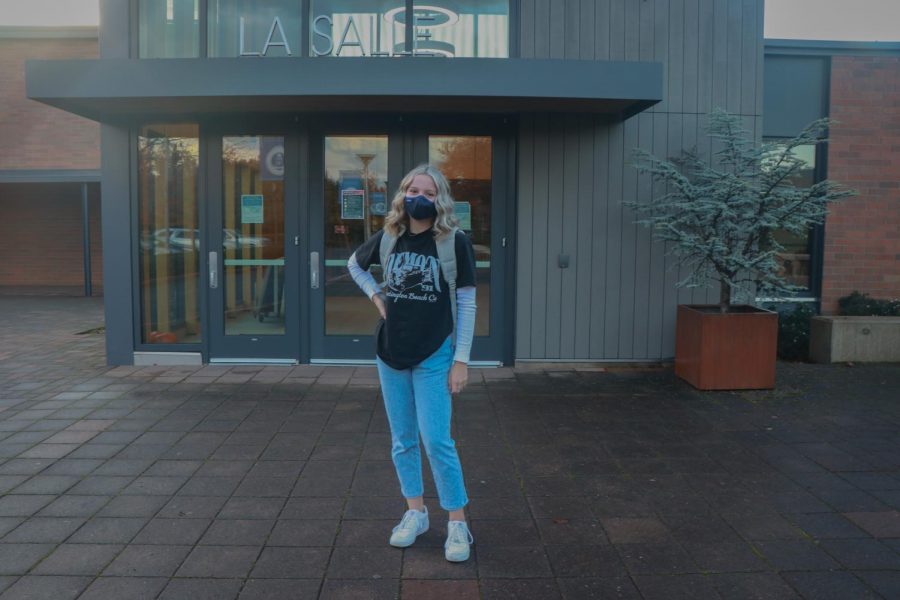 Olivia Nelson
Freshman Olivia Nelson's goals for her high school experience are to meet new friends and prepare herself for her future.
Nelson was among the many students who attended the Freshmen Connect Day, finding it to be a fun way to become familiar with her new peers and reconnect with some of her classmates from Happy Valley Middle School.
"It was super fun, I got to meet new people and I also got to be with people that I've known for a while," Nelson said. "It was fun meeting older upperclassmen that were there, and other teachers."
However, besides the people she has met from sports and connect day, Nelson has not been able to interact with classmates face to face on a daily basis that traditional school enables. "I've met a few new people over Zoom, but it's usually if we're in a breakout room together," Nelson said. "Otherwise, I haven't really met anyone." 
Nelson has found that she likes classes where she does not have to spend the majority of the class period on Zoom, as she prefers to complete her assignments asynchronously.
"I really like my teachers. All of them are so nice, and they all are super supportive and helpful, and work has been fine," Nelson said. 
Before the pandemic, Nelson could be found on the softball field or basketball court, and has been playing each sport since she was four and six years old respectively. 
Spring COVID-19 restrictions forced many sports to postpone or even cancel their seasons, including Nelson's. "I wasn't able to play sports for the longest time, and I didn't realize how much I miss it," said Nelson. 
Since the fall, Nelson has been able to participate in softball team practices a few times a week. She said that the softball team mandates the girls to practice social distancing and mask-wearing.  
When she's not doing school, Nelson likes to hunt and hike with her dad and sister. She said that through the quarantine, she has gotten to know herself better while spending more time with her family members.  
When La Salle transitions to in-person school, Nelson is most looking forward to dances and football games. 
Beyond her days at La Salle, Nelson envisions herself pursuing a career in nursing.