Athlete of The Week: Ryley Vickroy
One of junior Ryley Vickroy's most difficult experiences took place over a year ago when she shattered her middle finger playing softball. 
This injury required Vickroy to have surgery and attend physical therapy, forcing her out of softball for six months.
Vickroy has been playing softball for as long as she can remember, with the encouragement of her father. "I wear number 28 because my dad inspires me to play and pushes me to do my best and he was born on the 28th," she said. 
Vickroy has been playing softball for La Salle since her freshman year, and has been playing for her club team, Frost Elite, for four years. 
Playing second base and shortstop, Vickroy's favorite part of softball is spending time with her teammates in between games. 
When she finally returned to the pitch after recovering from her finger injury, Vickroy had mixed feelings. "[Returning to softball] felt like it gave me a really good feeling but at the same time, it was hard because I lost some skill," she said. 
Since her recovery, Vickroy said her swing is the skill that needs the most work. "It's challenging to get it to where I want it to be," she said. "[But] you can always improve it." 
Vickroy describes herself as a hardworking athlete. Her comeback to softball prompted her to win her second all-tournament team award, as well as a first-place finish in the Lewiston Idaho Smash-Hit Classic Tournament with Frost Elite. 
With the arrival of COVID-19, significant logistical changes have been made to Vickroy's practices. New safety protocols have required players to wear masks, sanitize their softballs, and social distance when possible. "My travel tournaments got canceled which affected some colleges being able to look at me," Vickroy said. 
During quarantine, Vickroy has spent her abundance of time working out, eating healthy, and placing an emphasis on getting better sleep. 
The transition to digital learning was especially hard for Vickroy, who said she is not a very good online learner. "Virtual learning has been tough for me," she said.
Vickroy's favorite class this year has been Spanish II with Ms. Lisa Moran. "Because I love Ms. Moran," Vickroy said. "She is a great person and teacher," Vickory said. 
When she is not playing softball or attending online classes, Vickroy enjoys skiing and spending time with her friends. 
Vickroy's advice to underclassmen and new athletes is "during practice, be there and show up," she said. "Give everything you got because the coaches look more for the effort than anything."
Although she is unsure where she wants to attend college, Vickroy anticipates pursuing a career in special education and plans on continuing with softball at the collegiate level. "I have a couple ideas, but I'm not 100 percent positive," she said. "I'm keeping my options open."
About the Writer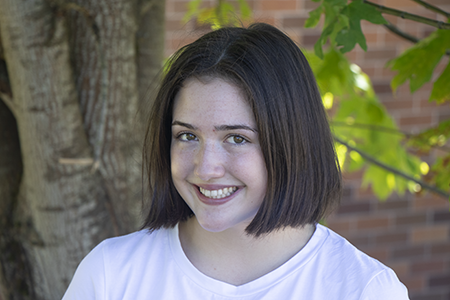 Mia Kritzer, Assistant Editor
Mia is a junior at La Salle. She volunteers for the Oregon Youthline and is the founder of the Students Against Sexual Abuse Club. She participates in...