Athlete of the Week: Allison Weber
It was just another Saturday afternoon on the soccer field for sophomore Allison Weber when she fell to the ground in excruciating pain. Just seconds before the game had ended on Apr. 20, 2019, Weber tore her ACL, promptly taking her out of the game for nine months.
Due to her ACL injury, Weber had to undergo surgery and attend months of physical therapy to regain strength in her leg. She missed a majority of her club season and entirety of her freshman season at La Salle.
Instead of taking time away from soccer, Weber became the Varsity team manager. She took stats of the players and paid attention to what it was like to play at the high school level.  
Since she missed her freshman season, Weber is looking forward to hopefully getting the full experience of playing soccer at the high school level. 
Weber is currently going to training sessions hosted by the soccer department and is enjoying being back on La Salle's turf. "[La Salle training] has been really fun," she said. "We do a lot of conditioning and a lot of drills and scrimmages."
Along with La Salle's training, Weber is currently in the midst of her season with the East Side Thorns Soccer Club. She made the switch to the club about five years ago with her sister. "We have a really good coach right now, and she is very funny," she said. 
Because Weber has more free time on her hands with online school, she has found it easier to fit more fitness into her schedule. Over the past few months, Weber has enjoyed working out in her garage, using a treadmill and peloton bike.
Weber has been playing soccer since she was four years old. She started playing because her older sister, senior Carly Weber, played the game. 
In elementary and middle school, Weber also participated in dance, swimming, gymnastics, and basketball, but eventually decided soccer was the sport for her.  
Although her freshman year transitioned to digital learning halfway through, Weber has still enjoyed her time at La Salle. "Coming from [St. John the Baptist], it was a lot different," she said. "You're more independent in high school."
In the upcoming years, Weber is looking forward to attending Journey, the junior class retreat. "My siblings have come home from it and can't tell me anything," she said. "I am excited to see what that's like."
As for her favorite parts of high school so far, Weber has enjoyed taking speech and debate taught by Mr. Michael Doran because "it was kind of awkward, but really brings you out of your comfort zone," she said. 
English teacher Mr. Gregory Larson and chemistry teacher Mr. Matthew Owen top her list of favorite teachers at La Salle and she is excited to return to school to hopefully be back in their classrooms. 
After high school, Weber wishes to pursue a career as a physical therapist. She was inspired by the therapists she observed during her ACL recovery. "They made it so much fun, and they did the workouts and stretches alongside me," she said.
About the Writer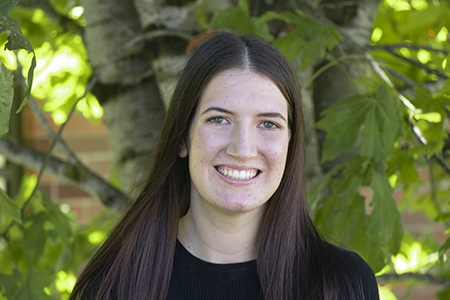 Mallory Middendorff, Editor
Mallory is a senior at La Salle. She enjoys participating in Spirit Club and Volunteer Club. In her free time, Mallory enjoys hanging out with friends,...