The Top 8 Songs From My Pandemic Playlist
Throughout the pandemic, music has been an escape from reality for me — something to distract myself with when I feel overwhelmed and stressed. 
At the beginning of April, I made a playlist with a variety of random songs that I just loved to listen to, ranging from all genres and decades. Now, eight months later, this playlist has become almost routine, constantly playing in the background of everything I do. 
Here are my top eight songs that I have listened to on repeat for the past nine months.
---
"Grace" – Lewis Capaldi
Lewis Capaldi gained fame when his song "Someone You Loved" became one of the biggest songs of 2019, being nominated for a Grammy and winning a BRIT award for Song of the Year. I started listening to his full album, "Divinely Uninspired To a Hellish Extent," in May, and I was drawn to Capaldi's powerful vocals and heartbreaking lyrics. "Grace" has such a beautiful range in vocals and I instantly fell in love with Capaldi's ability to capture the listener through his voice. 
"What a Feeling" – One Direction
Although One Direction went on a hiatus over five years ago, I started listening to their music during quarantine again. I was reminded of how much I loved the band. "What a Feeling" is a song that you hear and just want to dance along to. The upbeat melody and enticing lyrics make for the perfect song to play when you are feeling happy.
"Still" – Niall Horan
With his newest album "Heartbreak Weather" being released right at the beginning of quarantine, Niall Horan's songwriting abilities never cease to amaze me. The authenticity of Horan's song "Still" drew me in, along with its deep and personal lyrics. I love listening to slow and more emotional songs, and this song checks off both of these boxes.
"All the Small Things" – Blink-182
"All the Small Things" became a recurring song I would listen to while I was at work. My coworkers and I almost always have music playing in the kitchen, and Blink-182 is one of the main artists we listen to. I am drawn to this song because of the happy moments in my life it reminds me of. Even during these weird and unpredictable times, this song reminds me of the good times I have experienced.
"Electric Feel" – MGMT
I discovered this song through a close friend, who recommended it to me when I told them I was creating a playlist. Surprisingly, I had never heard of it before. Now, it has become a unique song that I love listening to while driving in the car. It's the type of song that you listen to and have a smile throughout the entirety of it. 
"Fine Line" – Harry Styles
"Fine Line" was a song I listened to on repeat when I was feeling especially down about quarantine. Towards the end of September, I realized the likelihood of returning to school for a "normal" senior year was near impossible. Harry Styles' music is so beautiful and heartfelt, and "Fine Line" has made me realize that while there is a lot of bad in the world, there is also a lot of good — it is about finding the line between and learning to appreciate the beauty in both. 
"Train Wreck" – James Arthur
"Train Wreck" beautifully illustrates the scariness in life through its lyrics. I believe that this song can be interpreted however you wish, but it all comes down to the sole idea that no one is perfect — we're a mess. The way that "Train Wreck" builds up to James Arthurs' scream at the end makes this a song to blast late at night.
"Light On" – Maggie Rogers
Maggie Rogers is one of my favorite artists and I learned about her through a past article written for The Falconer. I decided to listen to her album "Heard It In A Past Life" after reading the story, and instantly fell in love with her unique voice and impactful lyrics. "Light On" is a song that I dance to in my room all alone, basking in the glory of its upbeat tempo and intriguing lyrics.
About the Writer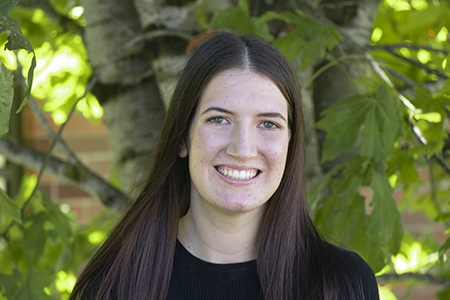 Mallory Middendorff, Editor
Mallory is a senior at La Salle. She enjoys participating in Spirit Club and Volunteer Club. In her free time, Mallory enjoys hanging out with friends,...