Student of the Week: Ryan Schraner
Senior Ryan Schraner has been skateboarding for almost a year and said that he loves it more than anything. He spends the days when it isn't raining – which have become scarce as we approach winter – skateboarding with his friends. 
"The most important thing in my life is probably skateboarding and just hanging out with my friends," he said. "My friends and I just have a bunch of places that we can go to anytime and we can just spend the whole day there, and meet new people, and get food." 
Schraner said that his favorite aspect of skateboarding is that he can do it with his friends. He also enjoys watching himself get better, so he doesn't plan to stop skateboarding anytime soon.
"[My] motivation in skating is keeping up with my best friend and just try [to] better myself because you can see yourself just getting better every day," he said.
Since it rains in Portland for several months out of the year, Schraner isn't able to skate all the time. When it is raining, he keeps himself busy by painting with his mom, developing his style, and listening to music.
"I do clothing design stuff so [I'll] always … go thrifting for a bunch of [clothing] and then…get Sharpies and stuff and just draw little designs on [them]," he said.
When he isn't skateboarding or creating art, Schraner enjoys spending time at school with his friends. However, the pandemic has made this difficult. He noted how much more he likes an in-person learning environment because he was able to be with his friends.
"I just miss seeing people in school and stuff like school dances and assemblies," he said.
Since the community aspect of La Salle is Schraner's favorite part of school, the recent pandemic has been hard on him. 
Reflecting on why he chose La Salle originally, he said that he had "the same 30 kids pretty much from kindergarten to eighth grade and 20 of those 30 ended up going to La Salle." 
Since he's always gone to a small school, a close-knit community was something Schraner was looking for in a high school. 
"That's probably the best part [of La Salle], just being really tight [knit]," he said. 
Academically, Schraner is motivated by his friends. He mentioned that being surrounded by intelligent people has made him push himself to do the best he can in school.
"I've just grown up with just really smart kids my whole life," he said. "I don't want to fall too far behind."
Schraner's favorite teacher he's had throughout his years at La Salle is science teacher Mr. Eric Roth. Schraner said that he loves how welcoming and fun Mr. Roth is and feels as though he can talk to him like he does with his friends. 
"Mr. Roth is the best teacher I've ever had because I felt like I could just get help from him in school anytime I wanted," he said.
After high school, Schraner hopes to major in biology or psychology and then spend his life helping those struggling with mental health issues. 
"Mental illness is kind of always been really close to me, a lot of my friends … have had really severe mental illness problems so I just like helping people," he said.
As for the next four years, Schraner hopes to spend his college years at either University of Oregon, Oregon State University, or Portland State University, where his brother is currently attending.
About the Writer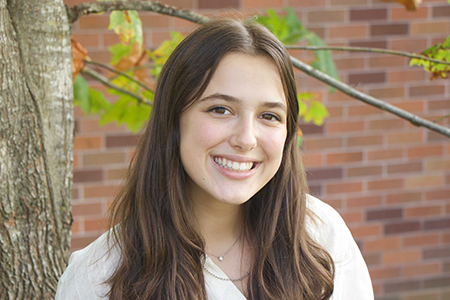 Maggie Crimmins, Staff Reporter
Maggie is a sophomore at La Salle. She loves to hang out with her friends, go thrift shopping, and listen to music. She also plays piano and enjoys going...