"Jojo Rabbit": A Film Rooted In Tragedy and Lifted by Comedy 
The Oscar-winning film "Jojo Rabbit," written and directed by Taika Waititi, is one of those movies where I feel as though I could sit down and watch it over and over, and always pick up on a new joke or detail I missed the last time. 
This satirical comedy-drama mix is one that makes you cry from laughter, and then cry from sadness in the blink of an eye, and I'm not sorry about it. 
Set in the last months of World War II in Nazi Germany, the film begins with the main character Jojo, played by young Roman Griffin Davis, talking to his imaginary friend, Adolf Hitler, played by Waititi. From there, it takes off in many different directions. 
After Jojo, a 10-year-old German Nazi, gets sent home from a Hitler youth camp, he discovers that his single mother is hiding a Jewish girl in his attic and is faced with the difficult decision of what to do with her, all while WWII rages on behind them. 
Adapted from the 2004 book "Caging Skies" by Christine Leunens, the movie is built on the backs of its cast. 
With amazing actors such as Scarlett Johansson as Rosie, Sam Rockwell as Captain K, and Thomasin McKenzie as Elsa, the movie seems to glide from joke to joke, showcasing each actor's own unique style. 
From Jojo's seemingly only friend, Yorki, played by Archie Yates, who just never seems die, to the childishly idiotic rendition of Adolf Hitler, you tend to forget the serious tone of the movie's premise, which catches you off guard each time it switches from satire to drama.
This film is truly one of my favorites. 
Though the idea of watching a comedy about Nazi Germany seems touchy and impossible, the film does not disappoint. 
On top of the ridiculous jokes, each shot feels intentional and specific. The muted color scheme of the buildings and costumes carries throughout nicely, reminding the viewer of the seriousness and age of the time.
One of my favorite parts of the movie is a montage scene of Jojo and Yorki and their time at camp. 
The progression of the scene is impressive. They are hilarious one moment as one kid gets accidentally stabbed in the leg with a knife, and then turns serious and real as the children dance and scream while throwing and ripping apart books to burn in a bonfire. 
The constant witty moments of children laughing and having fun at camp make you forget that these children are being taught that an entire body of people are devil horned, serpent-tongued, scaly, mind-controlling monsters. 
The film, in all of its glory, speaks for itself.
There is no way to capture the movie's entirety in just one article, and no matter how many great actors are in this film, there will always be the stressed question, "How is it possible to make a comedy about WWII?" and to that I say, "Jojo Rabbit."
Each gag or witty hidden relationship is deeply rooted in drama, and the stress of survival grows and adapts as we learn with Jojo throughout the progression of the film. 
Every time I watch this film, I always find myself smiling, even while crying. 
This hilariously beautiful film is one that will never grow old in my eyes, and I find myself gravitating towards it no matter what time of day.
I 100% recommend this movie to everyone, and if you ever find yourself scrolling through Amazon's movies, you should choose "Jojo Rabbit."
About the Writer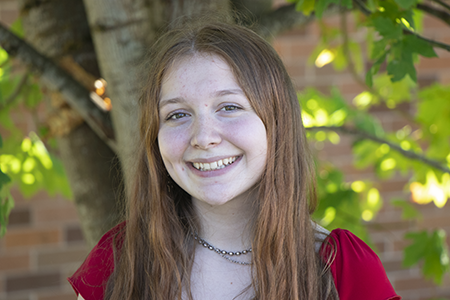 Paige Baines, Assistant Editor
Paige is a senior at La Salle. She loves true crime, listening to all types of music, and hanging out with friends.