Collegiate Athlete Sarah Fuller Inspires Conversation Surrounding Gender Equality in Athletics
Over the years, women have gained authority over their existence, advocating for gender equality and the same rights, opportunities, and responsibilities as men. 
However, in the realm of sports, the potential of women remains questionable for many, as in most cases, females and males have always played on separate teams or in different leagues.
On Nov. 28, Sarah Fuller, a collegiate athlete, became the first woman to play in a Power 5 football game, making for an historic moment and paving the way for greater opportunities for female athletes across the world, including those at La Salle. 
In response to Fuller's participation in a predominantly male sport, sophomore Emma Buchanan said, "I thought it was pretty inspiring, especially for high schoolers."
Senior Ellen Dierckes echoed this thought, emphasizing that "it brings a lot more awareness," she said. "I just thought it was pretty inspiring because football is so dominated by males."
For freshman Sydney Spotts, she said that she admires Fuller for her hard work and that she serves as a role model for other athletes, proving that "anyone can do anything if you just set your mind to it."
"It's really good to open people's eyes to see that nothing is unstoppable," she said. "Girls are awesome and it shows in Sarah Fuller's game." 
Athletic Director Mr. Chris George expressed that he is "in shock… that it has taken so long for a female to contribute at that level."
"Kicking a field goal is kicking a field goal," he said. "It's awesome to see that barrier being broken at that high of a level of competition."
While Fuller received a lot of positive feedback, her participation in the game also generated a negative response, reminding the community of the disparities and obstacles that still exist for many women in sports.
For instance, Desmond Howard, a former NFL player and a college football analyst for ESPN, commented on her performance, comparing her kick to the golf swing of Charles Barkley, which is known for being weak. 
Senior Mandy Sisul said that she feels comments like this are unfair, as Fuller hadn't yet had the chance to prove herself with it only being her first game.
"That was just kind of disappointing because I'm sure if she had the opportunity as a soccer player to kick as far as she could, then she would have been able to," she said. "It was kind of a bummer just to see that in the media — to see comments about that."
On Dec. 12, Fuller demonstrated that despite being a woman, she was capable, becoming the first female athlete to score in a Power 5 game, which was yet another historic moment. 
After Fuller's involvement with Vanderbilt's football team was announced on ESPN's Instagram account, a Twitter post highlighted a flood of misogynistic comments on the post, reading things like "publicity stunt," "I hope she gets plowed," or "but who cares." Another comment asked if Fuller had an account on a website known for displaying sexually explicit content.
incase anyone was wondering what it is like to be a woman in sports pic.twitter.com/2pnsynFOXj

— emily spada (@emilyspada_) November 28, 2020
Dierckes said that she assumes this negativity stems from the fact that Fuller is female. 
"I just don't think that's necessarily fair if her skill level is where other players are," she said. "I don't think there's any reason there should be a negative response towards her playing."
Sophomore Allie Ball believes that "you're always going to have negative backlash no matter what it is," she said. "I think that you just have to choose to focus on the positive, which is she's making history and young female athletes are going to look at her and they're going to follow in her footsteps."
For Sisul, being a female athlete means that she is looked at differently "all the time." 
"Not only is it harder physically for us to match up to men just because of the difference in body types, but it's because we also experience [sexism]," she said. "They can joke about it, but it's not a joke, it's just, they're making sexist remarks and able to just get away with that kind of stuff, and, I mean, you don't see anyone saying that kind of stuff about a man."
At training sessions that are conducted outside of La Salle, Sisul said that her team has been declined offers to scrimmage by boys teams due to the belief that they aren't on the same level, even though her team consists of multiple athletes who have committed to play at the college level. Sisul also said that, in general, she feels like she has to try harder at her workouts when males are also present. 
"You have to prove yourself, and you can't come off as being weak, or else it's easy for them to say remarks to you," she said. "It's real. I think a lot of people, a lot of guys, they see all the media, but it's like 'oh, that doesn't actually happen.' It does happen, it's not rare, [and] it's fairly common."
Ball said that she hasn't "so much so been teased" for being a female athlete, but she has "definitely been told that women can't play sports and that I shouldn't play sports," she said. 
Although Spotts said that she doesn't know what males go through as athletes, she said that she has overheard several sexist comments that were "really hurtful because I work just as hard," she said. 
When she was younger, Spotts remembers being questioned by boys for wanting to play soccer and not participating in other "girly" things, and that boys would act impressed when she would play particularly well. 
"You shouldn't really be surprised," she said. "Just because I'm a girl doesn't mean I can't play."
For Dierckes, she has listened to similar remarks, recalling how she's always been told 'oh, I'm going to beat you because I'm a boy.'" But rather than dwelling on moments like this, Dierckes has prioritized self motivation and the practice of tuning out negativity. 
"I've just focused on motivating myself and just not really paying attention, because to me, it doesn't really matter if you're a female or a male," she said. "I think we all should be here for the same purpose — and we can all come up with what that is… We should just work towards a goal and not really let our gender divide us."
Despite the backlash and negativity surrounding women in sports, females have started to play on male football teams more often, mostly at the high school level. Everyone The Falconer spoke with was open to the idea, and especially the integration of female and male sports on a more widespread scale.
Throughout Mr. George's years at La Salle, he said that girls have played on the football team in the past and that the same applies now, as females would have the opportunity to participate if they desired. In addition to this, he said that boys can also join the dance team, just as girls would have the ability to play football.
For Buchanan, she thinks "it should be skill based, so it doesn't really matter, guy or girl," she said. "If you just have the skills to be on the team, you should be on the team."
Similarly, junior Kate Collins said that it depends largely on the expertise of a player. She also feels that because football is perceived as a boys-only sport, girls should have the ability to join the team since there is no other outlet for them. "It's not just for guys," she said. "Girls can do it too — girls can enjoy football too."
Reflecting on her experiences as a female athlete, Ball noted that girls teams at La Salle sometimes receive less attention in comparison to the boys. While she understands that some people might prefer the style of a men's game better, in Ball's opinion, the bleachers at a girls sporting event within the community look significantly more desolate than at a boys game. 
Collins and Buchanan reiterated Ball's sentiments, agreeing that football games usually have a much larger crowd than girls soccer or basketball games. 
However, Buncahan attributes this to the idea that football games serve as a social event, and Collins also thinks that "the whole atmosphere around football games is like a high school tradition," she said. 
Mr. George said that he also recognizes this higher interest in male over female sports.
"Have girls soccer players noticed that there are less fans at their games than boys soccer players?" he said. "Yes, they have. And is it fair? No, it's not." 
"They're working just as hard as our boys are," he said, "they're putting just as many hours in, they're fundraising to try to earn the things that they're getting to wear [and] to be proud of themselves when they're warming up or they're playing, and they're trying to fight and win that championship… I can totally empathize with them. That is frustrating."  
For Dierckes, she doesn't "see a ton of issues in the La Salle athletics [department] because I feel like, personally, with the sports I play, I've had pretty adequate resources," she said. However, in terms of the professional world of sports, Dierckes thinks that women run into obstacles.  
As someone who follows the U.S Women's National Soccer Team, she expressed concern regarding the wage gap between men and women athletes. 
"It almost seems, to me, a little flawed on how they're being paid," Dierckes said. "It just doesn't always seem fair."
Buchanan also noted the pay divide. While she thinks there are valid arguments for both sides of the situation, she emphasized that "for [an NBA] bench player that doesn't play any minutes to be making a substantially more amount of money than a star in a league for the [WNBA], that seems like there's something wrong."
Sisul feels frustration over the fact that it's harder to find women's basketball games on TV. Recently, she said that she was looking for a game between Gonzaga and South Carolina, but struggled to come across a channel that was streaming it, even though it was something she "really wanted to watch."
"I couldn't find it, but then there was tons of men's basketball games on," she said. "That was just really frustrating because it's the best of women's basketball and it's still not enough to be over men."
Sisul said that she is also reminded of male favoritism in sports during March, when everyone fills out brackets predicting the results of the NCAA Men's Division I Basketball Tournament, mostly ignoring the women's competition. 
"That's another thing where it's like everybody pays so much attention to the male [sports]," she said. "It's just a lot more normalized for men than it is for women's, and that's something I would like to see change just because there's no reason why it can't."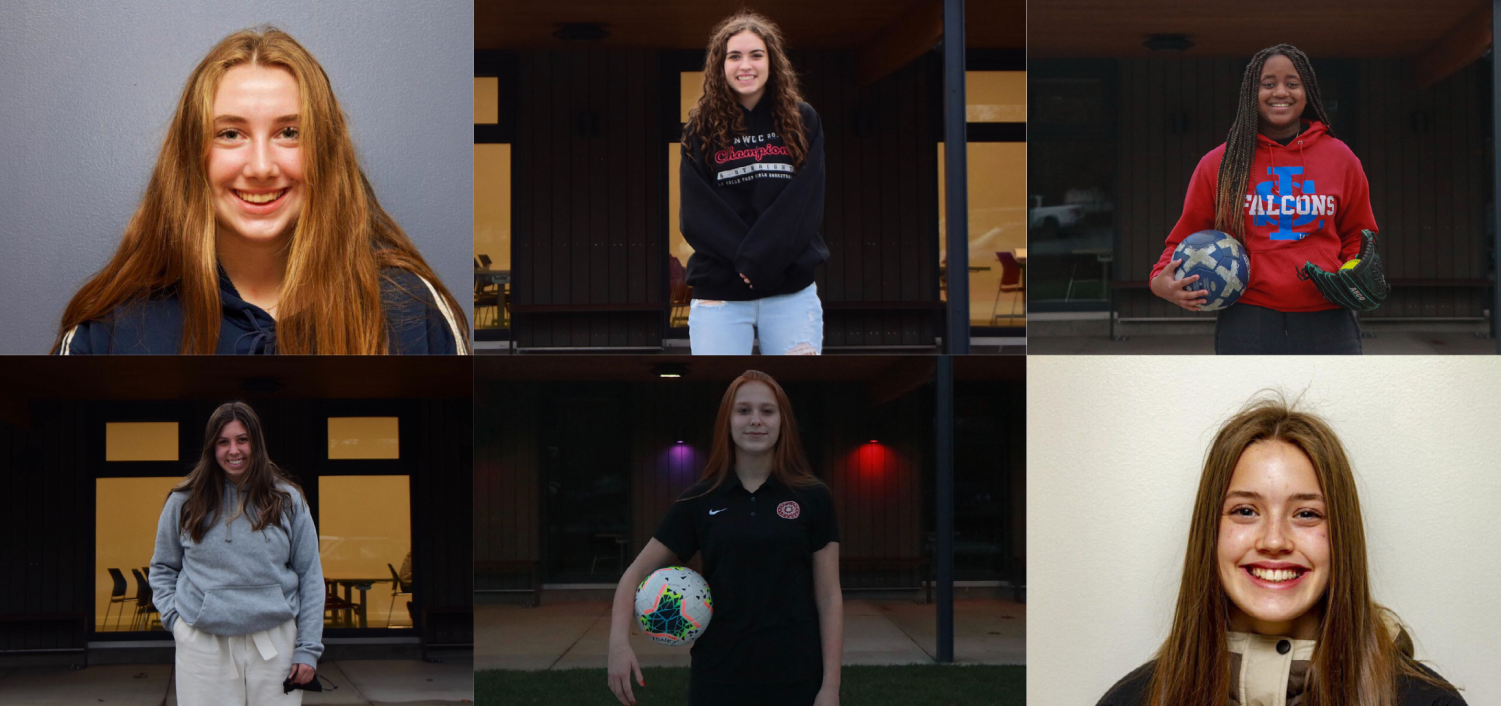 To combat the limitations female athletes commonly experience, Collins thinks young girls should start idolizing other female athletes. "I think it starts when you're young," she said, adding that she thinks it "will make a big difference in the discrimination that goes on in sports."
From following the U.S. Women's National Soccer Team — who Spotts said is active on their Instagram account — she thinks more athletes should turn to social media accounts like theirs, as the team promotes "being strong women" and "women sports in general."
Ball also said that women deserve to have their needs met, owning the spotlight more than they do now and having access to the same opportunities as men. 
"We need to showcase women sports," she said. "Have more games on TV so people can watch, and have more sports that guys may have at schools and have the same for women."
Dierckes has noticed that on a larger scale, "it's just kind of notoriously the whole saying that men are better than women at sports, they're faster, they're stronger, [and] they're more capable," she said. "I see that women enter this setting where there is expectation that they're worse and they're expected to not be as good."
For this reason, Dierckes said that simply "bringing awareness to females in sports" is critical for striking a balance over the disadvantages women experience. 
"[Women] shouldn't be treated any differently than men playing sports," she said, "because, the way I see it, we're all athletes — we're all just playing whatever game we do"
Within the La Salle community, Mr. George encourages athletes to come forward with concerns that exist, sharing them with administration or himself to make progress towards a more equitable community. 
"I want to make sure, it doesn't matter what gender or level of athlete…, that they feel comfortable talking to a counselor or talking to myself if they have a concern about equity or about treatment," he said. "We want to know because we can't see everything."
A generally normalized and widely accepted stereotype claims that men are stronger than women. Buchanan, on the other hand, disagrees with this statement, as "there's strength physically and strength mentally," she said. "I think it's just very personal [to] what you have to endure and also specific to your sport."
In response to this same idea, Collins said "it's unfair."
"Just because a guy has the physical capabilities of growing bigger and stronger muscles… just because that's the case, doesn't mean women don't do everything else," she said. "It goes beyond just the physical big muscles… There's a lot more that goes into being strong."
Sisul and Dierckes also feel that what they have learned from playing sports goes to show that women can work just as hard and match up to be just as strong mentally. 
"It's taught me a lot about just mental toughness in general," Sisul said. "Over social media, it's not always easy to be an athlete, but I think I really learned a lot about mental toughness and you really just learn a lot about yourself — what you're good at, what you're strong at, and then how hard you're willing to work to accomplish that goal."
Dierckes said that she has taken away a lot "about perseverance [and] determination — kind of where I can find my motivation within myself… It's just so much more than knowing how to shoot a ball or be good at my sport."
Mr. George noted that he's proud of La Salle's female athletes. 
"We have a lot of female participation," he said. "We see a lot of girls on cross country, a lot of girls on track, [and] a lot of girls on tennis… It's nice to see that girls are accessing our programs and having success."
Because playing sports has been a "really great experience" for Spotts and has allowed her to develop a "love" for soccer, she stressed that women belong in the world of sports.
"I don't know what I would do without any sports," she said. "I probably wouldn't be as happy as I am now without soccer… Of course, females have a place in sports because, I mean, I don't know who I would be without it."
Everyone The Falconer spoke with agreed with this fundamental idea.
"I definitely think that women should be athletes," Collins said. "Sports can be a really valuable thing for anybody and it teaches you a lot… Women bring a different level of strength mentally and different experiences."
Collins hopes that others understand the importance of uplifting the voices of female athletes and providing them with a platform.
"Ask for their opinions — seek it out — because sometimes they've maybe in the past been made to feel uncomfortable or like they should just be quiet about things," she said. "Make sure that girls know that their voices do matter and that they're important and need to be heard."
Like Collins, Dierckes finds that sports are a way for females to prove their worth, not only to others but to themselves. 
"When we're told 'you're not good enough' or 'because you're a woman, you're at a disadvantage' or 'you shouldn't be getting this job,' participating in a sport is a way to find your worth and what you're capable of," she said. 
Dierckes also emphasized the value in holding one's ground. 
"Stick with whatever you're doing and don't let other people tell you that you shouldn't be doing it," she said. "It's really a choice. If you want to do it, then you should do it — you can't let any other people's opinions about what we're doing influence you because that's not fair to you or your goals."
Rooted in the same idea that others don't have the right to bring female athletes down, Sisul said, "no matter what, there's always going to be backlash — there's always going to be those sexist remarks, but the best thing you can do is just silence them not with your words but just with your actions and what you're able to accomplish."