Student of the Week: Will Curran
As his second and final year at La Salle progresses, senior Will Curran looks to continue his school work while also maintaining his athletic capabilities on the football and baseball fields. 
Curran has managed to balance his academics and sports for almost his whole life. He has been playing football for seven years and baseball for eight. With a developing passion for playing football and baseball, Curran hopes to continue his success in school and sports at the collegiate level. 
"I'm definitely trying to see where baseball takes me because I'm trying my hardest to get some kind of offer from somewhere to use that and save money," Curran said. "For location, I just want to be down in California because it's one of my favorite places to be." 
Curran transferred to La Salle before the start of his junior year after attending Clackamas High School his freshman and sophomore years. He made the decision to transfer with what he said was a lot of thought and consideration. 
"I just thought I would need a better education and I was thinking a lot about college and wanted to get into a good one," Curran said. "La Salle is known for getting people into good colleges and getting ready for college especially." 
Curran had to take time to adapt to the new system and learning model at La Salle. "In the beginning I was kind of shocked at first with how much work I get now compared to Clackamas, but I knew it was a better fit for me along with the better education I now receive," he said. 
The process of adapting to a new environment was also not as difficult for Curran because he attended Christ the King in elementary school. "Coming from Christ the King, I was kind of ahead at Clackamas because of the great education [there]," he said. 
Curran is currently taking Statistics, Christian Lifestyle, English 4, Weight Training, Economics, and Intro to Computer Science. He says his favorite class is Economics.
"I've always liked classes that benefit me the most, so I like economics because I just know it'll help me in some way for my future," he said. 
In his free time, Curran enjoys working out, playing video games with friends, or just hanging out and socializing with his friends in general. However, he typically has less free time during the fall and spring because of his commitment to sports. 
On top of school and his other hobbies, Curran said that he cares a lot about athletic participation. "I think sports just gave me a way to live my life," he said. "I have a lot of memories from sports and I think it's something I can pursue to help me get into college. I just love the game and it's always been fun to me."
About the Writer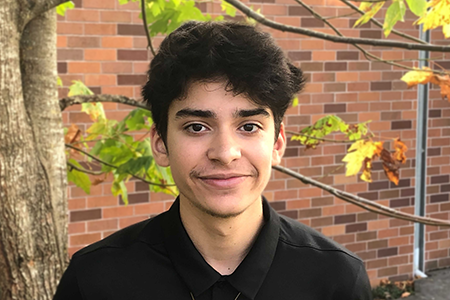 Dakota Yeager, Staff Reporter
Dakota is a senior at La Salle. In his free time, he enjoys playing basketball, getting together with friends, and listening to various genres of music.