Shop Local: Six Affordable Vintage Thrift Stores You Need to Check Out
Thrifting, though often overlooked, is the simple (and affordable) key to having a unique personal style. Portland is a hub for vintage and second-hand shops that will fulfill your wildest thrifting fantasies. But, sometimes, the best stores are accidentally swept under the rug. 
Here are six vintage thrift stores in Portland that you should definitely stop at. 
Village Merchants
Located on Division Street in a pale green building, it's hard to leave this thrift store empty-handed. Village Merchants is packed to the brim with vintage jewelry, clothes, shoes, bags, art, houseware, and collectibles.
With old rock music always playing and helpful employees, this thrift store is arguably one of the best in the city. Their racks of clothing consist of both unique statement pieces and basic staples you can never get enough of. Who knows — you might just leave with a pair of shoes, and some incense too.
Hollywood Babylon
A legendary spot for bargain vintage finds, Hollywood Babylon is a small boutique of both secondhand and vintage clothes. Their t-shirt selection, in particular, stands out among other similar shops; the graphic tees never disappoint.
As well as vintage pieces, the store sells their own line of Hollywood Babylon t-shirts and sweatshirts (so you can rep your favorite thrift store, of course). 
If you're into online thrifting, check out their website at babylonvintage.com.
Better Bargains
Better Bargains isn't the flashiest store, but its selection packs a punch. With a color-coded tag system for large daily sales, this thrift store is one of the cheapest around – almost all clothing items range from about $1 to $20, and that's without discounts. 
Prepare for a little grime as the store could surely use some dusting, but if you want cheap, quality clothing, Better Bargains is your best bet. Rotating their pieces out every month, the selection is never repetitive.
Consider bringing a bag of your old, unwanted clothes with you when you visit, as they hand out 30% off coupons for donations.
Focus Group Vintage
Wedged between a shoe store and a nail salon on Hawthorne Boulevard, Focus Group Vintage is a small business full of cool unique vintage clothes.
With good prices and occasional sales, you're guaranteed to find something fun and different that is practical as well as stylish. Plus, the owner is really friendly and definitely worth sparking up a conversation with if the store is slow. If you're on the lookout for affordable one-of-a-kind vintage pieces to add to your wardrobe, Focus Group Vintage is the store for you. 
Crossroads Trading Co.
Crossroads Trading Co. is another Hawthorne staple, though it is sometimes overlooked for neighbors Buffalo Exchange and Red Light Clothing Exchange. There's a second location on 23rd Avenue near Portland's Alphabet District.
Containing many amazing deals on nice brands, Crossroads Trading Co. is always clean and the employees are friendly. Though the prices can sometimes be a little steep, it's a matter of finding the pieces and brands worth your while. 
Crossroads Trading Co. also buys clothes – if you're looking to trade some old wear, check out one of their two locations (or maybe both).
Artifact: Creative Recycle
Simultaneously modern and antique, Artifact: Creative Recycle is a gem of a store. Stocked with great vintage pieces, the clothing is all organized beautifully and is in great condition.
Although the prices can be expensive, the clothes will last, as the quality of their selection is always high. The selection in Artifact: Creative Recycle is unlike no other; you'll never leave disappointed. 
About the Writer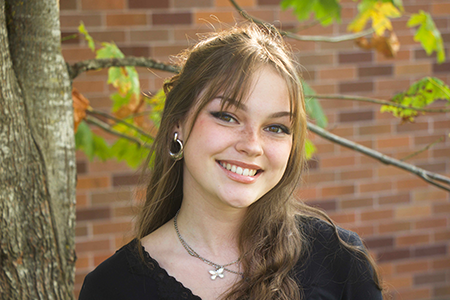 Myra Keyes, Staff Reporter
Myra is a sophomore at La Salle. She plays piano and guitar. She also enjoys listening to music. In her spare time, Myra likes to hang out with her friends...