"I Want My Art To Reflect The Current Climate and Current Events": How Junior Emma Olson Uses Her Creativity For Advocacy, Organization, and Self-Expression
Junior Emma Olson has been influenced by art her whole life.
Since her early grade school days, Olson's artistic mother, as well as many of her teachers, encouraged creativity. "Forever, I've been creating, just at home," Olson said. "I had a lot of really cool teachers who were artists — they brought a lot of sophisticated art into my elementary school, compared to hand turkeys." 
Olson has participated in La Salle's art program for three consecutive years.
Her sophomore year, Olson became a member of National Art Honor Society. "I think [art is] one of the best forms of expression for me," she said. "I know everybody has a different way that they like to express themselves and convey their emotions or their reactions."
Olson's art focuses on capturing nature and the environment around her."I like creating joyful art that kind of makes you feel happy," she said.
This past year, she was awarded a Silver Key at the 2019-2020 Scholastic Art Awards. Her winning piece was an embroidered linocut print she named "dreamcatcher."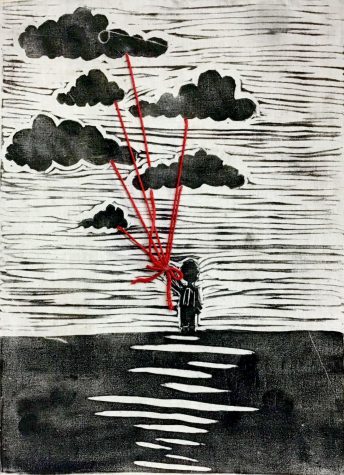 The winning of the Silver Key marked a major accomplishment for Olson. "I was excited to be recognized," she said. 
In addition to her involvement in the art program, Olson also participated in the set crew for La Salle's theatrical production of "You Can't Take It With You" and "A Night On Broadway." 
Since her freshman year, Olson has been designing and creating her own paper planners to keep track of homework assignments and social outings. "In my planner, I mainly write my homework list, boxes and stuff to check off," she said.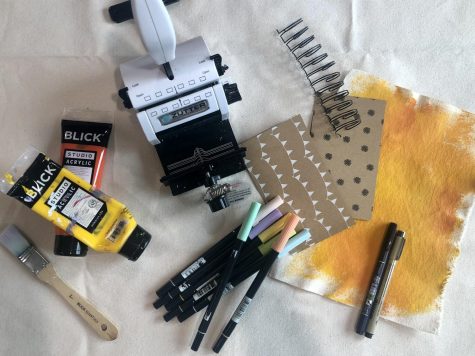 To make her own planners, Olson typically buys her supplies from an art store called Blick, using a variety of different materials. "I have a big variety, from the acrylic paints I used for the cover to paper pads I used to cut the pages, and the pens and markers and stuff that I use," she said.
Since she began creating her own planners, Olson reflected on the evolution of her artistic designs. "I would say, at the beginning, it was a lot more simple," she said. "I used a mixed media notebook that I bought from the store, then I used things like brush markers to create my floral designs on the outside. I hand drew each page for each week, the weekend before. So it was a lot more doodles and stuff, and kind of chaotic color schemes."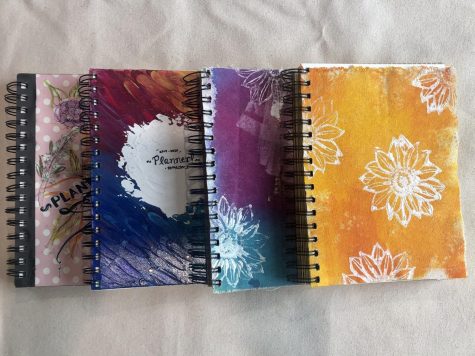 With the arrival of COVID-19, Olson picked up embroidery, making her own face masks that allowed her to channel her creativity. "I was really excited about that because I was able to create different kinds of masks and different designs and make it kind of fun to put on a new mask," she said. 
Olson has found that her art has been affected by the restricting nature of quarantine. Quarantine has "definitely affected… the different types of art I've created," she said. "Or the different things I've thought about when I'm creating art, and… it's affecting the different processes of art."
While balancing Advanced 2D Art, Olson is also enrolled in AP Calculus BC, AP English 3, AP U.S. History, and AP Biology.
Outside of her academic life, Olson enjoys caring for her house plants and has recently put the finishing touches on her current favorite piece of work, a print of an elephant she made in art class.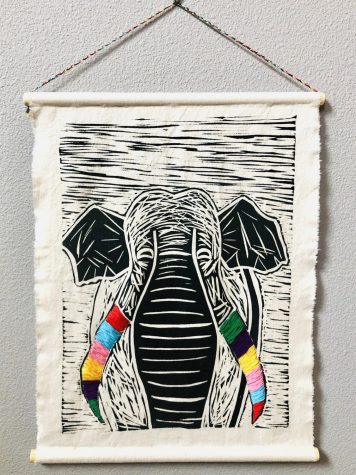 A crucial aspect of Olson's artistic mindset is creating art that reflects the current events of today's world. 
"I want my art to reflect the current climate and current events that are happening all over the world right now, because that's a big part of pretty much everything that we're doing right now, in school and out of school," Olson said. "When I look back on my art from this time period, I want to kind of be able to recognize, 'Oh yeah, that was definitely from this year because it has to do with this,' I can tell that this kind of style is implemented in my art."
Prior to the coronavirus outbreak, Olson attended a climate strike protest in downtown Portland. She carried a poster that depicted a polar bear mounted on a melting iceberg, with words underneath that read "not cool," referring to global warming. "I thought it was powerful because everybody loves polar bears, creating that emotion, having something creative to express feelings," Olson said.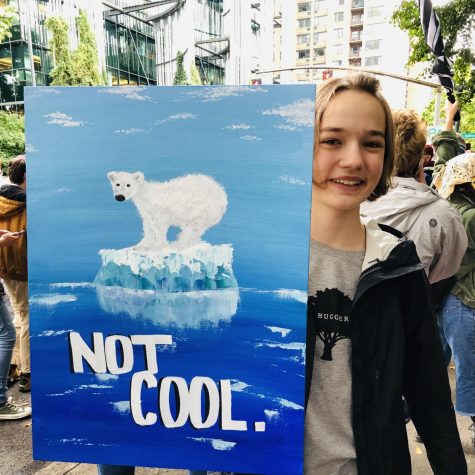 Not only has art been an outlet for Olson to express herself individually, but also a way for her to connect with others, such as her mom and her great aunt, who is "a really cool artist," Olson said. "Having those connections with other artists has also made a really big impact on my life."One of Olson's long-term goals is to be able to express herself and impact others through her art. "More specifically, I would say, be able to create art that makes people happy," she said.
Correction: Oct. 16, 2020 
An earlier version of this article misstated one of Emma Olson's courses. She takes Advanced 2D Art, not AP 2D Art.