COVID-19 Prompts the Community to Navigate Major Changes to Athletics
"Everything in this pandemic is in pencil as we go forward."
After several athletic seasons were cut short and others completely cancelled last school year, the rampant coronavirus prevailed, and with sports now underway again, those involved in the athletic community at La Salle want nothing more but to return to some sense of normalcy.
The virus has created many changes to the nature in which high school sports operate, with Athletic Director Mr. Chris George describing the impact as "immeasurable."
Before the start of this school year, the Oregon School Activities Association (OSAA) released athletic guidelines unlike any before, explaining how sports can take place safely amid a global health crisis. 
As part of the information that was released by OSAA, the timelines of every season were adjusted. This school year, there are four seasons, rather than three, and each sport is taking place at a different time of year compared to usual, partly due to weather conditions as well as COVID-19 itself. 
Currently, athletes are in season one, which is reserved for practice and training only, which all sports teams can participate in, allowing players to ease back into their sports since most had not played since March of last school year. 
Mr. George said that season one is essentially like a typical summer when teams prepare for their official seasons to begin. 
"We want to walk before we can run," he said. "[It] has just been a time where schools are trying to open up and they're trying to get back to a sense of normalcy and trying to deal with protocols." 
In addition to this, at La Salle, all of season one is no cut.
"It's great that there's no cuts because we want kids to just go play and explore," Mr. George said. "Everybody who is engaged in those sports has an opportunity or has been invited to get together and to train and exercise… What we've been trying to tell athletes is if you're in a sport that's not going right now… go get involved in some others because it is no cut. Regardless of skill, even though that might be intimidating, there's opportunities."
Looking ahead, once season two begins near the end of December, all these practices will pause until a team's official season begins. 
Season two is reserved for winter sports, including basketball and swimming. Cheer and dance competitions are also expected to ramp up during this time. Fall sports, like volleyball, basketball, and football will take place during season three. Finally, baseball, softball, and tennis will occupy season four.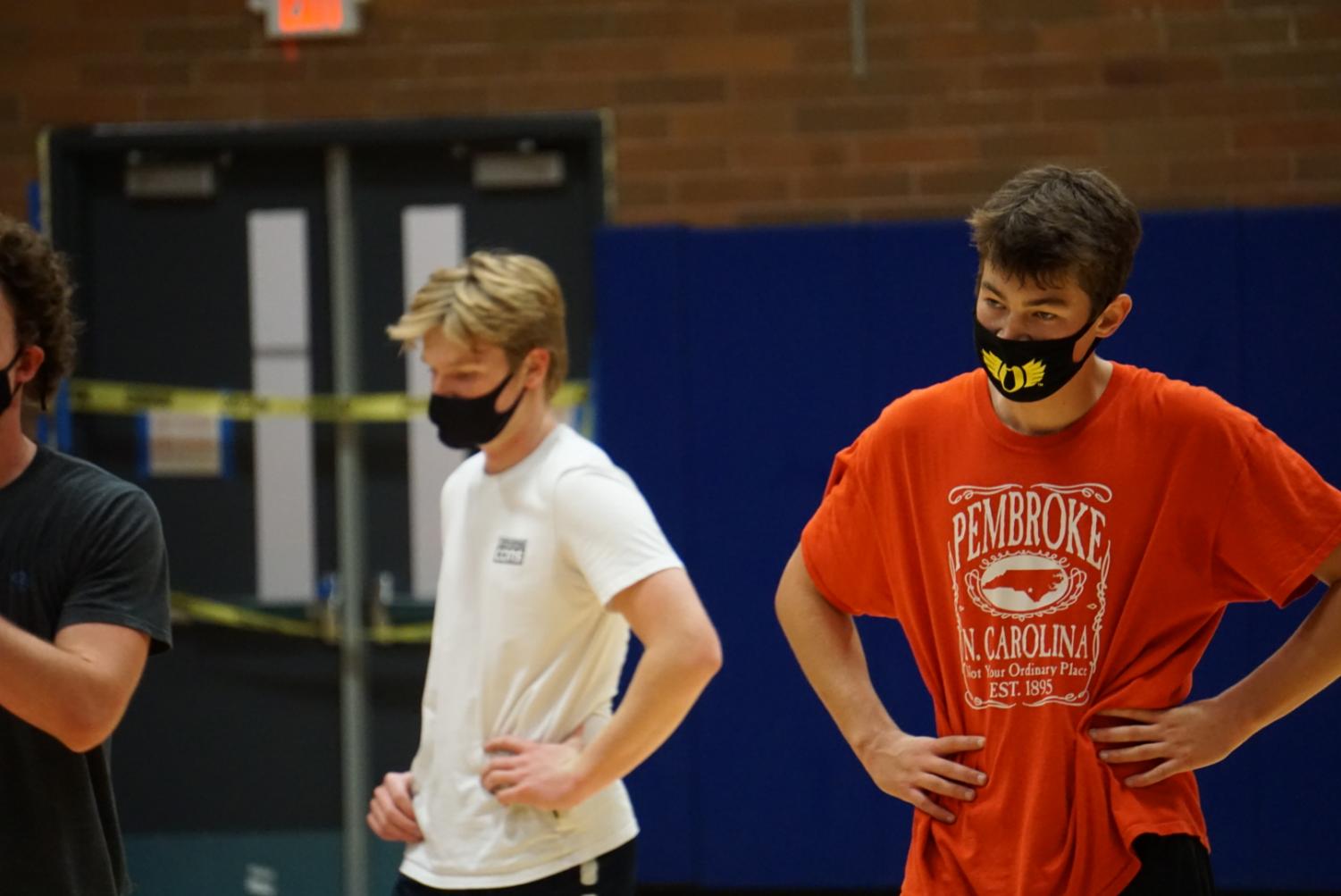 When season one is over, the hope for many is that teams will have a close-to-normal season, with seven full weeks of competitive games. For this to happen, schools must meet the metrics set by the governor for an in-person, hybrid-learning model. However, outdoor sports do not have to follow this and can compete whenever.
"It depends on what the competitions are," said Peter Weber, the executive director of OSAA. "We actually have schools that are playing competitions right now in season one — most of them are outdoors… We've seen baseball, softball, some track and field, [and other] things like that. We actually have had some schools do some volleyball outside, putting nets up on their football field and turf fields… We also have some schools that are back in session, so our smaller schools in Eastern, Southern Oregon, they're playing volleyball inside because they're back in school."
As for whether this will happen at La Salle, Mr. George said that he feels "cautiously optimistic." However, he is concerned about the potential startup of basketball seasons just two months from now, as the sport calls for a lot of "heavy breathing, and kids leaning against each other and fighting for space," he said. 
"The potential of the transmission of spread in basketball is really high compared to outside sports or other types of indoor sports," he said. "I don't know how we're going to solve that."
Aside from this, Mr. George does feel confident that outside sports will be able to safely compete. 
"I'm cautiously optimistic a little bit more so for the fall than the spring sports because [the spring sports] are safer," he said. "That's just kind of where my head's at right now. I just don't know how we're going to get all schools to be feeling good about going inside gyms to compete."
For the head girls soccer coach, Andrew Frazier, he said that he foresees the return of games, as he believes "all signs point to that happening."
"I do think we're going to play, but things change quickly," he said. "We'll see."
Sean Kelly, the boys basketball coach, expressed hesitancy as well, as he thinks there is a "really tough timeline on getting back and playing seasons competitively," he said. "I hope they can come up with some way of having competitive sports, but I just don't know how that is going to come to a conclusion right yet."
Senior basketball player Ben Jacobson shared similar thoughts.
"We've really prepared for an opportunity to play," he said. "Hopefully it does happen, but no one really knows at this point — I don't really know."
On Thursday, Oct. 16, OSAA announced that teams will not be required to play against other in-league teams, as commuting to certain schools may pose challenges. 
"There's a number of leagues around the state where travel becomes an issue [or]  transportation becomes an issue," Weber said, "so we wanted to free schools up to do what made sense if they want to play schools in closer proximity to them."
Also included in this announcement was the decision to eliminate the use of rankings this year, so that teams "wouldn't feel like they had to go chase the ranking and travel further than they probably should in order to play a team to improve their ranking," Weber said. 
In total, he believes "those two moves hopefully will allow schools to schedule sooner rather than later, and get things at least planned out," he said. "Everything in this pandemic is in pencil as we go forward."
If sporting events do start up again, there is a possibility that other members of the community will have the ability to attend, as OSAA has made the requirements for that decision vague, allowing schools to individually decide whether that is something they would like to do. 
"It's up to each school to determine what their thought process is," Weber said. "At this point there's no specific guidance that says no fans, it's more dialed into the gathering size limits."
For this to happen at La Salle, gatherings must not exceed the maximum capacity of 250 people outside and 100 inside, and further guidelines would also have to be established. 
"There is the potential to be able to have students or parents at games in the future," Mr. George said. "We're looking forward to being able to do that, we're just going to have to manage our facility… We would still have some planning to do to make it work, but I would love to get to a point where we can start to have some of our students come in and watch some of their friends play, even if it's just a practice game against ourselves. I think we're not there yet, but we know that's the desire and we have the potential to get there, so we're just going to take it slow."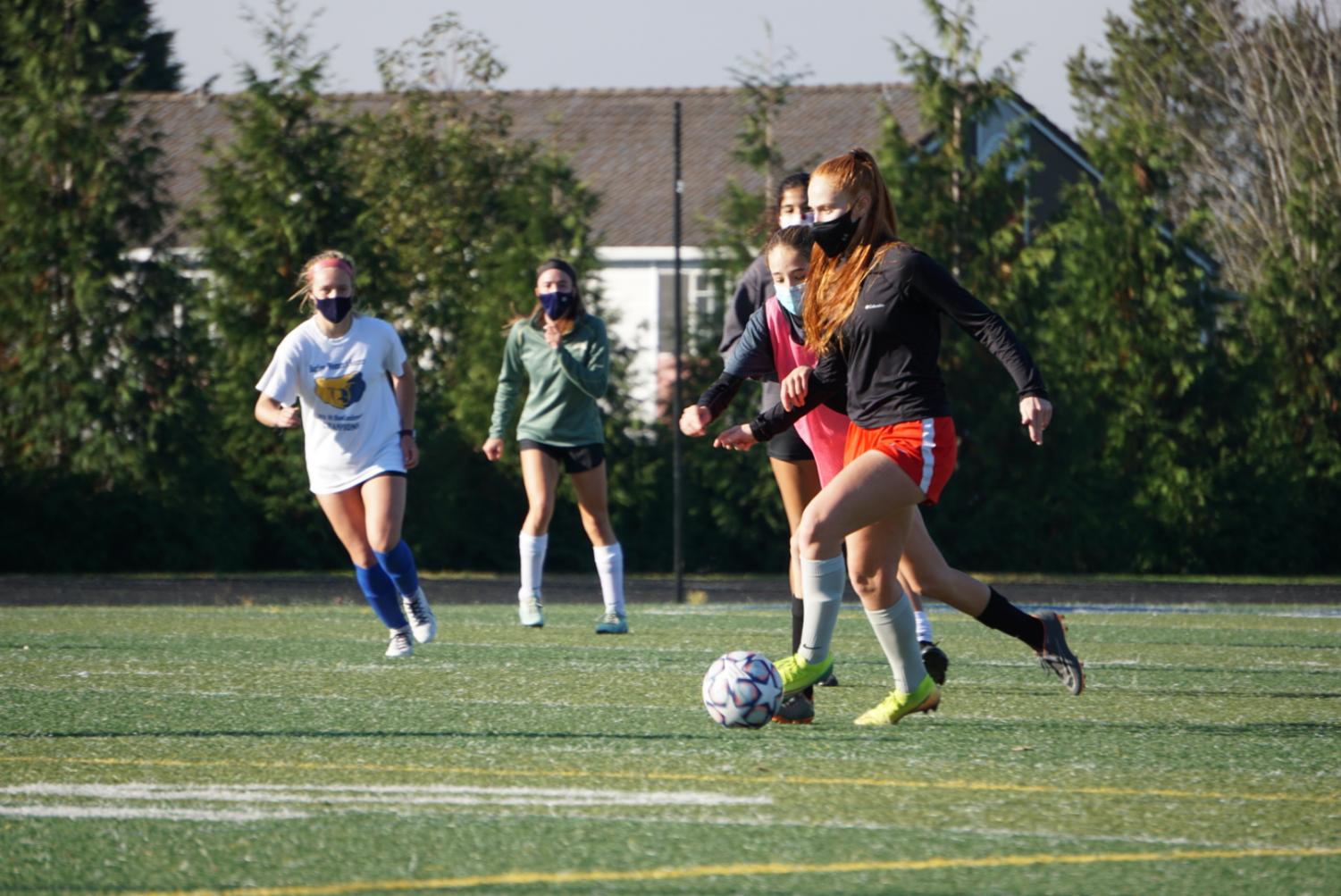 During the final week of each season, athletes and coaches are anticipating some sort of culminating event that will resemble the state championships that take place during a normal year.
"I think our hope when we started was that they would hopefully be as close to a state championship type event as possible," Weber said. "Frankly, I'm not sure if that's going to be possible in some activities with some of the gathering group restrictions and travel issues and transportation issues that our schools are talking about… At this point, nothing has been defined for those — there is still a lot of discussion going on, but likely they will look different from activity to activity and sport to sport just by the very nature of it."
After having a recent conversation with the delegate assembly, which includes a representative from every league in Oregon, Weber said that this topic of discussion has remained relevant, as many athletes are craving a meaningful cap to their seasons.
"[It] may not be a state championship, it may be a regional approach, [or] it may be something different," he said. "In some activities, it could be a state championship like event depending on how things go. I think we're a little hesitant to make decisions today about what things are going to look like in June — hopefully, they will look a lot better."
Participating in this culminating event is something that many of those involved in athletics at La Salle care deeply about. 
While head softball coach Kristen Smith said that not everything relates back to a win or lose situation, she also said that she does miss competing. 
"I want to make the playoffs and I want to have a bigger goal of just in that game," she said. "All the games compile into going somewhere… I just want to make sure that we're going somewhere and we're playing for a reason, not just getting out there and throwing the ball around… I do like that, but, in general, I want to be competitive and make sure that our girls get an outlet for playing competitive softball."
Coach Frazier echoed this sentiment. 
"I hope to have a postseason," he said. "I don't know if we're going to get that or not. I think the kids, who have been working so hard for all these months without real games, deserve to have the competition in the championship tournament at the end… We'll see how that plays out. I'll be very disappointed if OSAA doesn't have some kind of championship bracket for the players."
With season one underway and with in-person practices and training sessions, there are a number of protocols that La Salle teams are obligated to follow. 
For example, everyone is required to wear a mask from the moment they exit their vehicle and begin walking on to campus, to the moment they return back to their car. However, if athletes are practicing outdoors and are able to maintain sufficient distance between one another, they are allowed to take it off. 
"We're telling kids as soon as they get out of the car they have to have a mask on, which is hard, but they've been doing a really good job of it," Mr. George said. "They keep it on until they can safely be away from somebody else during their exercise."
Additionally, new cleaning protocols were established for extra precaution, with the cleaners coming every night and spraying equipment and various surfaces with a disinfectant spray. 
Coaches are also equipped with boxes that include gloves, additional masks, hand sanitizer, and disinfectant spray, which are few things that can help limit the spread of the virus. 
"We're to use that as best we can as kids are coming and going," Mr. George said.  "We're not perfect, but we're trying to do our best."
Teams are attempting to prevent transmission in other ways as well by bringing their own equipment to practice, frequently wiping things down, and avoiding small spaces, such as the dugout, before, during, and after practice. 
In the case of an unexpected outbreak, Mr. George said that coaches write down the names of those who attended each practice session, and athletes are filling out the same wellness form that students must use to come to campus.
With this record of who has participated in an activity on campus, Mr. George said that "if a kid were to get sick overnight or develop symptoms the next morning, when we find out, we can start to put into action our contact tracing measures."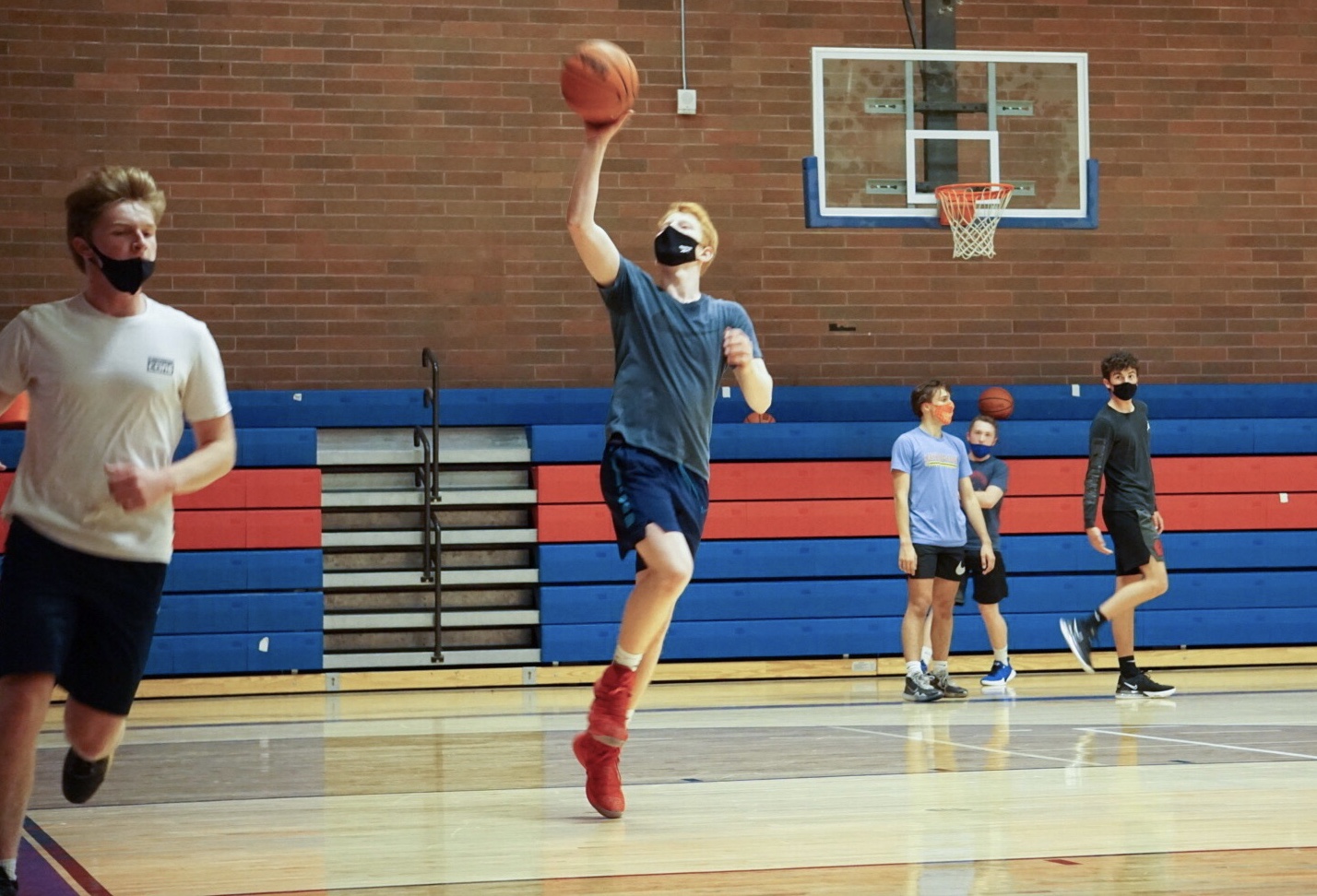 Girls soccer is practicing in groups of about 12 or 13. Coach Frazier said that the team is focusing on a lot of individual and socially-distant practice drills, meaning they can't participate in many defensive drills, as there would be "too much contact involved."
"Defensive drills, contact, [and] playing with urgency, all of those things are all things I like to start out the season with so we are starting from a strong foundation with energy," he said. "Now, essentially we have to re-periodize the entire season."
Because the team has longer than usual to prepare for the official season to begin, Coach Frazier said this has also contributed to many shifts in the way the team's practices are conducted, resulting in an adjustment to his coaching style. 
"It's changed quite a bit because we've had to move away from contact for so long," he said. "It's pretty much turned everything that I would normally do into the reverse."
"When you're working on coaching a team, there's a build up process so you start peaking at the right time," he said. "Instead of weeks leading up to the first game, now we have months leading up to the first game… We have just a much longer run up to the season, which changes everything that we do and the intensity we play with."
Coach Frazier also said that this does, in part, work in the team's favor. 
"[This] just gives us more time to work on fitness [and] work on individual touches," he said. "There is some benefit to it because we can focus on things that normal high school season wouldn't allow us to focus on."
Boys basketball is hosting training sessions each week. Coach Kelly said that players train on campus in groups of 10 to 15 for roughly an hour. 
With a mask on the entire time, players use their own ball to work on ball-handling and one-on-one shooting drills. Additionally, Coach Kelly runs partner passing and a five-on-zero offense, which allows players to execute different plays on the court without touching one another. 
"How we're preparing right now is [with] a bunch of individual skill development, one-on-one drills, working on fundamentals and form, and just trying to get everybody individually better right now so hopefully that makes the team better," he said. 
Similar to soccer, the team can't practice defense, which has impacted Coach Kelly's regular coaching technique. 
"I'm big on defense, and we're not allowed to play a lot of defense right now since we're not allowed to be next to anyone," he said. "It's changed a little bit of my focus on the defensive end and what we would do — that's probably the biggest change."
In comparison to basketball and soccer, softball practices look almost the same as they did before. 
"Nothing has really changed actually," Coach Smith said. "We went out there and just played normal softball."
"One thing I feel like I was encouraged by on the first day of practice back in September [was that] the girls showed up and they were just the same silly, happy people that left us," she said. "I was affirmed that life is still going on and they were still in good spirits… It's a good feeling to see them smiling and having fun, playing softball, and really just being around each other."
Since softball has such a long off season, Coach Smith said that the team is following a five weeks on, two weeks off schedule to prevent burnout before the official season begins months from now. 
"To stay motivated and [know] where are we going, what are we doing, and create some motivation towards starting softball, we decided it was probably good if we gave breaks," she said. 
After just wrapping up their first five weeks, the team participated in some activities they would normally host after a "good week," such as a player spotlight, which Coach Smith said highlighted individuals who showed consistency and were, overall, a team player. 
In addition to this, the team also concluded the first five weeks with a scrimmage, so that the build up to their official season feels purposeful.
"We want to put in the work so that when we get to scrimmage on the last day of the little mini season then it feels like we put in work for a reason, instead of just going out and hitting balls every day," Coach Smith said.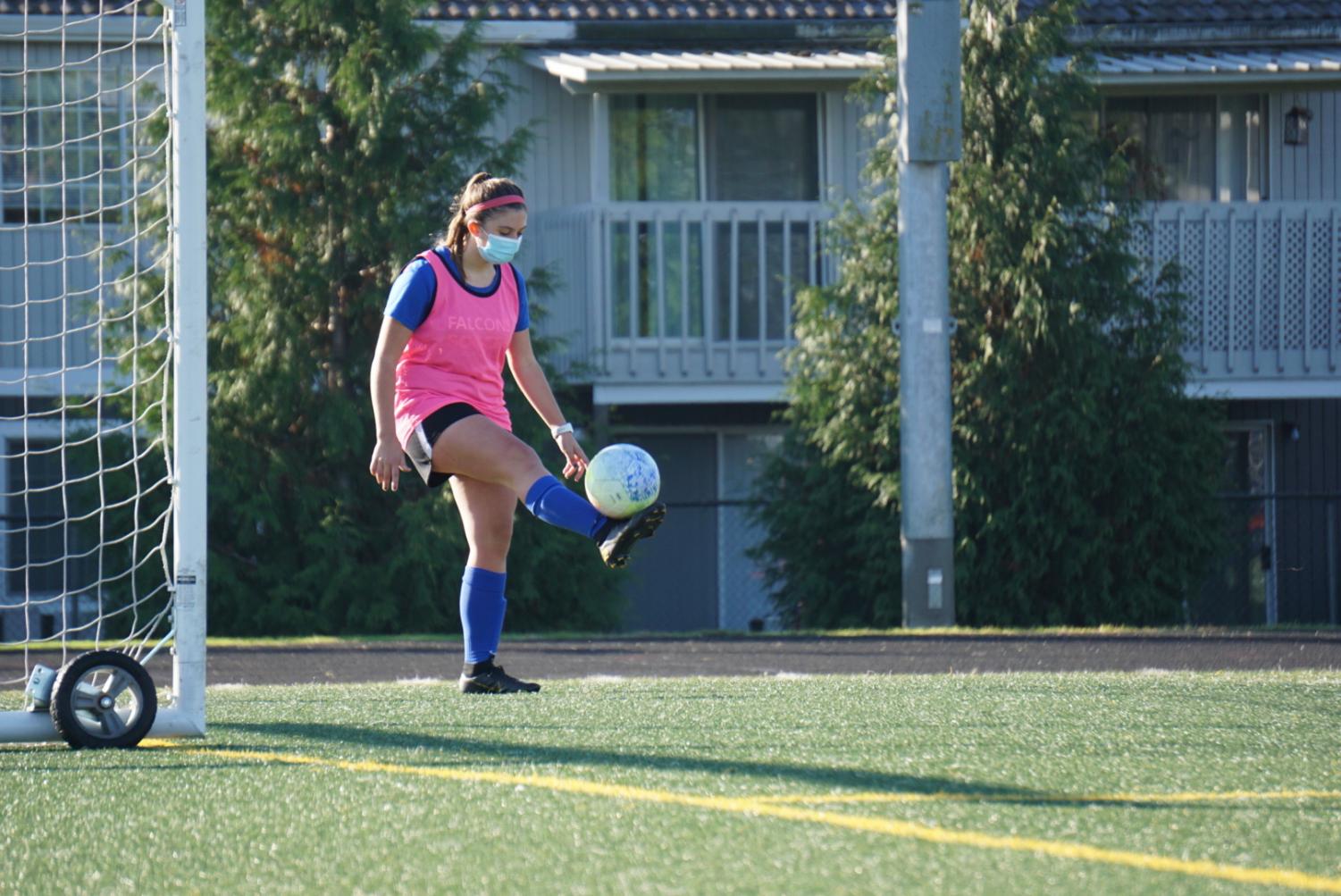 While athletes are experiencing changes to the functionality of their seasons, this is also affecting the college recruitment process, making it more difficult to become a recognizable player that coaches might be interested in. 
Coach Frazier has two high schoolers of his own who are going through the recruitment process. From this, he said he has noticed that Division I coaches are not able to watch individual players, and that it's also unlikely for them to recruit an athlete based on a video. Additionally, he is expecting a limited number of roster spots, considering the NCAA might allow college seniors an extra year of eligibility after their seasons were cut short. 
"This is a big deal right now, and it's going to be harder for everybody," he said. "Kids will have to have good videos, highlight videos, and they have to start emailing all the coaching staff of schools they want to go to [and] start that line of communication… I just think it's going to be a hard, more difficult process than normal."
Junior soccer player Natalie Pfleger is also going through this process. She said that while players are allowed to contact coaches, coaches aren't allowed to contact players until January, which is later than usual.
"I think it's definitely going to be harder for juniors to get recruited — not that we can't get recruited, just we have such less amount of time than we normally would," she said. 
Aside from this, many in the athletic community feel that the greatest impact of COVID-19 has been on the benefits that sports would usually have to offer. 
Coach Kelly stressed the importance of physical activity in general and how that has changed as a result of the virus. 
"Athletics and everyone just exercising is so important to the health of all humans," he said. "The ability to hang out and work with their friends and their coaches and to keep improving in the sport that they do, I think that has been really tough on a lot of athletes. I think COVID has played a huge part in just the mental makeup, the physical makeup, [and] the emotional makeup of athletes on every level… That has been one really tough aspect of COVID."
Jacobson said that it's been difficult to build relationships with not only his teammates but also his coach. 
"It has just been kind of a bummer not being able to go to the workouts with the team," he said. "We've had the opportunity to go to practices two times a week, but we hired a new coach for the season, a basketball coach, so it's been kind of a bummer not really connecting with him. Of course we've had those practices, but it's not really enough time to connect."
Pfleger reiterated the ideas of Jacobson, and emphasized that athletes are going through a challenging time. 
"I think that it's pretty important for people, for athletes, to train because for a lot of people that's something that they go to to relieve stress and just get away from school and drama," she said. "It was hard at the beginning when we couldn't play the sports, especially with our friends… I think it's important that we get to play… It's just pretty hard, especially if we're really competitive athletes, like this is all we do and then now, we can't all of a sudden. It's such a change in our lives."
As the athletes The Falconer spoke with proceed with the rest of the year, many are maintaining a mostly positive attitude, and some are encouraging others to do the same. 
"Stay hopeful [and] stay positive," Jacobson said. 
Pfleger also highlighted the importance of patience, as everything remains subject to change. 
"We still don't know what's going to happen — things could get better and we could go back and play full time," she said. "If you can, train on your own because even just by training on your own, you can still have fun or go with a couple of friends and do your sport."
Mr. George encouraged everyone to stop and reflect, noting that "when you get something taken from you, you start to see it in a different light," he said. "It's important to have that stress relief, it's important because we are able to spend time with other people that share the same passion, [and] we're able to go kind of do some of the just very basic, enjoyable things that sports offers."
"We all need to kind of take that deep breath and go, 'why do I play?'" he said. "'Why do I want to come back out here? What is it that I do this for?…' Everybody should ask themselves that question when you get something taken from you because your appreciation from it grows, I think, even more. You get back to the root causes for why something gives you so much joy and passion… Fall in love with it again."